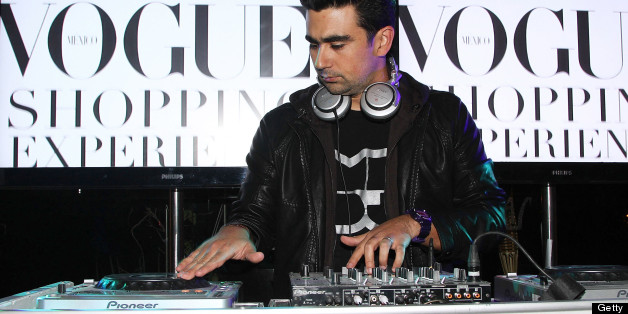 With his voice still raspy from hyping up a celebrity filled venue from the night before, DJ Mauricio Parra begins to tell me about the best night of his career.
Parra was the hype man and official DJ of Premios Juventud — the Latin awards show — in which he spun intermittently for Latin music's biggest pop artists including Jennifer Lopez, Pitbull and Ricky Martin. The roaring fans who waved, sang along and danced throughout the show were following his lead and the energy flowing from his DJ booth to front and center of the stage.
"The energy of the crowd was amazing! During commercial breaks, I got the chance to hype people up and they were responding to me incredibly. The energy and support from all the people in Miami was just unbelievable," says the DJ, who has a strong fan base in Miami and his homeland of Colombia.
It wasn't too long ago that Parra was recording pop hits off the radio onto cassettes and playing them at parties during his school days in Bogota. He remembers always wanting to be the one in charge of the music at these adolescent gatherings. Music carried him along, and, still in his teens, the then-novice Parra became the assistant to a very prominent DJ at one of Bogota's hottest clubs, giving him the ammunition he needed to take those homemade mixes to the next level and embody the hype man.
Then came a radio gig for Radio Caracol, Colombia's No. 1 radio station, where he spun on-air and at clubs across the country; the next stop was Miami, more specifically South Beach.
"I became a South Beach DJ. You name the club in South Beach and I've spinned there," says the 35-year-old Parra, who is still beaming from the PJ awards.
As far as performances and venues go, "This is at the top of the list… Everyone in the acting business and the music business was there," he says.
But one wonders what could be on the personal playlist of a DJ of Parra caliber. He says it's nothing like the music he plays at clubs — mainly house, tribal house and lots of percussion, as he himself is a percussionist. He rocks out to Metallica, mellows out with Bob Marley and chills with Pink Floyd.
There's also another intriguing fact about this South Beach master mixer that you should know. He makes a killer impersonation of a Latino Sponge Bob.
In fact, Parra was the voice of the Latin American Sponge Bob, of Santa Claus and did voice-over commercials for Snickers and Coca-Cola. After years of working as a radio DJ, he went to a casting call for voice actors, and when producers heard his deep radio voice he was about to be shown the door — but then he called on the high-pitched voice of the sponge and landed the part.
"They said, 'Oh my God, we love it!'" He was hired on the spot.
DJ Mauricio Parra uses music to strengthen his community
While spinning for the Hollywood crowd is glamorous, Mauricio Parra is not just focused on the outside. He set his sights on creating a foundation to use DJs for good. He founded the Fundacion DJ in March 2012 and in just one year has created the largest network of DJs in Latin America who promote positive social messages like not drinking and driving, wearing a helmet if you're riding a motorcycle and ending domestic violence.
The foundation has teamed up with MTV Latin America to promote its second DJ Agentes de Cambio contest in which DJs submit a two-minute video promoting a social theme. This year's theme is "El Valiente No Es Violento" or "The Brave Are Not Violent." The winner lands a 30-second spot on MTV Latin America, a chance to spin with Parra in Quito, Ecuador and a feature in DJ Mag.
Parra's climb to the top of the music business is just getting started. He's going places internationally, and he welcomes fans to follow him along in that journey.
"My next step would be to have a permanent job doing this, being a host of a show and being able to spin for thousands and thousands of people. Getting to tour the country or the world, and sharing my music and my energy. That's what I would love to do."
Originally published on VOXXI as DJ Mauricio Parra: from South Beach spinner to international DJ
EARLIER ON HUFFPOST:
PHOTO GALLERY
BEFORE YOU GO
Premios Juventud 2013 Red Carpet
PHOTO GALLERY
Premios Juventud 2013 Red Carpet