This week in celebrity entrepreneurs: Glittery party girl Ke$ha finally rolled out her first jewelry line, Kesha Rose by Charles Albert. As usual, the singer's not afraid to scandalize -- this time with Zero Karat Gold pendant penis necklaces.
Much to the despair of pearl-wearers everywhere, we imagine, Ke$ha's loyal fans have flocked to her faux-gold baubles. Indeed, the Kesha Rose Penis Charm Pendant with 24" Chain is already fresh out of stock. $upply and demand...
Less titillating pieces of the collection feature skulls, roses, and metal cast human teeth.
Ke$ha has cultivated something of a wild-child fashion mystique, her aesthetic rife with Latex, purple feathers and faux fur galore. Last year, she took her fashion daring a step further: She invited her fans to send her their teeth, and used the >1,000 molar to make a tooth-covered bra, necklace, earring set and headdress, giving a whole new meaning to your image of the Tooth Fairy.
Ke$ha wanted to bring the same bad-girl aesthetic to her fans. The Kesha Rose brand is self-described as "edgy and eclectic." The phallic necklaces may read more school-yard humor than gritty subversion.... but edge is relative in suburbia, right?
PHOTOS: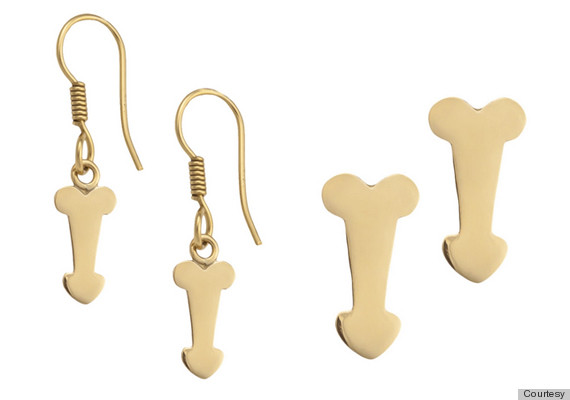 Celebs who veer into the fashion realm:

Loading Slideshow
Mary Kate and Ashley Olsen

The Row

Victoria Beckham

Victoria Beckham Collection

Jessica Simpson

Ready-To-Wear Jessica Simpson Collection at Dillard's

Heidi Montag

Heidiwood For Anchor Blue

Busta Rhymes

Bushi Sport

Madonna

Material Girl

Snoop Dogg

Rich and Infamous Clothing Line

Miley Cyrus

Miley Cyrus Wal-mart Clothing Line

Chris Kirkpatrick

FuMan Skeeto

Outkast

Outkast Clothing

David Hasselhoff

Malibu Dave

Mandy Moore

Mblem

Andre 3000

Benjamin Bixby

Nelly

Vokal

Sarah Jessica Parker

Bitten

Nicole Richie

House of Harlow 1960

Beyonce and Tina Knowles

House of Dereon

Kimora Lee Simmons

Baby Phat

Savanna and Sienna Miller

Twenty8Twelve collection at Selfridges

Justin Timberlake and Trace Ayala

William Rast

Kanye West

Ready-To-Wear Fall/Winter 2012 show in Paris

Queen Latifah

Queen Collection with HSN

Gwen Stefani

L.A.M.B.

Gwen Stefani

Harajuku

Jay-Z

Rocawear

Kourtney, Kim And Khloe Kardashian

Kardashian Kollection at Sears

Khloe Kardashian and Kourtney Kardashian

Bebe Collection

Pharrell Williams and Nigo

Billionaire Boys Club

Jennifer Lopez And Marc Anthony

Jennifer Lopez And Marc Anthony Lifestyle Brands at Kohl's

Serena Williams

Serena Williams Fashion Line for HSN

50 Cent

G-Unit Clothing

Russell Simmons

Russell Simmons Argyle Culture

Avril Lavigne

Abbey Dawn By Avril Lavigne

Lindsay Lohan

Lindsay Lohan as Artistic Director of Ungaro ready-to-wear Spring-Summer 2010

Rachel Bilson

DKNY Collection

Eve

Fetish

Jennifer Lopez

Sweetface

Lauren Conrad

Lauren Conrad Collection at Bloomingdale's

Hilary Duff

"Stuff" by Hilary Duff for Target

LL Cool J

LL Cool J Collection for Sears

Elizabeth Hurley

Elizabeth Hurley Beach Boutique

Sean 'Diddy' Combs

Sean John

Steve Harvey

The Steve Harvey Collection at JCPenny

Will.i.am

i.am Clothing

Kathie Lee Gifford

Kathie Lee at Wal-mart

Lil' Romeo and Master P

"No Limit Clothing"

Carlos Santana

Carlos Santana for Macy's

Helena Bonham Carter

Pantaloonies

Alexa Chung

Alexa Chung for Madewell

Selena Gomez

Dream Out Loud for Kmart
Want more? Be sure to check out HuffPost Style on Twitter, Facebook, Tumblr, Pinterest and Instagram at @HuffPostStyle.