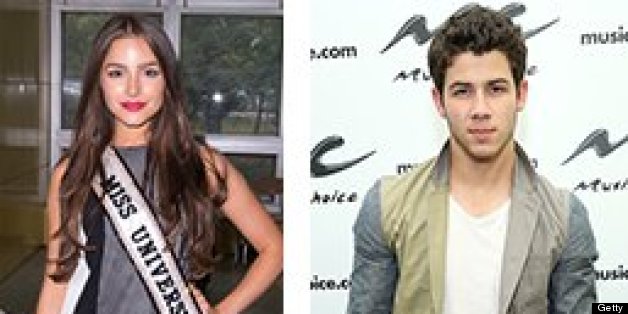 E! News reports Culpo, 21, and Jonas, 20, were spotted having dinner together Thursday, Aug. 1 at Ovest Pizzoteca in New York City. A witness claimed the young duo leaned in close to each other while dining and held hands when they left the establishment later that night, looking "really happy."
"They were holding hands and there were fans standing outside," a source told E!. "As soon as they saw the fans, they stopped holding hands," the source added, saying the beauty queen continued to walk up the street and waited for the pop singer at the corner.
Jonas was a co-presenter at the 2013 Miss USA pageant and that is apparently where he met Culpo, who was in attendance. He and his brothers also performed live that night. Joe Jonas was previously a judge for the 2012 Miss USA pageant, where the former Miss Rhode Island was first crowned.
"I think that when people see me they don't see Miss Universe at first, and then there's always that awkward moment when they find out, and you have to think, 'This is a little uncomfortable,'" she told HollywoodLife.com. "I don't know if they like me or they just think it's cool so they can tell their friends that they're talking to Miss Universe. But to me I'm still just Olivia, which I'm going to continue thinking that, instead of the title!"
SUBSCRIBE AND FOLLOW
Get top stories and blog posts emailed to me each day. Newsletters may offer personalized content or advertisements.
Learn more