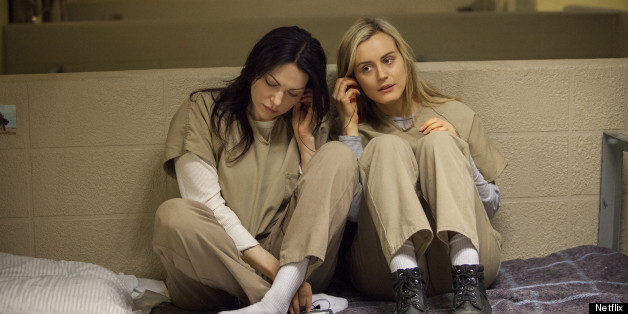 Viewers are seeing a whole new side of Laura Prepon in Netflix's "Orange is the New Black," in which she plays drug smuggling lesbian Alex Vause, the manipulative criminal whose schemes land her naive ex, Piper Chapman (Taylor Schilling), in jail alongside her.
The role is a marked departure from Prepon's previous roles, including "That '70s Show" good girl Donna Pinciotti, which is apparently what attracted Prepon to the project. "I read the pilots every year and a lot of it is another 'Law & Order,' another 'CSI,' another doctor show — they're all the same. This pilot came across my desk and it was unbelievable. It was so different from anything I'd read in so long. I needed to be part of this show," Prepon recently told Canada.com.
Since Alex and Piper's relationship is predominantly physical at the outset, in that Alex "manipulates Piper with sex," the role required a number of nude scenes, which Prepon admitted "was a problem for me ... It's one of the reasons I was originally unsure about taking the role. I'd done it once before but it was for a very specific reason and for this I didn't know if I wanted to do it."
She continued, "We talked about it and [creator Jenji Kohan] made the point that in the prison it's basically like a women's locker room. You walk around naked and it's like 'Whatever, we all have the same equipment.' So we talked and she assured me it would never be gratuitous and whenever we'd do nudity we'd talk about it and make sure it's done in a way that I'll be super comfortable. And it always has been."
The series certainly threw the two actresses in at the deep end, and Prepon told Canada.com that "the first scene we shot together is when we get naked in the shower ... it was like, 'Hey, nice to see you again,' because I just met her once during the reading, and then we jumped into the shower. And it was amazing, we had such good chemistry."
In an interview with The Huffington Post, Prepon praised the intimacy of Piper and Alex's relationship: "The sex scenes with me and Piper, we were very specific. They were always done in a way that was very non-gratuitous, since their relationship is very intense and special. It's beautiful because they love each other."
For more from Prepon, click over to Canada.com.
"Orange is the New Black" is streaming on Netflix now.
PHOTO GALLERY
BEFORE YOU GO
"Orange Is The New Black"
PHOTO GALLERY
"Orange Is The New Black"