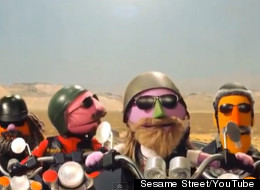 "Sons of Anarchy" is the latest show to get the "Sesame Street" parody treatment.
Introducing ... "Sons of Poetry."
In "Sesame Street," the biker gang rides around, helping people find the perfect rhyme. "Sons of Anarchy" creator Kurt Sutter took to Twitter after the video was released to tell fans how much he loved i.
growing up with bert & ernie, having a 6 yr. old who loves elmo. this meant so much to me. thank you Sesame Street.
http://t.co/O84BDOS4Eo

— kurt sutter (@sutterink) August 6, 2013
The "Sons of Anarchy" parody is just the latest in "Sesame Street's" long line of adaptations of popular shows for its young audience. "30 Rock," "Law & Order: SVU" and "Downton Abbey" have also been parodied by "Sesame Street." This week, the show also released a musical parody of Icona Pop's "I Love It" with Cookie Monster singing "Me Want It" to promote self-control.