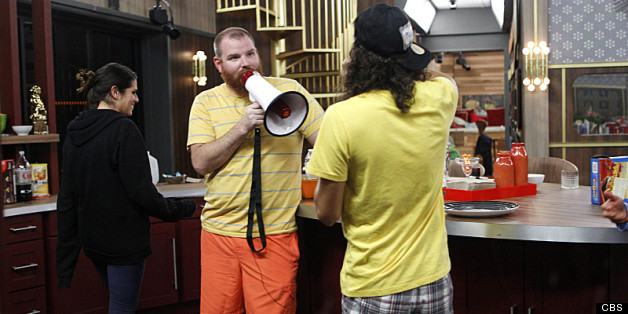 "Big Brother" Season 15 contestant Spencer Clawson has traded in the hate speech for joking about child porn.
His comments, which seemingly were in jest, were captured on the "Big Brother" live feed on Monday, August 5. While fellow houseguest McCrae Olson was in the shower, it looked like Spencer took his microphone and said the following directly into it.
"I like to b*** off to child porn. Did I ever tell y'all about that?" he asked Andy Herren and Amanda Zuckerman. "Oh, I love it. B***ing off to child porn is my favorite thing there is. I love it when they're around 3 or 4 years old. My favorite ones are when you can tell they're filming in a basement somewhere in Minnesota."
UPDATE: Chief AJ Gary from the Conway Police Department in Spencer's Arkansas hometown told TMZ, "The Conway Police Department was alerted to comments made. Due to the nature of the comments, our department moved quickly to look into the matter. At this time we haven't found that any criminal act was committed."
This isn't the first time Spencer's comments have caused some controversy. He previously used gay slurs and praised Hitler's speaking abilities, according to Reality Blurred.
Spencer's employer spoke out after his comments came to light. "The values represented by Spencer Clawson's comments during the 'Big Brother' show do not at all align with Union Pacific's values," Union Pacific said in a statement. "Mr. Clawson is on unpaid leave of absence while participating on Big Brother. Union Pacific does not condone his comments. Union Pacific is acting in accordance with Collective Bargaining Agreement terms regarding Mr. Clawson."
The rampant racism, homophobia, and anti-Semitism on "Big Brother's" current Season 15 has created a firestorm of controversy. Houseguests Aaryn Gries and GinaMarie Zimmerman have already been fired from their day jobs for their offensive comments and behavior, but they remain on the show, intolerant antics and all.
At the Television Critics Association Summer 2013 press tour in July, CBS CEO Les Moonves addressed the "Big Brother" issue, calling some of what he's seen "appalling."
"It was established as a social experiment. Clearly, this happened this year. I find some of the behavior absolutely appalling, personally," Moonves told the press. "What you see there unfortunately is a reflection how certain people feel in America. I think we've handled it properly. Obviously, it made a lot of people uncomfortable ... We did not comment on some racial things that were being said until it affected what was going on in the household, and I think we've handled it the way we should have."
"Big Brother" airs Wednesdays at 8 p.m. ET, Thursdays at 9 p.m. ET and Sundays at 8 p.m. ET on CBS.
SUBSCRIBE TO & FOLLOW ENTERTAINMENT
All the fan theories and spoilers you actually WANT. Learn more