Since Ling Chan was fired from her job at the Financial Industry Regulatory Authority over her alleged "repeated unwanted" romantic advances towards a co-worker, Daniel Small, she's tried to re-apply 574 times for 82 jobs at the independent Wall Street regulator, using 11 different e-mail address, a lawsuit claims.
The suit, filed by FINRA against Chan in Manhattan Supreme Court earlier this month, also accuses the former employee of targeting FINRA HR Manager John Braut. Chan signed Braut up for unwanted porn magazine and website subscriptions, the lawsuit alleges, and posted inflammatory comments about Braut to various websites, including "John Braut, I hope you rot in hell. You are better off dead."
Judge Deborah James issued a restraining order against Chan on Thursday, according to the New York Post. Chan is now banned from applying for more jobs at FINRA, filing more complaints or using the agency's computer systems, the New York Post reported.
Chan wasn't in the courtroom when James issued the restraining order, according to the New York Daily News.
A note Chan sent apologizing to Small in February 2012, submitted as "Exhibit C" in the lawsuit: (Story continues after the photo.)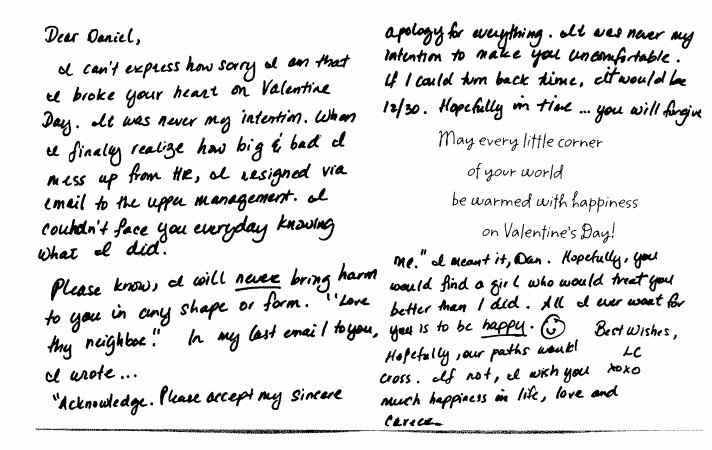 There was no attorney listed for Chan in the court documents, and requests for comment from one of the firms representing her when she sent letters to Braut, accusing FINRA of terminating her illegally, weren't immediately returned. When stopped outside her home by the New York Daily News, Chan said of the claims, "That's a personal matter, I don't want to discuss it." Chan also declined to comment to the New York Post.
FINRA declined to comment when reached by The Huffington Post. The agency's legal representation did not respond to a request for comment.
Chan was fired in February 2012 after a human resources manager warned her that her repeated "unwanted" advances towards Small -- including five alleged requests for a coffee date on Valentine's Day -- were inappropriate and could cost her her job, the suit claims. However, according to what is purportedly one of Chan's handwritten notes (above), she "resigned."
Chan, who started at FINRA in May 2011, began allegedly harassing Small in December of that year, according to the complaint, asking him out on coffee dates, repeatedly requesting his friendship on LinkedIn and Facebook, and buying him gifts like a mug with Small's initials. Even after acknowledging to an HR manager that her conduct was inappropriate, Chan asked the manager to deliver a love note to Small, the lawsuit claims.
After Chan was fired for her conduct in February 2012, she sent a letter to Small apologizing, according to the suit. In addition to restrictions outlined in the restraining order, the FINRA lawsuit is seeking monetary damages.
Also on HuffPost:
Loading Slideshow
S&P Lawsuit Emails Reveal Analysts Saw Problems With Quality of Ratings

According to a federal lawsuit, a 2007 email allegedly written by an investment banker to an S&P analyst included <a href="http://www.huffingtonpost.com/2013/02/05/sp-lawsuit-emails_n_2623933.html?utm_hp_ref=business" target="_hplink">this statement</a>. Other emails sent by S&P suggested that analysts were very much aware of how little quality control was valued at S&P.

The "Fabulous Fab" Email

Goldman Sachs Vice President Fabrice Tourre sent <a href="http://www.businessinsider.com/fabrice-tourre-fabulous-fab-2010-4" target="_hplink">internal emails</a> suggesting he had <a href="http://articles.marketwatch.com/2010-04-16/industries/30812338_1_fabulous-fab-tourre-exotic-trades" target="_hplink" target="_hplink">major doubts </a>about the collateralized debt obligations he sold to investors in early 2007.

S&P Employee and Collaterized Debt Obligations

In an internal email sent in December of 2006, an S&P employee indicated that he knew <a href="http://dealbook.nytimes.com/2013/02/04/u-s-and-states-prepare-to-sue-s-p-over-mortgage-ratings/" target="_hplink">how bad collateralized debt obligations</a> were before the heart of the financial crisis, The New York Times reported.

Goldman Sachs Traders On Subprime Mortgages

By 2006, Goldman Sachs traders were internally describing subprime home mortgages in <a href="http://www.huffingtonpost.com/2012/08/10/investigation-goldman-sachs_n_1765368.html" target="_hplink">a very negative light</a>.

Former Merrill Lynch Analyst Henry Blodget

Blodget <a href="http://www.time.com/time/business/article/0,8599,1938544,00.html#ixzz2K3H3Vm5H" target="_hplink">encouraged investors </a>to buy stocks that he privately wrote in emails were not good investments, to say the least, Time reported in 2009.

Barclays Traders and Libor

In private emails, Barclays traders wrote incriminating statements indicating <a href="http://ftalphaville.ft.com/2012/06/27/1062301/libor-manipulation-done-for-you-big-boy/" target="_hplink">the manipulation of libor</a>, the Financial Times reported.

Lehman Employees

JPMorgan Chase <a href="http://www.reuters.com/article/2011/02/18/jpmorgan-idUSN1829544020110218?WT.tsrc=Social Media&WT.z_smid=twtr-reuters_ com&WT.z_smid_dest=Twitter" target="_hplink" target="_hplink"> claimed</a> in a lawsuit that Lehman deceived JPMorgan with bad assets, which Lehman employees allegedly referred to internally as "goat poo."

Merrill Lynch Analysts

Back in the early 2000s, then-Attorney General Eliot Spitzer used internal emails from Merrill Lynch to prove that the bank continually promoted stocks -- <a href="http://usatoday30.usatoday.com/money/finance/2002-04-15-spitzer-email-evidence.htm" target="_hplink">such as Internet company GoTo.com</a> -- that it did not really believe in.

Morgan Stanley Bankers

Morgan Stanley bankers openly joked about <a href="http://www.huffingtonpost.com/2013/01/23/morgan-stanley-cdo-emails_n_2535784.html">a toxic investment</a> they were creating in 2007 and debated naming it "Shitbag," "Nuclear Holocaust," "Subprime Meltdown" and "Mike Tyson's Punchout," according to recently unearthed emails. The bankers later agreed upon the name "Stack."