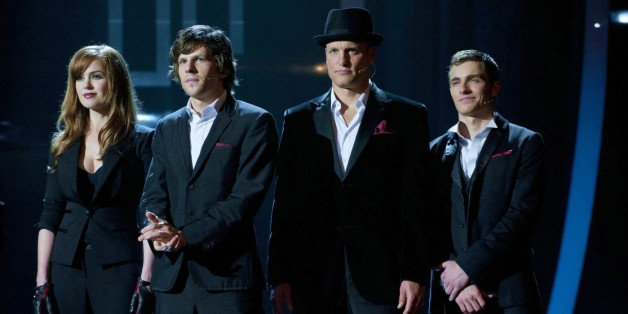 After becoming an international sleeper hit this summer, "Now You See Me" will work its magic once again. The movie is now set to receive a sequel that will begin filming in 2014, according to The Hollywood Reporter.
There's no word yet as to whether the cast -- headlined by Jesse Eisenberg, Mark Ruffalo, Isla Fisher, Woody Harrelson and Dave Franco -- will reprise the roles they took on in the magician heist flick. It's also unclear whether director Louis Leterrier and writers Ed Solomon, Boaz Yakin and Edward Ricourt will return for the update.
"People are like, 'I'm sorry, but your movie is fun.' Don't be sorry! That's what I was aiming for!" Leterrier told HuffPost Entertainment before the film's release.
"Now You See Me" has grossed $233 million worldwide since its release in May, with Lionsgate executives expecting it to climb to $275 million. Because it was made with a relatively modest budget ($75 million), that makes it one of summer's most lucrative releases.
"This is a perfect example of how we're benefiting from the unique international infrastructure of output deals, joint ventures and self-distribution we've set in place to maximize value and minimize risk," Lionsgate CEO Jon Feltheimer told analysts in regard to Lionsgate's latest financial results.
Refresh your memory with the "Now You See Me" trailer:

PHOTO GALLERY
BEFORE YOU GO
'Now You See Me' Premiere
PHOTO GALLERY
'Now You See Me' Premiere