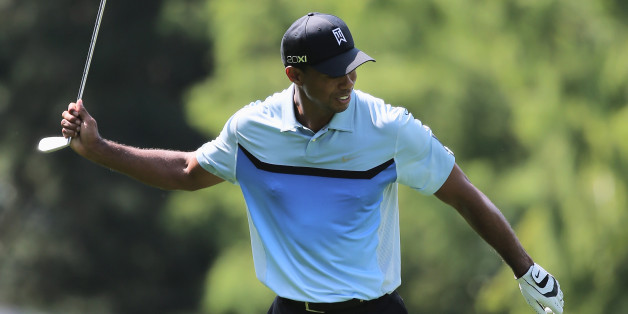 Last time we saw Tiger Woods, the 14-time major winner was walking off the course at Firestone Country Club with his 79th PGA Tour victory secured and his young son in his arms. By the time he reached the 18th green last Sunday, Woods' dominant win at the WGC-Bridgestone Invitational was such a foregone conclusion that he let fans catch a glimpse of an aspect of his life rarely on display.
He didn't look quite so at ease during the opening round of the 2013 PGA Championship at Oak Hill on Thursday. Despite making the turn at 2-under par, Woods' first round was ultimately defined by missed opportunities and missed putts.
"The round, realistically, could've been under par easily," Woods told reporters after a double-bogey on 18 left him at 1-over par heading for the clubhouse on Thursday.
Knowing that he'd missed a chance to post a score in red figures, Woods was understandably frustrated. Here are 15 photos of him from Round 1 in which that frustration is quite apparent.
PHOTO GALLERY
BEFORE YOU GO
PHOTOS: Frustrated Tiger Woods
PHOTO GALLERY
PHOTOS: Frustrated Tiger Woods