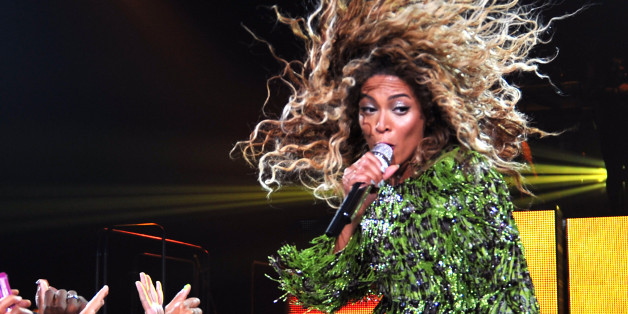 Welcome back to Celebrity Week in Review!
This week, Beyonce made worldwide headlines for cutting her hair (yup, news!), Amanda Bynes' doctors requested she stay under psychiatric care for 30 days, Chris Brown suffered a seizure, Justin Bieber got in a brawl and Russell Brand made new enemies -- basically, anyone who likes Katy Perry.
Wednesday night, Queen Bey surprised everyone when she posted a bunch of photos to Instagram with her signature, luscious locks gone. Which begs the question: how many bleached pixies have you seen walking the streets these past few days? We'd bet thousands.
Amanda Bynes' psychiatric hold has been extended for 30 days this week, but could be ended at any time. Also, a judge granted her mother temporary conservatorship on Friday to make decisions about her treatment.
Another star in distress is Chris Brown, who early Friday morning suffered a seizure in the recording studio. He refused medical treatment and his rep later explained "Chris suffered a nonepileptic seizure (NES). ... His doctor tended to him this afternoon and attributes the NES to intense fatigue and extreme emotional stress, both due to the continued onslaught of unfounded legal matters and the nonstop negativity."
Justin Bieber made headlines for more bratty behavior when he allegedly told his bodyguards to beat up a guy at a Southampton nightclub. The 19-year-old crooner took to Twitter though to debunk the story, writing: "The most recent rumors might be the funniest of all. Where do u get this stuff???"
And KatyCats must have cringed this week (if not sharpened their claws) when Katy Perry's ex-husband Russell Brand had some choice words for their choice diva. Brand cracked some jokes at London's Soho Theatre at his former lady's expense, saying: "When I got divorced, I considered becoming a monk. When you're a monk, you're not allowed to have sex with anyone. When you're married, it's one person. That's one more than a monk. It's not that different. I'd be having sex thinking, 'Think of anyone, anyone else.'" Smooth, Russell.
Another couple to land back in the spotlight this week was Miley Cyrus and Liam Hemsworth, who attended Hemsworth's movie premiere for "Paranoia" but according to witnesses, looked more like strangers than a couple engaged.
See the best photos of the week below:
PHOTO GALLERY
BEFORE YOU GO
Celebrity News & Photos
PHOTO GALLERY
Celebrity News & Photos