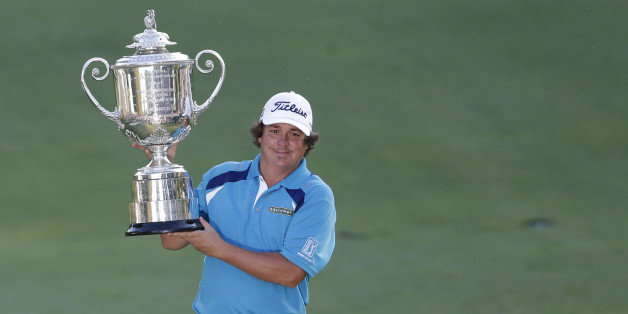 Back in March, a photograph of Jason Dufner sitting sprawled and emotionless at a Youth and Family Center took the internet by storm and spawned a new meme: "Dufnering."
On Sunday, after the 36-year-old held off Jim Furyk at Oak Hill en route to his first major victory, golf fans across the country took to social media to congratulate him in the spirit of that famous photo.
Folks were Dufnering around the house..
Congrats @JasonDufner on your win this week. To celebrate I thought I would do some #dufnering pic.twitter.com/Y8vu1MZJaS

— Kristi O'Brien (@Obrien_Kristi) August 11, 2013
Great job today @JasonDufner Everyday I'm Dufering! pic.twitter.com/DMeMVvnVDX

— Andrew Washicheck (@waz3355) August 12, 2013
@JasonDufner my 11 year old is dufering for your win. #GODUFNER WIN IT pic.twitter.com/kBoPqOdvn9

— Phaedra (@Phaedra001) August 11, 2013
And on the links..
Me and @Streels54 #Dufnering at the @TenthAveClassic pic.twitter.com/aSpH2Cst5A

— wesley whamond (@wesleywhamond) August 12, 2013
Dufnering at work..
Just #Dufnering at work. @smith_10 pic.twitter.com/sYWCrdFtMH

— Josh Sturgis (@jtsturgis) August 12, 2013
#Dufnering in the OR
#DufneringSC pic.twitter.com/Eic7ZEWN6Z

— Brian Nobles (@briannobles) August 12, 2013
Or even on vacation..
@JasonDufner Dufnering at St. Peter's Basilica in Rome...great win! pic.twitter.com/VGwrAKBYf2

— Stephen Bills (@stephenbills) August 12, 2013
It wasn't just humans getting in on the action..
feline dufnering #mddufnering pic.twitter.com/0FglG7Nll4

— James Ware (@james_ware) August 12, 2013
My dog is continuously #dufnering @GolfChannel pic.twitter.com/zswwXpEvWT

— cathymay15 (@Margo_McClintic) August 12, 2013
And whatever this is..
Super hero dufnering @JasonDufner pic.twitter.com/Hby44wP1WX

— MD Scotsman (@Mad_Dog_760) August 12, 2013
ALSO ON HUFFPOST:
PHOTO GALLERY
BEFORE YOU GO
Best 2013 Sports Photos
PHOTO GALLERY
Best 2013 Sports Photos