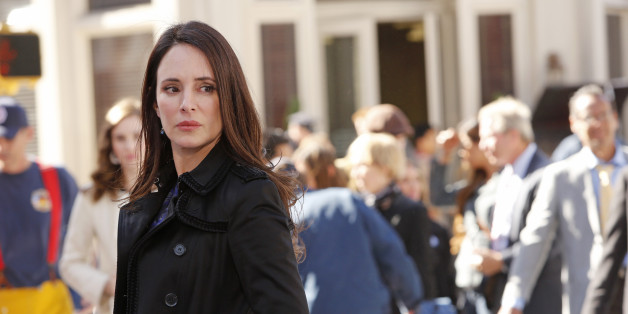 Brace yourselves, Hamptonites: "Revenge" Season 3 may be going further than the ABC drama has ever gone before.
The upcoming season will see the addition of Patrick (Justin Hartley), Victoria Grayson's (Madeleine Stowe) long-lost son, who was the result of pedophiliac relationship. Sixteen-year-old Victoria gave the six-month-old baby to a nun so she could attend art school in Paris. It's safe to say the two will have a complicated relationship after he showed up at her door in the Season 2 finale. But what's in store for the mother-son reunion may be pushing the boundaries, even for this primetime soap.
When asked how leading lady Emily Thorne (Emily VanCamp) will react to Patrick's arrival, VanCamp told ETOnline, "Emily's goal is to turn Victoria's children against her, so he's in her sights. But, there's something very interesting between Patrick and Victoria. It's kind of creepy."
"Like incestuous?" ETonline's Jarett Wieselman asked.
"Almost. Like, it could totally go there," VanCamp admitted. "But I think that's a result of Victoria struggling so hard to hang on to her children and to make things right in her mind. This is someone new she can redeem herself with. It's a fascinating relationship that's so profound for Victoria. And the moment Emily sees that, it's attack mode. She wants to get Patrick on her side, but he's surprisingly unwilling to go against Victoria."
Stowe echoed VanCamp's sentiments, telling E! Online that Victoria "really wants to have a good, clean, honest relationship. But, of course, this is 'Revenge,' so something terrible is going to happen." She added that Patrick "deeply, deeply loves his mother and will do anything to take her side ... I've been given hints [about the storyline] and it's quite dark."
For more from VanCamp, click over to ETonline and for more fall TV spoilers, click over to E! Online.
Do you think "Revenge" will really introduce incest in Season 3? Sound off in the comments!
"Revenge" Season 3 premieres Sunday, Sept. 29 at 9 p.m. ET on ABC.
PHOTO GALLERY
BEFORE YOU GO
ABC Shows