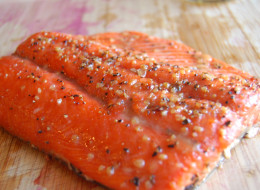 There are a lot of different ways to prepare salmon -- many of them good too -- but there's only one best way to cook this fish and we're going to share it with you.
When we talk about the best, we don't mean a fancy 12-hour preparation of a dinner that you'll finish in 20 under minutes. While we're sure the results of such a recipe would be impressive, we're inclined to believe that the effort is just not worth it. Nope, for us the best recipe is the perfect balance between great flavor and ease. Ease being the operative word here. (We don't want to have to work too hard for a great dinner, and we're pretty certain that neither do you.)
For the easiest recipe, you could always just bake a fillet of salmon with salt and pepper and call it a day. Though that probably wouldn't leave you with a memorable dinner. Luckily, for a impressively delicious salmon recipe that is equally simple to make, it doesn't take much more than salt and pepper to get the job done. Actually, the best -- and only -- salmon recipe that you should be bothering with at home calls for just six ingredients. That's it.
This salmon recipe relies on the simple flavors of a few ingredients like leeks, parsley and lemon to come together in a harmonious way. Not only do the ingredients shine in this recipe, but they make a beautiful presentation too. And the best part is that this recipe takes only five minutes to prep, and 20 minutes to cook (depending on the size of your fillet).
While the fish is cooking, you can use that hands-free time to relax and pat yourself on the back for a job well done, but we recommend taking that time to make mashed potatoes instead. You'll be glad you did when you pair it with this fish.
Salmon Leek Recipe
16 oz fillet of salmon
2 leeks, washed and thinly sliced
1/2 cup of parlsey, chopped
3 Tbs olive oil
1 lemon
Salt and pepper to taste
Preheat the oven to 400 degrees. Place the salmon fillet in an oven-safe container lined with tinfoil. Lightly salt and pepper. Sprinkle with parsley. Top with leeks. Drizzle with olive oil. And squeeze the juice of 1/2 lemon on top. Bake in the oven for roughly 20 minutes or until cooked to desired doneness. The leeks on top should be soft and nicely browned. Serve with fresh lemon wedges. (And mashed potatoes!)
Want to read more from HuffPost Taste? Follow us on Twitter, Facebook, Pinterest and Tumblr.
Get more salmon recipes.
Get the Grilled Salmon with Melted Tomatoes recipe Not only is this dish striking but it's simple too, making it a great recipe to turn to for a dinner party.

Get the Miso Salmon with Orange and Fennel Recipe recipe by Steamy Kitchen The salmon is cooked on a bed of oranges and fennel, which melds the flavors together perfectly.

Get the Salmon and Prosciutto Tossed in Lemon-Creamed Tagliatelle recipe If we had to choose just one way to have salmon, this would be it. It's rich, creamy and smoky.

Get the Salmon-and-Spinach Cakes recipe Traditional crab cakes have got nothing on these salmon and spinach cakes. One taste of these, and you'll never go back.

Get the Cilantro Lime Salmon recipe by No Place Lyke Home The bright taste of cilantro and lime lightens up the flavors of this salmon dish.

Get the Smoked Salmon Rangoon Recipe by The Little Kitchen You can enjoy the Chinese restaurant classic at home with this simple recipe that uses smoked salmon.

Get the Grilled Glazed Salmon recipe Who needs burgers when you can have these grilled salmon filets glazed with a honey-horseradish-mustard sauce?

Get the Salmon Topped with Crunchy Pecans recipe by Mother Rimmy The crunchy texture of pecans adds a nice element to this fish dinner -- and the use of barbecue sauce makes this salmon stand apart.

Get the Citrus Baked Salmon with Cilantro Butter recipe by My Fabulous Recipes Orange and cumin flavor this salmon filet and the cilantro butter keeps it nice and rich.

Get the Salmon Teriyaki Kebabs recipe Serving salmon on a skewer is a fun and easy way to make dinner. The flavors are well paired with a teriyaki sauce.

Get the Seared Salmon with Thai Vegetables recipe by Fort Mill SC Living For a salmon dish full of flavor, this recipe uses a handful of spices to make a rub before searing the fish.

Get the Whole Wheat Pasta Salad Recipe with Salmon, Tomatoes & Herb Dressing recipe by Cookin' Canuck This healthy recipe is full of whole grains. It's topped with an herbal sauce and tossed with salmon, feta and tomatoes.

Get the Smoky Spice Rubbed Grilled Salmon with Black Beans and Corn recipe by Skinny Taste Flavor is one thing you will not be lacking in this sugar, cocoa and spiced salmon dish.

Get the Salmon Club Sandwiches recipe Turkey isn't the only protein that belongs on a club sandwich. Salmon filets make it a hearty sandwich.

Get the Quick and Easy Pecan-Crusted Dijon Salmon recipe by Kalyn's Kitchen Using dijon mustard to cook salmon is a traditional technique; and topping it with pecans adds a nice crunch.

Get the Chipotle-Rubbed Salmon Tacos recipe Salmon doesn't often make its way into tacos, but when it does it's a real treat. It tastes great when topped with freshly-made guacamole.

Get the Grilled Salmon with Corn Salsa recipe by Laylita's Recipes Not only is this grilled salmon topped with fresh vegetable salsa delicious, but it's healthy too.

Get the Wild Salmon with Watercress, Ginger and Lemon in Parchment Packets recipe Cooking in parchment packets is a great way to lock in the moisture. And when you're dealing with fish, this is really important.

Get the Salmon with Andouille Sausage and Green Olives recipe This dish will satisfy seafood lovers and meat lovers alike. The salmon filet is topped with smoky and spicy sausage.

Get the Roasted Salmon and Fennel with Orange Yogurt Sauce recipe This healthy salmon recipe feels indulgent thanks to the creamy yogurt sauce.