Sometimes nature and architecture can combine to create a unique image and experience.
At the Aurland Lookout in the Sogn og Fjordane region of Norway, this is certainly the case.
Originally designed by Todd Saunders and Tommie Wilhelmsen as part of a program on tourist routes commissioned by the Norwegian Highway Department, the structure (constructed of, we imagine, Norwegian wood...get it?) is dizzyingly beautiful.
The structure's design was entered into a competition and took first prize in 2002. Construction was completed in 2006 and the lookout has welcomed visitors since.
Check out the photos below for a peek at the Aurland Lookout: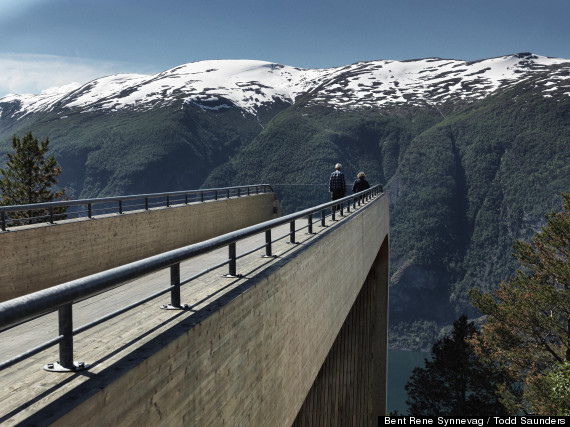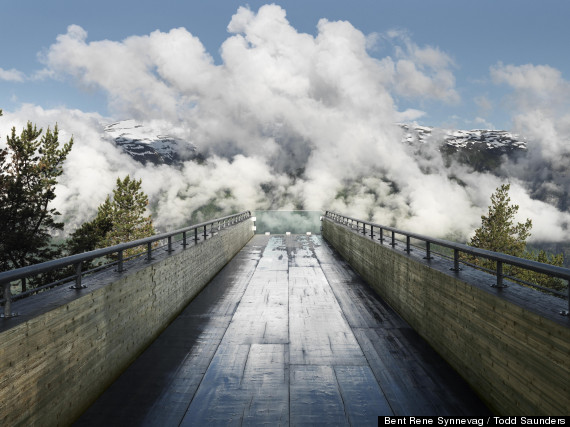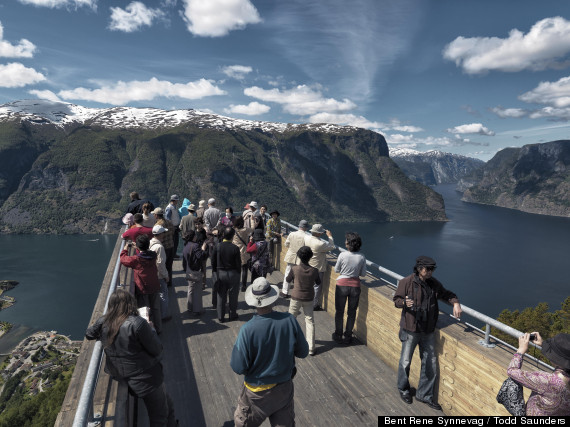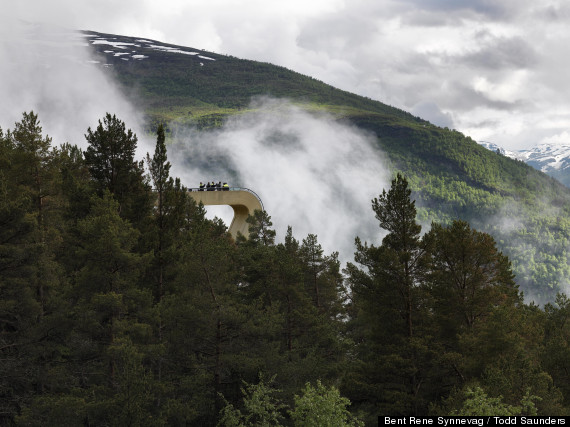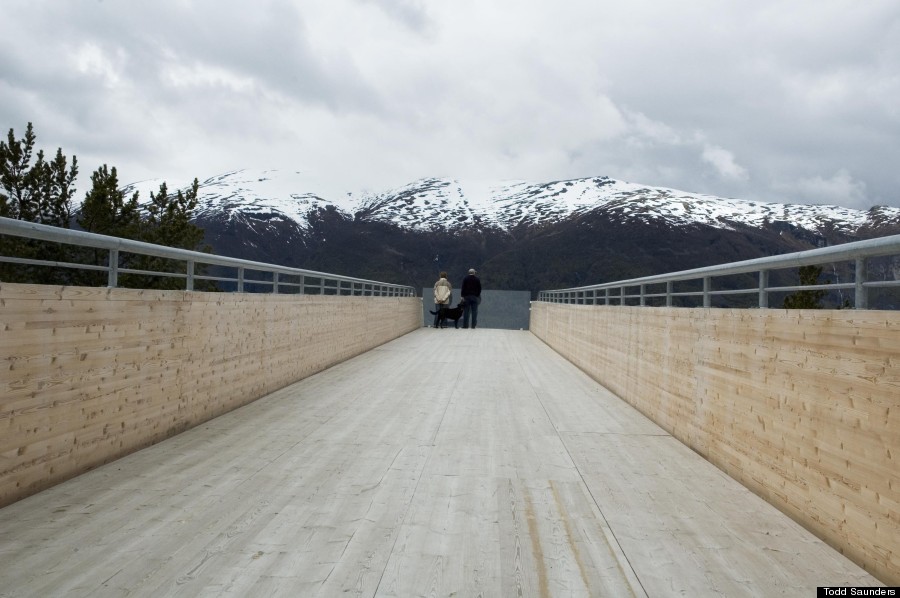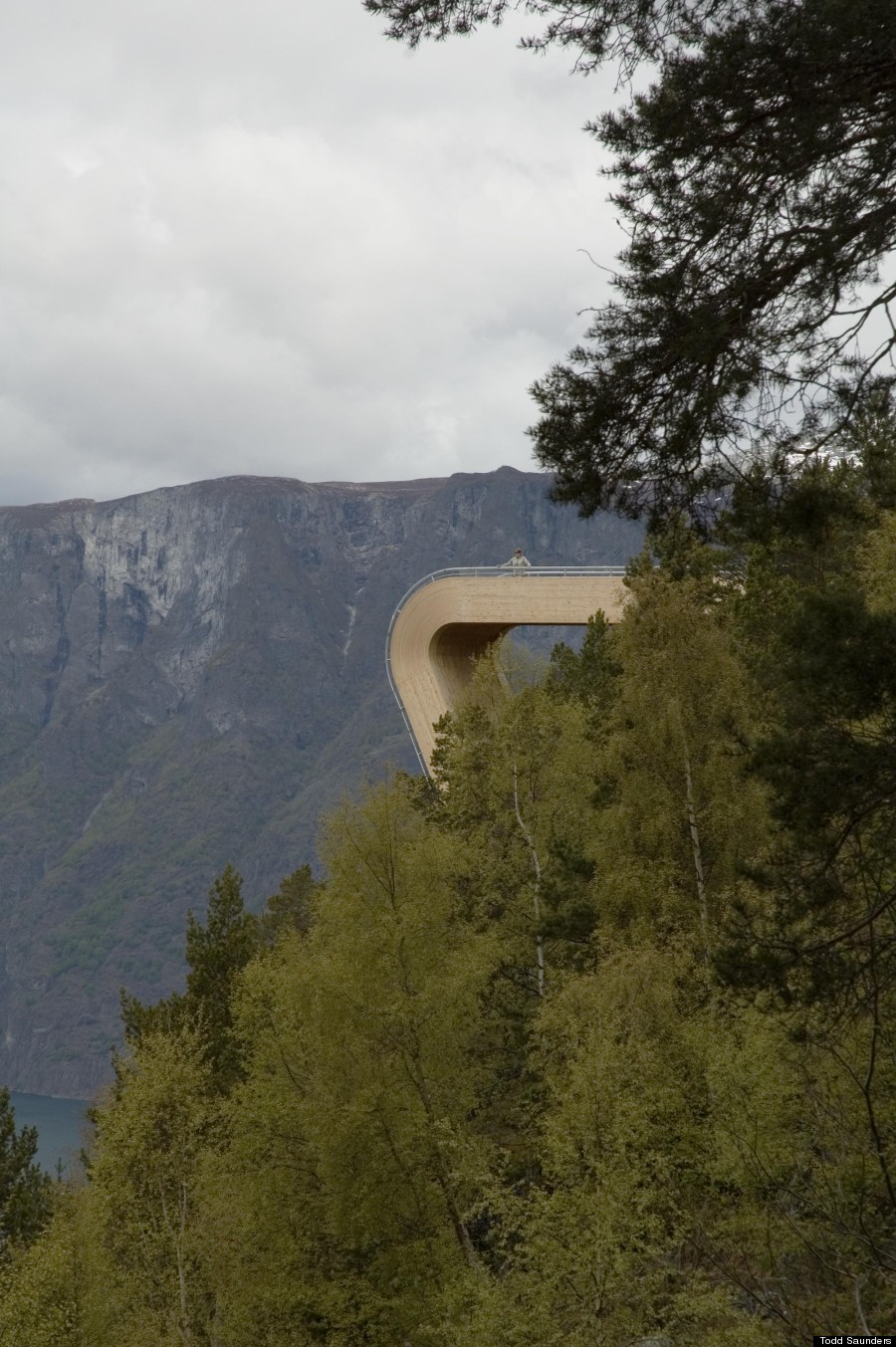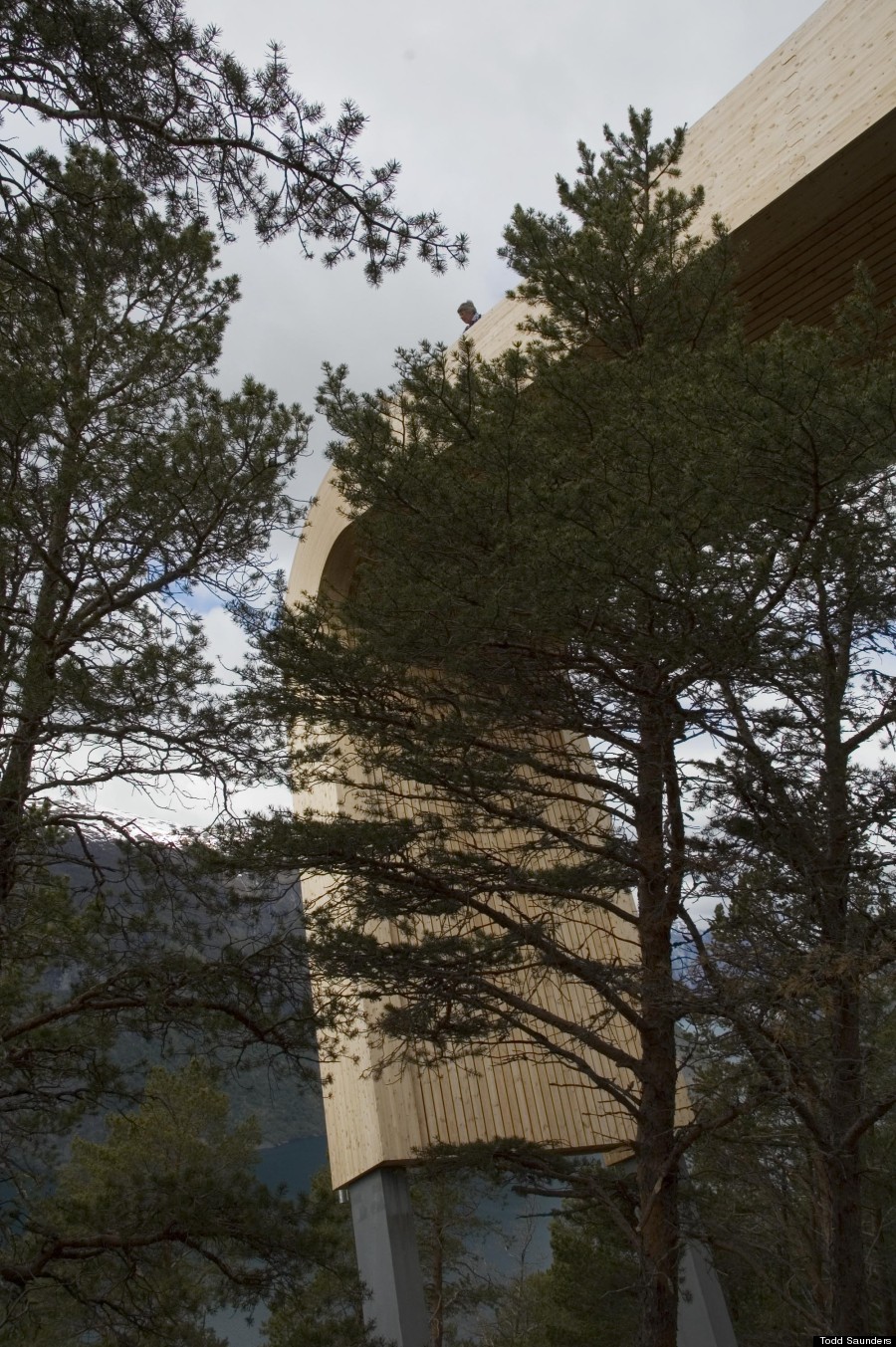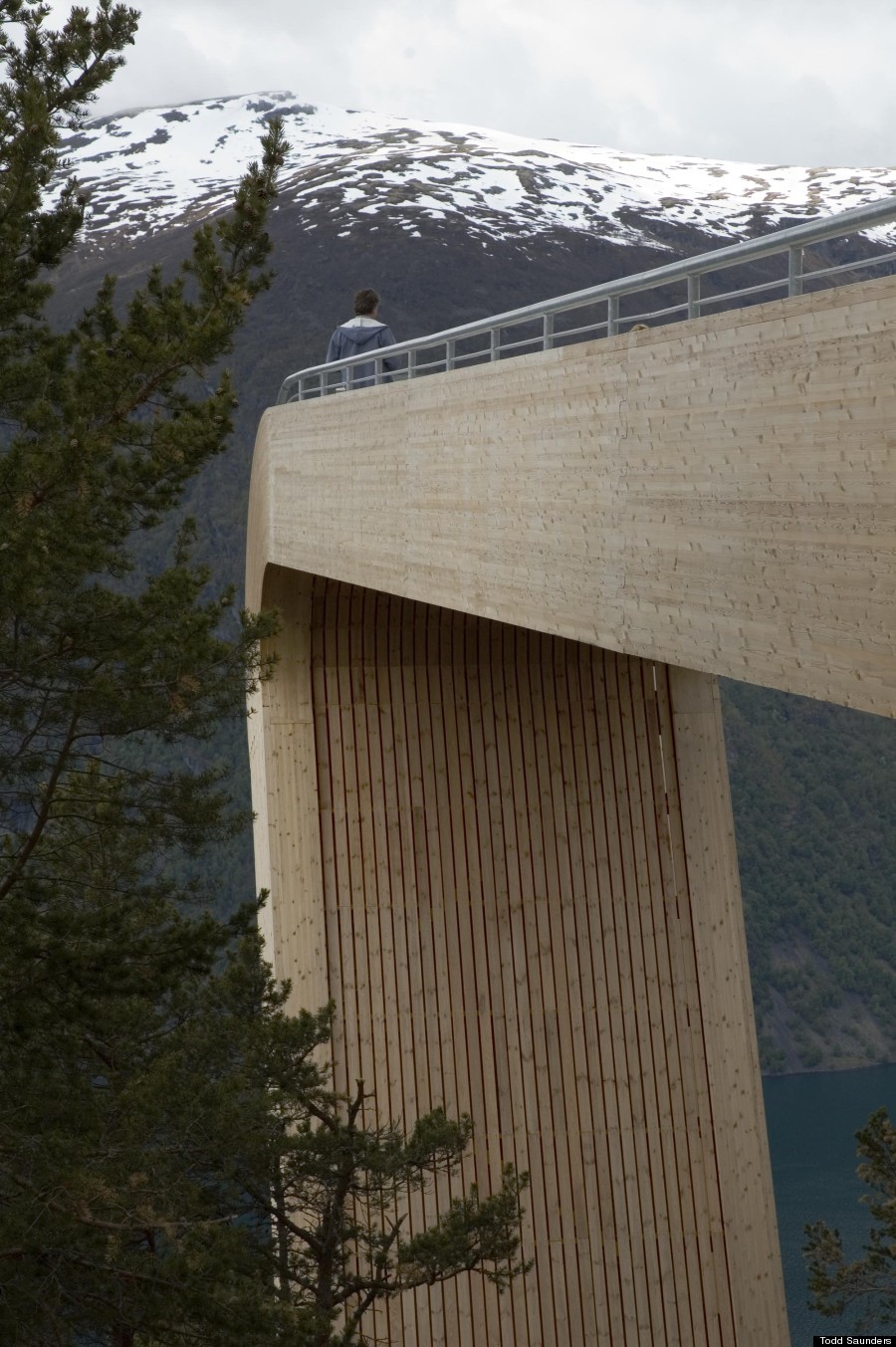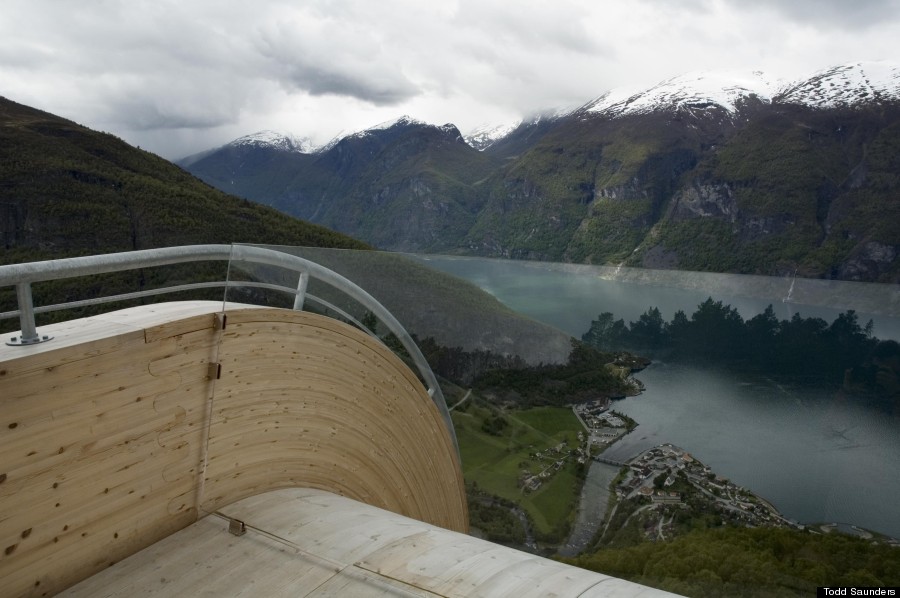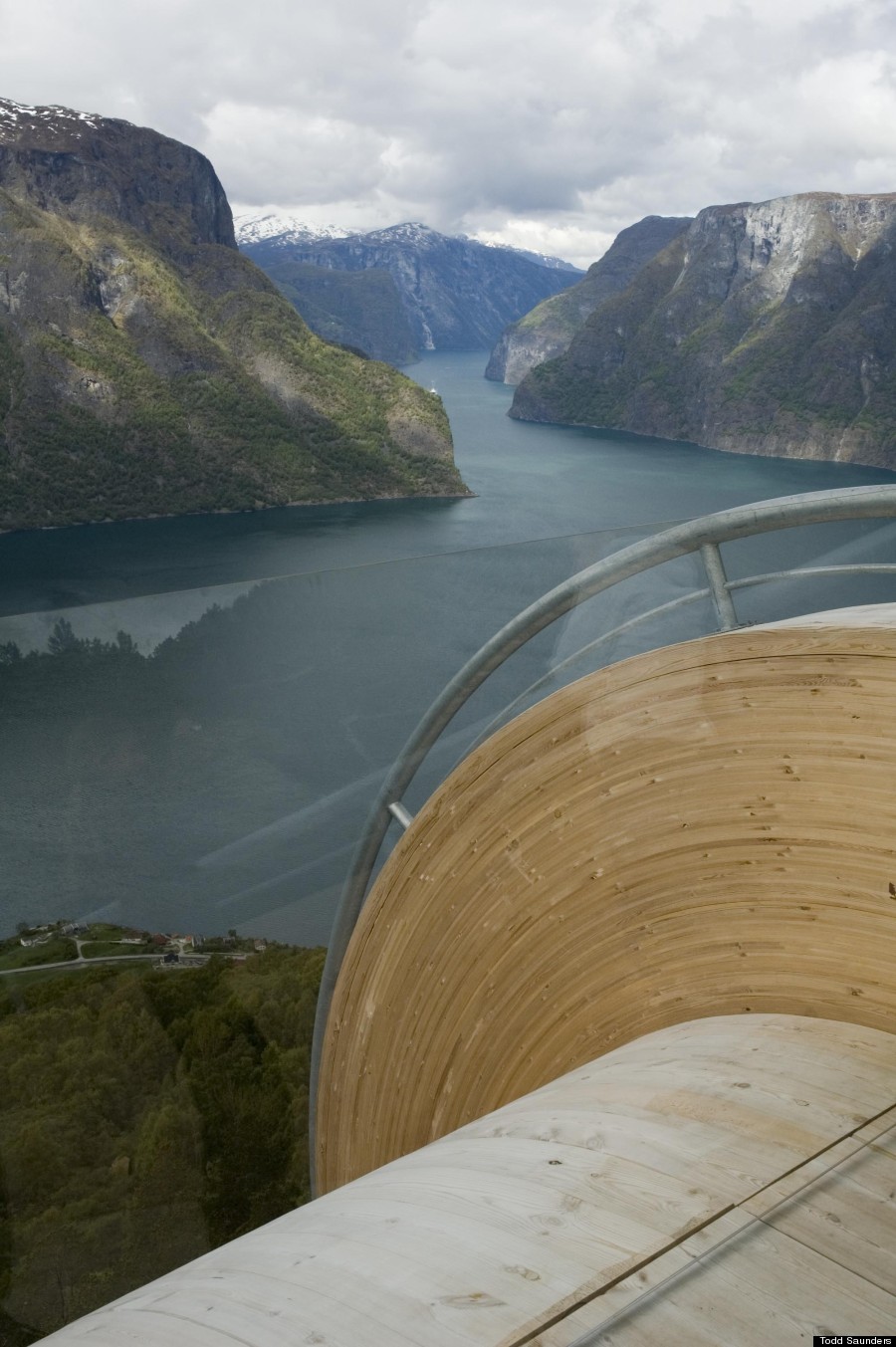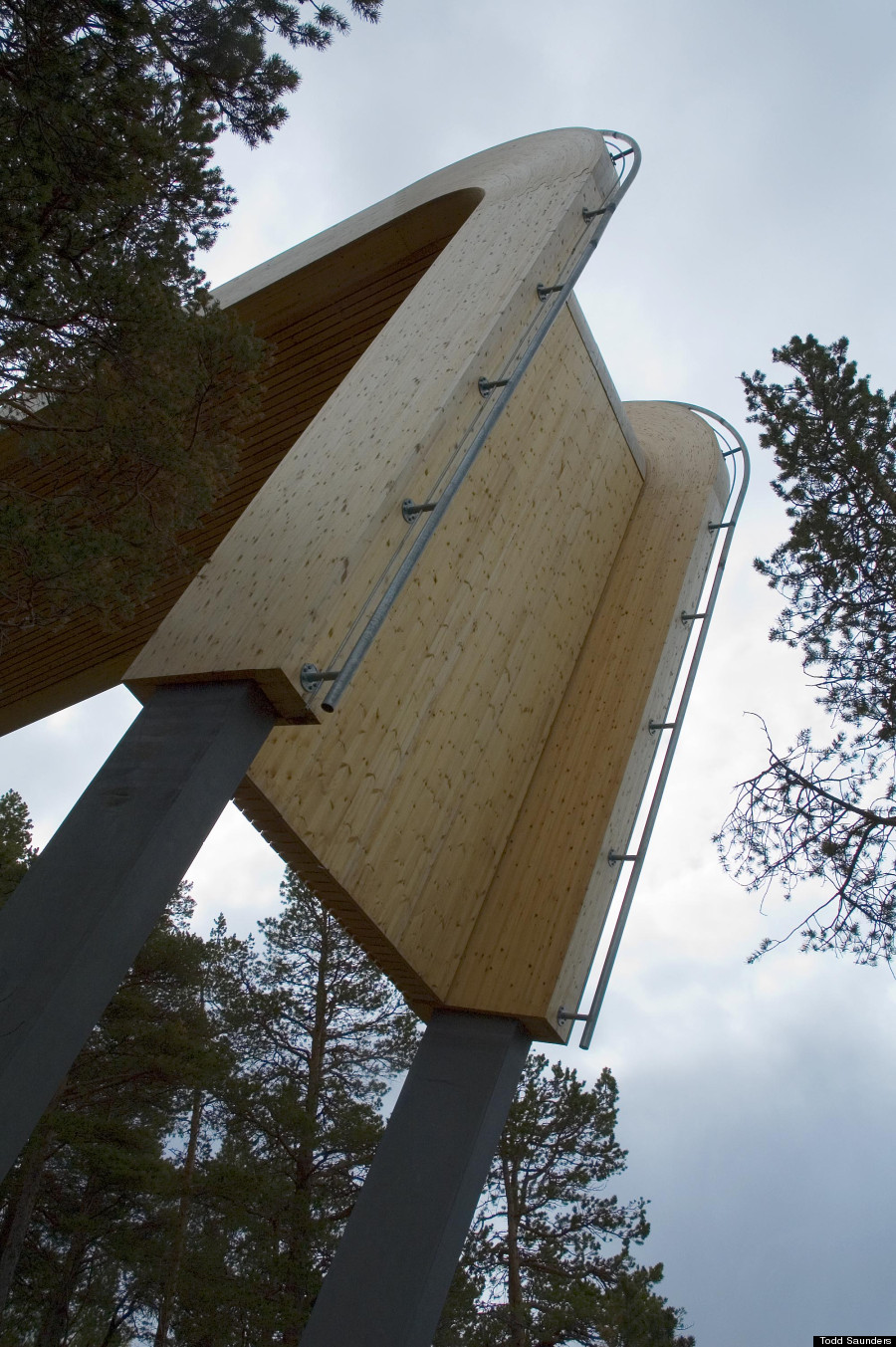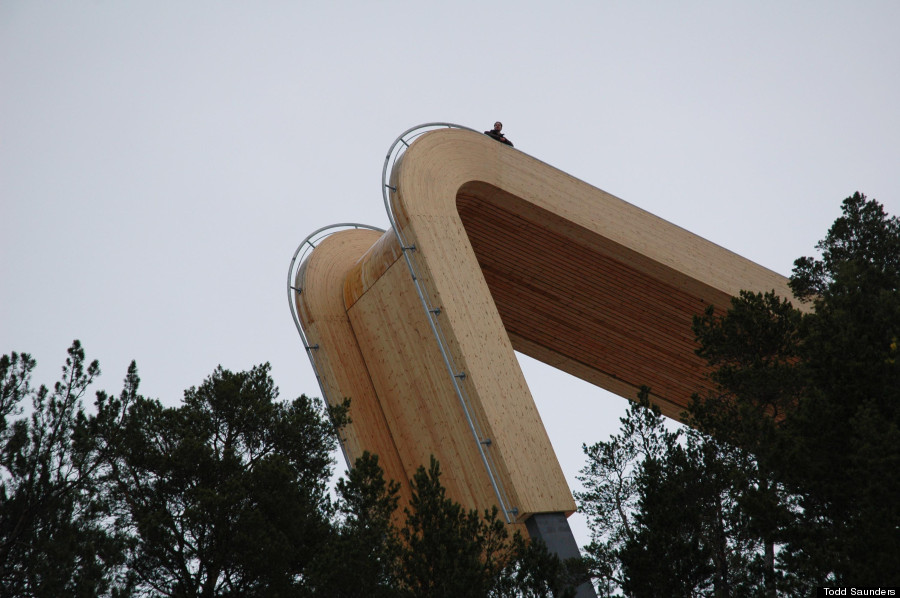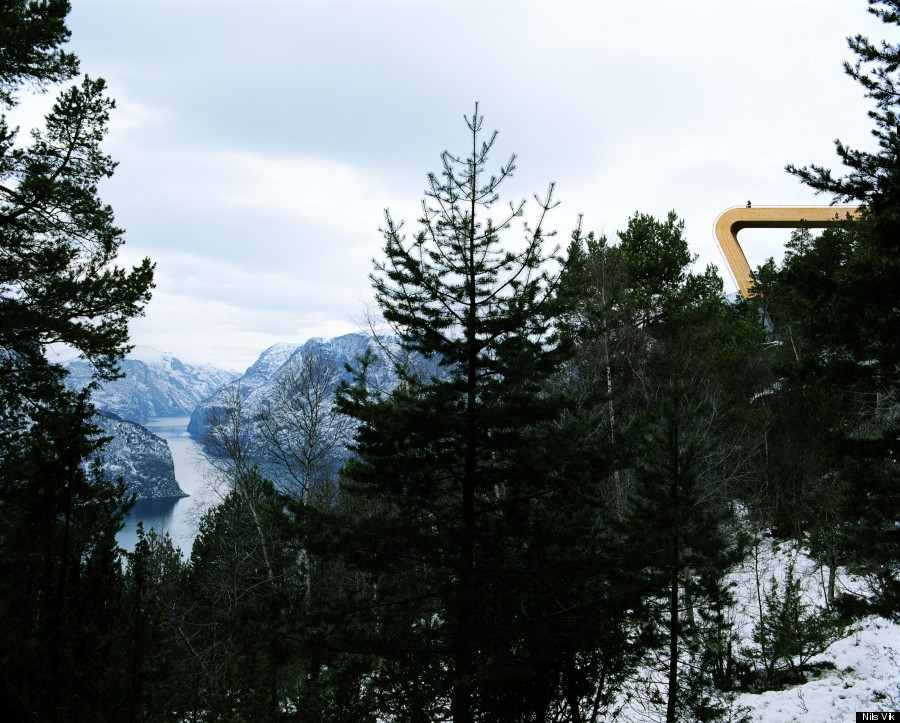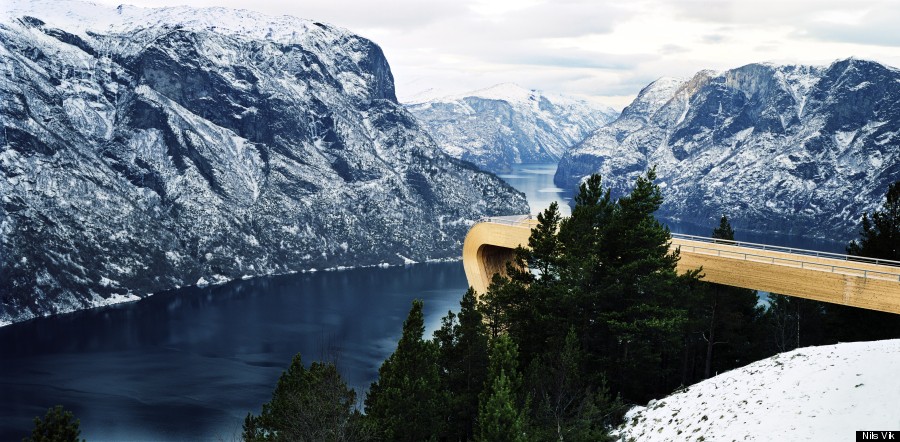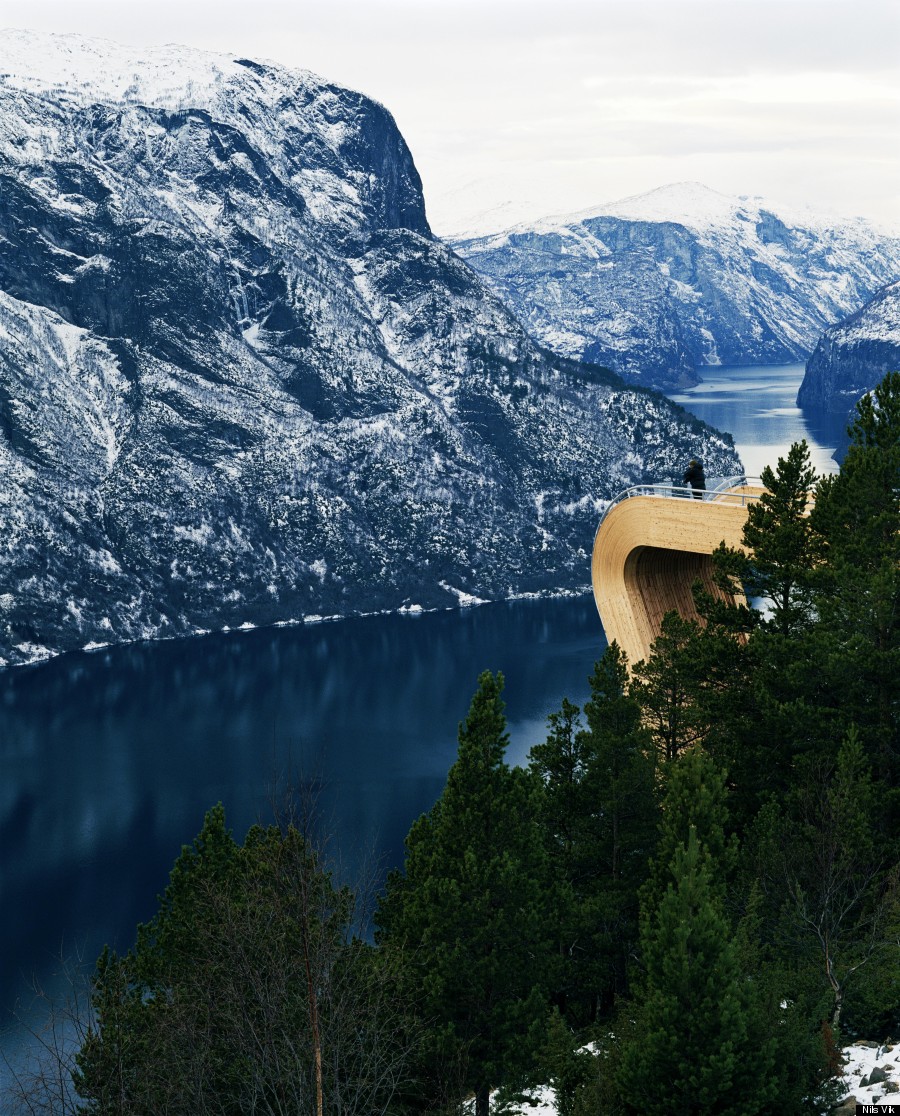 For more photos, click here.
Also on HuffPost:
Loading Slideshow
Dipsea Trail, Mill Valley, California

The famous Dipsea Trail is a Northern California favorite. The 14.8-mile round-trip hike is long and strenuous, but you can easily hike for shorter sections either in Mill Valley starting on the Old Mill Trail, or closer to the trail's end at Stinson Beach. Serious hikers, though, should consider making a day trip and taking on the full loop. Yelp reviewers <a href="http://www.yelp.com/biz/dipsea-mill-valley" target="_blank">have said</a>, "It was just so surprisingly beautiful around every turn," and "The trail is literally breathtaking."

Megunticook Trail, Camden Hills State Park, Maine

<em>Coastal Living</em> <a href="http://www.coastalliving.com/travel/top-10/10-secluded-coastal-hikes-00400000000152/" target="_blank">recommends</a> the Megunticook Trail in the low mountains around Camden in southern Maine. Hike the roughly three-mile trail all the way to Ocean Lookout for stunning Penobscot Bay views. Alltrails.com <a href="http://alltrails.com/trail/us/maine/mount-megunticook-trail" target="_blank">rates</a> the difficulty as moderate, and a reviewer says, "Clearly marked, well maintained and challenging enough for a decent workout towards the top."

Andrew Molera Loop, Big Sur, California

The 8.8-mile <a href="http://www.hikinginbigsur.com/hikes_moleraloop.html" target="_blank">Andrew Molera loop </a>is a great way to see the beauty of Big Sur by foot. Allow a day for the trek, stopping to enjoy views from the coastal cliffs and lounge on secluded beaches. The hike can be challenging, but paths are well-maintained. Enjoy an evening in Carmel, located 20 miles north of the entrance to Andrew Molera State Park, after a day of hiking across the dramatic coastline.

Anhinga Trail, Everglades National Park, Florida

Possibly one of the most-trafficked hikes in the state of Florida, it's easy to see why this short Everglades trail is so popular. The wheel-chair accessible trail (<a href="http://www.tripadvisor.com/Attraction_Review-g143024-d102485-Reviews-Anhinga_Trail-Everglades_National_Park_Florida.html" target="_blank">rated five stars on TripAdvisor</a>) is just under a mile, crossing a canal with breathtaking coastal views. Enjoy some tranquility in the calming environment and keep a lookout for local wildlife.

Great Island Trail, Wellfleet, Massachusetts

A beautiful way to experience the more untouched areas of Cape Cod, the Great Island Trail weaves through undeveloped beaches and the Cape's characteristic sandy dunes. The 4.45-mile trail, rated <a href="http://www.rei.com/guidepost/detail/massachusetts/hiking/cape-cod-national-seashore-great-island-trail/35500" target="_blank">one of the best on Cape Cod</a> by REI, is worth exploring in its entirety.

Ocean Trail, Bar Harbor, Maine

Don't forget your camera when you head out on Bar Harbor's popular walking trail along Frenchman Bay -- the ocean views are spectacular and photo opps are plentiful. One TripAdvisor reviewer <a href="http://www.tripadvisor.com/Attraction_Review-g60709-d109737-Reviews-Ocean_Trail-Bar_Harbor_Maine.html" target="_blank">gushes</a>, "The view is fantastic, the sound of the ocean is great. Pack a lunch, many places to eat, or bring your chair and enjoy a good book!"

Oregon Coast Trail, Oregon

The 382-mile <a href="http://www.oregon.gov/oprd/parks/Pages/oct_main.aspx" target="_blank">Oregon Coast Trail </a>passes by some of the most dramatic coastline in the Pacific Northwest. The trail goes through beaches, forests, headlands and state parks, and hikers can pick up the trail at many points from the California to the Washington border. <a href="http://www.oregon.gov/OPRD/PARKS/Pages/OCT_main.aspx" target="_blank">Click here for an official trail map</a> to find a short hike along the trail.

Mashomack Preserve Trails, Shelter Island, New York

Shelter Island is a haven of peace, quiet and natural beauty out on the eastern tip of the Hamptons. Rated one of the <a href="http://offmetro.com/ny/2012/02/20/hiking-trails-long-island/" target="_blank">10 best hikes in Long Island</a> by OffMetro, the island's Mashomack Preserve trails offer a range of hikes from short nature walks to 10-mile excursions through the lakes, coastline and beautiful woodlands of the 2,100-acre park.

Kent Mitchell Nature Trail, Bald Head Island, North Carolina

<a href="http://www.visitnc.com/journeys/articles/nc-coast-beaches/2/coastal-scenic-hiking-trails" target="_blank">Recommended</a> by the North Carolina Department of Commerce, this easy half-mile hike traverses rare maritime forest coastal ecosystems, with some trees that are over 300 years old. View the local wildlife, do some bird-watching and enjoy the scenery as you walk along the boardwalk trail. Visitors can reach the island by ferry from Southport, NC, and once on the island, can get around by golf cart, bike, or foot.

Parallel Trail, Cumberland Island National Seashore, Georgia

Discover over 8,000 acres of coastal beauty at Cumberland Island National Seashore on Cumberland Island in Camden County, Georgia. The hike starts at Sea Camp, following the Parrallel Trail to the Stafford Beach campsite. If you want to make it a loop, <a href="http://www.localhikes.com/Hikes/Cumberland_Island_0000.asp" target="_blank">Local Hikes suggests</a> hiking back to Sea Camp on the beach. TripAdvisor reviewers <a href="http://www.tripadvisor.com/LocationPhotoDirectLink-g34876-d123074-i19815367-Cumberland_Island_National_Seashore-Cumberland_Island_Georgia.html" target="_blank">rate</a> Stafford Beach as the top attraction on Cumberland Island, calling it "stunning" and "hard to beat."