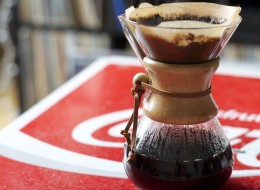 Making coffee feels like the simplest thing in the world, right? The International Coffee Organization (yep, that's a thing!) estimates that 1.6 billion cups of coffee are drunk worldwide every single day. We should all know how to do it and what we need, right? Well, sort of. We all probably know where to get a cup of coffee. Lots of us are brewing the stuff in our kitchens every single morning. But there are still a few lost souls who feel a little mystified by the process, and we totally understand why. There is A LOT of coffee paraphernalia out there -- how do you know which is worth buying and which isn't? Well, that's what we're here for.
Now, if you have a $1,000 espresso machine, make your coffee in a vacuum brewer, pump cold brewed iced coffee out in the summer like a boss and never, ever skip a morning cup, you probably don't need to know this stuff. If you are begrudgingly drinking coffee from your roommate's automatic coffee maker every morning, or (shudder) making your coffee in a pod-based, one-cup contraption, we're here to save the day. Here are the best coffee accessories to actually buy if you want to up your coffee game.
Want to read more from HuffPost Taste? Follow us on Twitter, Facebook, Pinterest and Tumblr.
Coffee Accessories You Should Actually Buy
Chemex Classic Series, $34.90 - 42.90 from Chemex Coffee This classic pour-over system is totally worth the investment. It makes some of the best hot coffee we've ever made ourselves.

Chemex Pre-Folded Filters, $8.00 - 8.50 from Chemex If you end up buying a Chemex, definitely get the filters to go with them. The pre-folded ones have saved us many a headache while making coffee still half-asleep.

Bodum Chambord 8 Cup French Press, $30.27 on Amazon This is the coffee work-horse of our kitchen. It makes the best iced coffee we've ever tasted, and is our go-to choice for hot coffee when we're too lazy to use the Chemex. If you make coffee, you need a French press. We threw away our old automatic coffee maker after using this thing for a few weeks.

Cusinart Grind Central Coffee Grinder, $29.95 from Williams-Sonoma Guys, we really can't stress this enough: buy whole beans, the fresher-roasted the better, and grind them right before you brew coffee, every time. It's better. Trust.

Bialetti Moka Stovetop Espresso Maker, $34.99 on Amazon If you like a dark, espresso-style coffee but aren't ready to invest in a $1,000 espresso machine, the Bialetti Moka is for you. It's not quite espresso, but it does make a small, strong cup of great coffee.

Bodum Pavina Glasses, $15.00 each from Bodum Are these essential? No way. They are an extravagance. But they do keep hot coffee really hot and cold coffee really cold, while leaving your hands alone. They are also pretty. Splurge with confidence if you like the looks of them.

Hario V60 Ceramic Coffee Dripper, $23.00 from Williams-Sonoma If you want to get into the pour-over habit, but are a single coffee drinker who doesn't need a whole pot of Chemex coffee, a single-cup coffee-dripper is your best buy.

OXO Good Grips LiquiSeal Travel Mug, $19.99 on Amazon You've made all this great coffee. Get something to carry it around in.