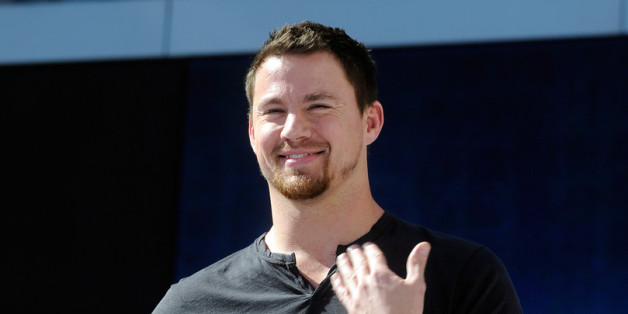 Oscar season just got a little bit more Channing Tatum. As first reported by THR and then confirmed by a press release, Sony Pictures Classics will release "Moneyball" director Bennett Miller's "Foxcatcher" on Dec. 20. Tatum, Steve Carell, Mark Ruffalo, Sienna Miller, Vanessa Redgrave and Anthony Michael Hall all star in the film, which was co-written by E. Max Fyre ("Something Wild") and Dan Futterman ("Capote").
"Foxcatcher" focuses on the relationship between John du Pont (Carell), the schizophrenic heir to the du Pont chemical fortune, and Dave Schultz (Ruffalo), an Olympic gold-medal winning wrestler. (Du Pont murdered Schultz in 1997.) Tatum plays Mark Shultz, Dave's brother, a role that the actor has called his "hardest acting challenge."
"I've been discussing 'Foxcatcher' with [SPC co-presidents] Michael Barker and Tom Bernard since I began researching the story in 2005 and it's always been my hope and expectation that they would distribute the film," Miller said in a press release. "Their passion and understanding of what 'Foxcatcher' could be and their ability to market unique and complex films makes SPC the ideal home for me. They were great partners on 'Capote,' and I'm thrilled to be back with SPC."
Oscar prognosticators have been wondering whether "Foxcatcher" would wind up on the 2013 schedule, as the film presents itself as a serious early contender, if for no other reason than Miller himself. The director has made two feature films so far in his career, and both scored Best Picture nominations ("Capote" and "Moneyball"). In addition, Miller has guided his lead actors -- Philip Seymour Hoffman in "Capote" and Brad Pitt in "Moneyball" -- to Best Actor nods. (Hoffman, of course, won Best Actor for his work in Miller's film.)
That "Foxcatcher" would wind up as a year-end Sony Pictures Classics release isn't all that surprising. HitFix In Contention editor Kris Tapley wrote on June 27 that speculation pointed toward "Foxcatcher" landing at SPC for a fourth-quarter release in 2013.
Sony Pictures Classics is poised to have a busy awards season. In addition to "Foxcatcher," the studio also has "Blue Jasmine" and "Before Midnight" as possible contenders.
For more on "Foxcatcher," head to THR.
PHOTO GALLERY
BEFORE YOU GO
Celebrity News & Photos
PHOTO GALLERY
Celebrity News & Photos