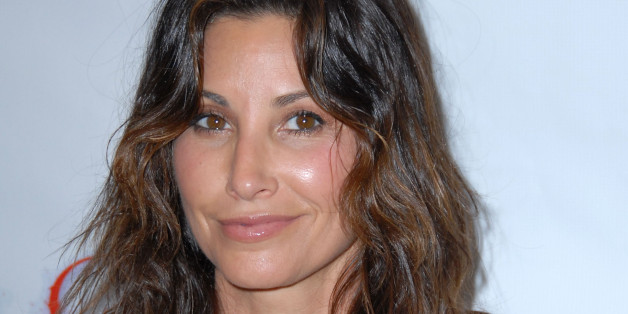 Gina Gershon will play iconic fashion designer Donatella Versace in new Lifetime TV movie "House of Versace," according to The Hollywood Reporter. The telepic also stars Enrico Colantoni as Donatella's late brother Gianni Versace, Colm Feore as their older brother Santo, and Raquel Welch as their Aunt Lucia.
The original TV movie is scripted by Rama Stagner and directed by Sara Sugarman, and is based on the book "House of Versace: The Untold Story of Genius, Murder, and Survival" by Deborah Ball. It focuses on Donatella Versace as she struggles under the scrutiny of being head designer at her brother's company following his death. The film will tackle her battle with drug addiction and the fashion house's failing fortunes, her stint in rehab and subsequent renewed sense of purpose, which built the brand into the lucrative and respected empire it is today.
"House of Versace" premieres Saturday, Oct. 5 at 8 p.m. ET on Lifetime, and will be followed at 10 p.m. ET with a new documentary called "Versace: Beyond the Headlines," which takes viewers inside Gianni Versace's fashion empire from its humble beginnings to its worldwide success, including interviews with relatives, designers and those who investigated his murder in 1997.
In addition to its slate of biopics, including recent movies on Anna Nicole Smith and Jodi Arias, Lifetime is also developing an adaptation of V.C. Andrews' "Flowers in the Attic" starring Heather Graham, Ellen Burstyn and Kiernan Shipka.
"House of Versace" premieres Saturday, Oct. 5 at 8 p.m. ET on Lifetime.
PHOTO GALLERY
BEFORE YOU GO
Fall TV 2013 In Production
PHOTO GALLERY
Fall TV 2013 In Production