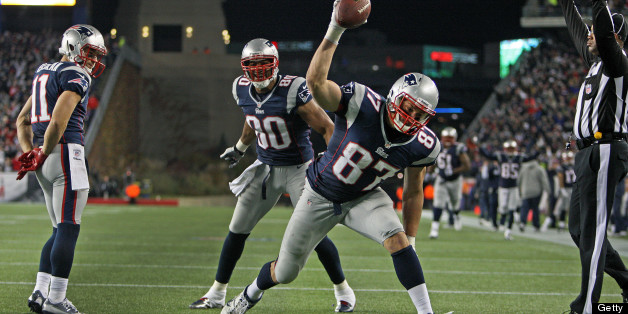 At 6-foot-6, 265 lbs., New England Patriots tight end Rob Gronkowski's physical mass has led him to football stardom in the NFL. In high school, that same physique meant blocking other kids past the field and into the fence.
His body and bruising mentality, though, may be outmatched by his decidedly robust personality. "Gronk," as he's affectionately known, is the favorite target of Pats quarterback Tom Brady and has become synonymous not just with great football, but with his signature touchdown celebration.
When he burst onto the scene to catch 10 touchdowns during his rookie season in 2010, Gronkowski -- unlike many of his counterparts -- chose not to employ a typical touchdown dance, but rather to spike the ball with the velocity of a Randy Johnson fastball. When he caught a league high 17 touchdowns during the 2011 regular season while totaling 18 and breaking the NFL's single season record for a tight end, he spiked it all 18 times.
"I've always wanted to do that when I scored a touchdown and letting myself go in the end zone is by spiking it. I always wanted to do it in high school and college, but that would be get a penalty," he told The Huffington Post. "I got to the NFL, had my chance and I just spiked the ball right there. It went great and it's been excellent since."
What has not been excellent, however, is a series of injuries. Gronk, who is just 24 years old, recently was put on the "physically unable to perform" list before training camp. He has endured multiple surgeries on the left forearm he broke last season and had back surgery in June. Question marks surround how much he will actually be able to play this season and at what level.
Yet he has endeared himself to Pats fans and the mere mention of the spike almost makes it easier to forget any doubts. This is especially true when Gronk -- who recently secured an endorsement deal with x Hudson Jeans -- volunteers his time in the local communities surrounding Boston.
"All the kids love it," he said. "They really don't ask me, they always demand it. ... I don't think I'll change it. The fans of New England love it and I love it."
Email me at jordan.schultz@huffingtonpost.com or ask me questions about anything sports-related at @Schultz_Report. Also, be sure and catch my NBC Sports Radio show, Kup and Schultz, which airs Sunday mornings from 9-12 ET, right here.