A leaked memo from Forever 21 shows the fast-fashion apparel retailer plans to cut the hours of some full-time employees and reclassify them as part-time, starting Sunday.
"Company-wide, Forever 21 recently audited its staffing levels, staffing needs and payroll in conduction with reviewing its overall spending budget," Carla Macias, associate director of human resources at the company, wrote in the memo to affected employees. "As a result, we are reducing a number of full-time non-management positions."
Although it's unclear exactly how many of the 30,000 or so Forever 21 employees will move to part-time, the company said in a statement on Facebook that the cuts affect "less than 1% of of all U.S. store employees." The affected positions include stock associates, sales associates, store maintenance associates, accessory specialists and cashiers, the memo states.
Employees who received the memo will have their hours reduced to a maximum of 29.5 a week -- just under the 30-hour full-time designation assigned by the Affordable Care Act, which requires companies who employ 50 or more workers to provide health insurance coverage for their full-time employees or face a penalty.
Newly part-time workers who were enrolled in medical, dental, vision and voluntary plans will also see their coverage cut off on Aug. 31, and they won't be able to receive paid time off.
Angry consumers have inundated Forever 21's Facebook page with comments threatening boycotts and accusing the company of punishing its own employees in retaliation for the Affordable Care Act.
"Just lost my daughter's time and my dollars," one commenter wrote. "Your politics should not victimize your workers."
Others slammed Forever 21 for not doing its "fair share" to support the communities that shop at its stores by offering more full-time jobs.
"Cutting benefits and finding loopholes to put more money in your pockets is not right," an outraged commenter complained.
"Your first priority should be the people that work to bring you your profit, not lining the pockets of your executives. Shame on you for being yet another company to leech off of the American people," wrote another.
The retailer denied speculation from customers and the media that the decision had anything to do with the costs of Obamacare. "Forever 21, like all retailers, staffs its stores based on projected store sales, completely independent of the Affordable Care Act," the company said on Facebook.
The privately-held company appears to be doing quite well, however. CEO Do Won Chang told CNN last September that the company was on track to make $4 billion in 2012. In a note to clients in March, Bank of America analysts lauded Forever 21 as "the most transformative retail concept."
"Forever 21 is becoming too big for the specialty retailers to ignore," the analysts wrote. "At this size, rapid growth could have ripple effects on the other retailers as Forever 21 takes more share."
Read the full memo to employees below: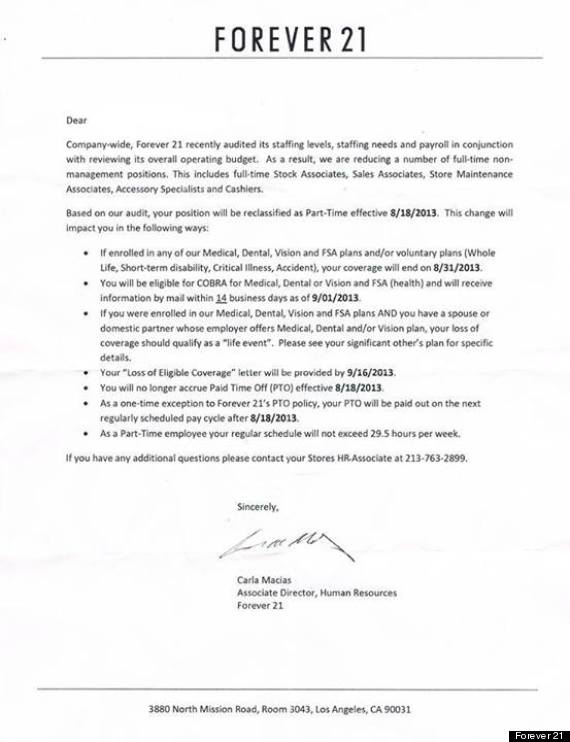 Also on HuffPost:
Loading Slideshow
Apple Maps

Apple CEO <a href="http://www.huffingtonpost.com/2012/09/28/tim-cook-apology-apple-maps_n_1922378.html">Tim Cook issued an apology</a> Friday for the company's new Maps app. Cook directed users to other map apps in the Apple store or websites like Google or Nokia until Apple's version is fixed.

Bank Of America Debit Card Fee

Bank of America announced last year that it was planning to charge customers a $5 fee to use their debit cards. After an intense customer backlash, the <a href="http://www.huffingtonpost.com/2011/11/01/bank-of-america-debit-card-fee_n_1069425.html">company dropped the plan</a>.

New Coke

In 1985 <a href="http://www.msnbc.msn.com/id/7209828/ns/us_news/t/it-seemed-good-idea-time/#.UGXCa_mfHll">Coca-Cola decided to mess</a> with its iconic product, according to NBCNews.com. The result: Epic failure. With customers comparing the change to trampling the American flag, the company pulled the product after just a few months.

Crystal Pepsi

Pepsi <a href="http://investorplace.com/2011/02/loud-sun-chips-pepsi-branding-disaster-failure/">launched a clear version</a> of its cola drink in 1993, but the product didn't last long. The company pulled it from the shelves in 1994, according to InvestorPlace.com.

Lawn Darts

Lawn darts, everyone's favorite 1980s backyard game, turned out to be pretty dangerous. The Consumer Product Safety Commission <a href="http://www.popularmechanics.com/technology/gadgets/toys/4347051#slide-1">recalled the toys in December 1988</a> after many were injured and three people died sending the steel darts through the air, according to Popular Mechanics.

Ford Edsel

In 1957, Ford launched the Edsel, a car the company billed as hot and revolutionary, according to the <em>Washington Post</em>. Problem: <a href="http://www.washingtonpost.com/wp-dyn/content/article/2007/09/03/AR2007090301419.html">It turned out to be sort of "blah."</a> By the time the company pulled the car in 1959, it had lost about $250 million.

Window's Vista

When it debuted in January, 2007, Microsoft's newest operating system was <a href="http://www.spike.com/articles/n2yhee/the-top-10-epic-fails-in-product-launch-history?page=2">slammed by consumers</a>. As a result, businesses and personal computer users were slow to adopt it, according to Spike.

The Arch Deluxe

McDonald's launched a luxury burger geared towards the adult set in 1996 with a <a href="http://www.nytimes.com/1998/04/19/magazine/steal-this-burger.html?pagewanted=all&src=pm">$100 million advertising campaign</a>, according to <em>The New York Times</em>. But the mature hamburger was ultimately a flop.

Apple Newton

In 1993, Apple <a href="http://www.dailyfinance.com/photos/top-25-biggest-product-flops-of-all-time/#photo-11">launched the PDA device, a precursor to the palm pilot</a>, according to DailyFinance, but it turned out to be a bust, thanks to its high price and bulkiness. The company pulled the Newton in 1998.

Sony Betamax

Sony poured <a href="http://articles.latimes.com/1989-09-28/business/fi-409_1_sony-corp">20 years of research into its Betamax</a> videocassette recorder, but was ultimately beat out by the competition, according to the <em>Los Angeles Times</em>. Matsushita developed the VHS system, which became more popular among companies making the devices -- and companies making films -- rendering the Betamax obsolete.

Qwickster

In September of last year, Neflix announced that it would be separating its online streaming service from its DVD service and calling <a href="http://www.huffingtonpost.com/2011/12/30/tech-fails-2011_n_1173313.html">the DVD branch "Qwickster."</a> The proposal turned out to be such an epic fail that the company scrapped the experiment last November before it even launched.

Clairol's "Touch Of Yogurt" Shampoo

When Clairol came out with its yogurt-based shampoo in 1979, they thought it would be a success, thanks to <a href="http://www.huffingtonpost.com/2012/01/06/worst-product-launches-ever_n_1182219.html">widespread interest in the test marketing</a> phase. But it turned out to be a flop; customers apparently don't want to put food in their hair.

BlackBerry Playbook

BlackBerry launched its Playbook without apps for email, contacts or any of the other things people use tablets for. The result: The <a href="http://www.huffingtonpost.com/2011/12/30/tech-fails-2011_n_1173313.html#s577006&title=BlackBerry_PlayBook">company slashed prices</a> on the device as the holidays approached.

HD DVD

Toshiba's HD DVD experiment ended up <a href="http://www.zdnet.com/blog/storage/hd-dvd-post-mortem-why-did-toshiba-fail/294">being trounced by Sony's</a> Blu-Ray player as studios and customers opted for the latter.

The Yugo

The car deemed by many to be one of the worst vehicles ever exported to the U.S. was met with widespread criticism when it <a href="http://www.cbsnews.com/2100-500395_162-4616249.html">landed on American shores in 1986</a>. Available for just $3,990, the car did terribly in crash tests, according to CBS News.

Nike Black And Tan Sneakers

Nike launched a sneaker (not pictured) in the lead up to St. Patrick's Day that offended some Irish people. The shoe called "Black and Tan"<a href="http://www.huffingtonpost.com/2012/03/14/nike-black-and-tan_n_1344197.html"> shares its name</a> with a British paramilitary unit that attacked Irish civilians in the 1920s.