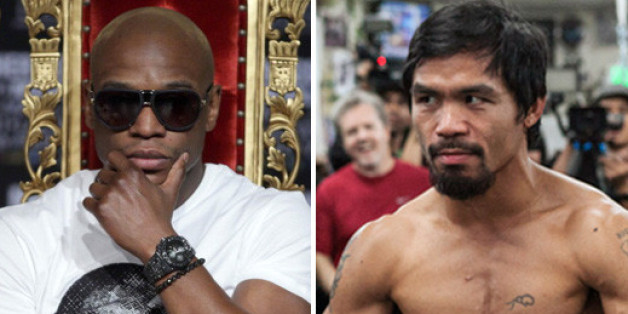 As far as Floyd Mayweather Jr. is concerned, it's Manny Pacquiao's fault that boxing fans will never see that long-anticipated Money-PacMan superfight.
"He's not going to get a chance to fight me," Mayweather told David Mayo of MLive.com in a interview posted on Saturday. "Now, I'm feeling like I wouldn't even give him a chance. He had a chance, he blew it, so that's what it is."
Back in July, Mayweather told Kevin Iole of Yahoo! Sports that he would only fight Pacquiao "if he signs with Mayweather Promotions." But the 36-year-old has rescinded that offer, telling MLive "that's probably how I was feeling at that particular time."
After hearing about Mayweather's claim that his "career is over," Pacqauio said that gives him more of a reason to agree to the bout.
"Let's get it on. Fight in the ring," Pacquiao told Marcos Villegas of Boxing Channel earlier this week. "I mean, whatever you can say. 'My boxing career is done.' Then fight. Try. That's good for you because you can easily beat me in the ring."
Mayweather announced in May that his next fight will be against Canelo Alvarez on Sept. 14 at the MGM Grand. Pacquiao is scheduled to fight Brandon Rios in a welterweight bout on Nov. 24.
ALSO ON HUFFPOST:
PHOTO GALLERY
BEFORE YOU GO
Best 2013 Sports Photos
PHOTO GALLERY
Best 2013 Sports Photos