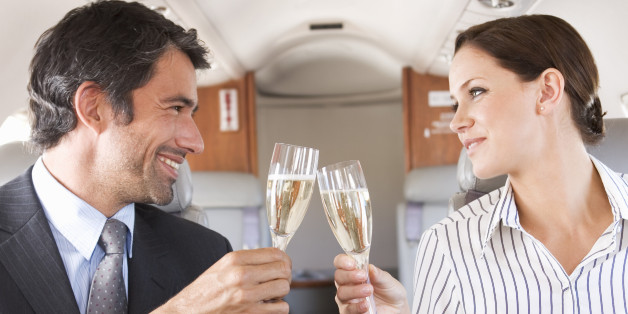 On most trips to Las Vegas, the party starts long before hitting the Strip... and apparently even before hitting the airport landing strip.
In May, passengers on Vegas-bound flights spent over twice as much on drinks than the average passenger, a survey found.
Technology group GuestLogix reviewed data from six North American airlines to determine spending patterns among travelers. Check out some of the most intoxicating findings:
Of all product sales made on flights, 62% were beverage sales.
Of those beverages, 55% were liquor, 24% were wine, and 20% were beer.
On an average flight, airlines raked in $55 from beverage sales. On flights to Vegas, however, they made an average of $116. [For the record: The route with the most income from beverages was Washington to Dubai, with $320 per flight in drink sales.]
In May, drink sales from all flights to Vegas totaled $1,063,328. Compare that to planes bound for Fukuoka, Japan: They made $28 from drinks. In a month. That's essentially only two people buying martinis... in a whole entire month.
Some drink facts are hard to sip on.
RELATED ON HUFFPOST:
Best Pools in Las Vegas (PHOTOS)