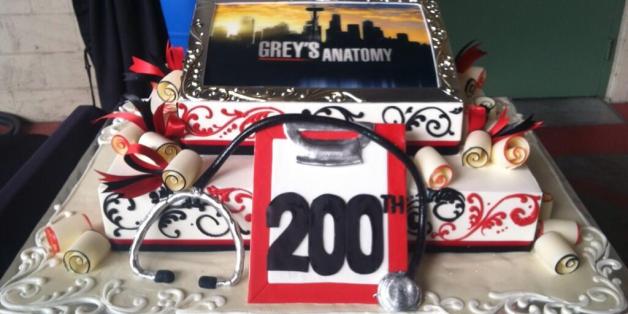 "Grey's Anatomy" is turning 200, and the cast and crew are celebrating shooting the show's 200th episode this week by sharing some behind-the-scenes sneak peeks on social media.
The 200-episode club is an elite one in television, and the folks at ABC and "Grey's Anatomy" have every right to be proud.
But what can we expect? The photos show lots of cake and champagne, but they don't reveal anything about the plot of the big episode -- although last week, creator Shonda Rhimes did already accidentally tweet one big spoiler for next season.
"I don't know how many shows have gotten to 200 episodes; it's really rare," Rhimes told The Hollywood Reporter. "One of the things I want to do in our 200th is show how our interns have grown up; 200 episodes later, they're all badass surgeons, which is really huge. It's also just about remembering how great everybody is. I like to have people in black-tie, because that's always nice. We have a story that we're telling that I feel really good about. I feel excited about it. It feels momentous for us."
But Rhimes does keep promising that she's planning to do it up big to celebrate, and apparently she meant it: She surprised everyone today with cruises! Click through the gallery, below, to see more behind-the-scenes photos.
The "Grey's Anatomy" Season 10 two-hour premiere airs on Thursday, September 26 at 9 p.m. ET on ABC.
PHOTO GALLERY
BEFORE YOU GO
"Grey's Anatomy" 200th Episode Behind-the-Scenes
PHOTO GALLERY
"Grey's Anatomy" 200th Episode Behind-the-Scenes