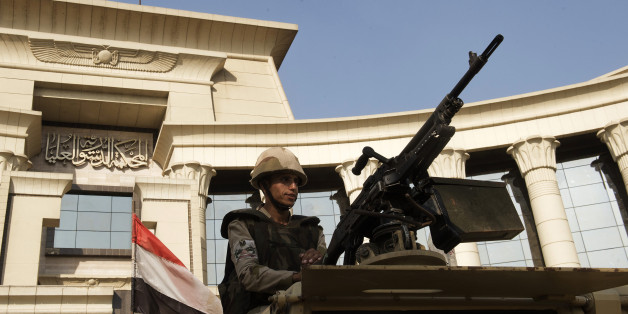 A majority of Americans support cutting off aid to Egypt, at least until democracy is restored there, according to a new HuffPost/YouGov poll.
According to the new poll, a combined 52 percent of Americans support eliminating military aid the U.S. sends to Egypt, including 28 percent who want to cut off aid until Egypt restores a democratic government and 24 percent who said they'd like to cut off aid no matter what happens there. Twenty-one percent said they would prefer to continue aid as long as it's beneficial to the U.S. and its allies, and 27 percent said they're not sure.
A Pew Research Center poll released Monday likewise found that 51 percent of Americans want to "cut off military aid as a way to pressure the Egyptian government," while 26 percent said they would like to "continue military aid in order to influence what happens there."
Republicans in the HuffPost/YouGov poll were most likely to support withdrawing aid to Egypt, with a combined 63 percent supporting either cutting off aid until it restores a democratic government (34 percent) or cutting off aid regardless of what happens (29 percent). Just under half of Democrats and independents said they would support cutting off aid, though Democrats were more likely to support a cutoff until democratic governance is reestablished, while independents were more likely to support an unconditional withdrawal of aid.
Respondents were divided in their opinion of how President Barack Obama is handling the situation in Egypt. Thirty-two percent said they approved of the way he is handling the conflict, while 34 percent said they disapprove. Another 34 percent said they weren't sure. Twenty-nine percent said Obama's response has not been strong enough, while another 29 percent said it's been about right. Only 8 percent said the response by Obama has been too strong.
A YouGov/Economist poll conducted July 6 to July 8 found that a plurality of 35 percent to 22 percent of Americans disapproved of Obama's handling of protests in Egypt at that time, but 42 percent in that poll said they had no opinion.
Together, the Pew and HuffPost/YouGov polls show the fine line the Obama administration must walk in attempting to influence events in Egypt. While the HuffPost/YouGov poll found a preference for withholding aid at least until Egypt restores democracy, the Pew poll also found that more would prefer an Egypt controlled by the military than one controlled by the Muslim Brotherhood, by a 45 percent to 11 percent margin. Forty-four percent said that they would either prefer neither of those options or that they were not sure.
The HuffPost/YouGov poll was conducted Aug. 15 and Aug. 16 among 1,000 adults using a sample selected from YouGov's opt-in online panel to match the demographics and other characteristics of the adult U.S. population. Factors considered include age, race, gender, education, employment, income, marital status, number of children, voter registration, time and location of Internet access, interest in politics, religion and church attendance.
The Huffington Post has teamed up with YouGov to conduct daily opinion polls. You can learn more about this project and take part in YouGov's nationally representative opinion polling.
Also on HuffPost:
Egypt Protests Morsi's First Year
SUBSCRIBE AND FOLLOW
Get top stories and blog posts emailed to me each day. Newsletters may offer personalized content or advertisements.
Learn more