A Portsmouth, Va., man was found guilty Tuesday of abusing his 11-day-old son in February, including biting the infant child.
Sailor Matthew Strawn, 21, will face sentencing in October after a judge found him guilty of unlawful wounding of his son, Mattix, while the infant was in the hospital for respiratory issues, WTKR reported Tuesday.
According to Portsmouth police, hospital staff notified Child Protective Services after noticing bruises on his body and contusions on his back and face.
Strawn was stationed at the Navy Branch Health Clinic and Norfolk Naval Station at the time of the incident, according to Navy Times. He was acquitted in a March incident where he had been accused of breaking his son's rib while burping him.
(Story continues below)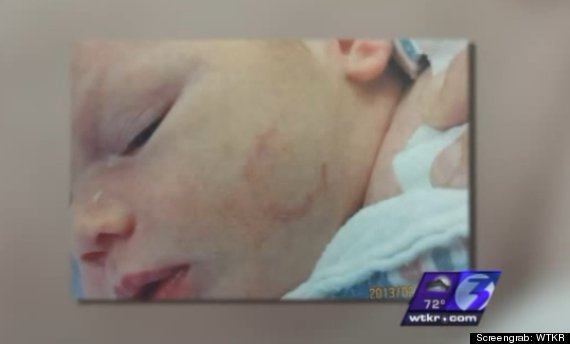 A bruise from a bite mark can be seen on 11-month-old Mattix's cheek
Stawn's blows were so hard that the baby reportedly coughed up milk and blood, WTKR reported. Although the father was found not guilty of charges in that incident, Mattix's mother, Allie Strawn, was convicted Tuesday for contributing to the delinquency of a minor when she brought the baby to visit at the Navy barracks in March.
According to a previous WTKR report, Strawn was living at the barracks since he was not allowed to be at home with his baby.
Commonwealth's Attorney Earle Mobley said he was disappointed that Strawn wasn't convicted for both incidents.
"We're talking a child that's just a few days old," Mobley told WTKR. "We're supposed to protect our young in a civilized society."
The infant is now in the custody of his aunt and uncle on his mother's side, who live out of state.
ALSO ON HUFFPOST:
PHOTO GALLERY
BEFORE YOU GO
Questionable Parenting
PHOTO GALLERY
Questionable Parenting