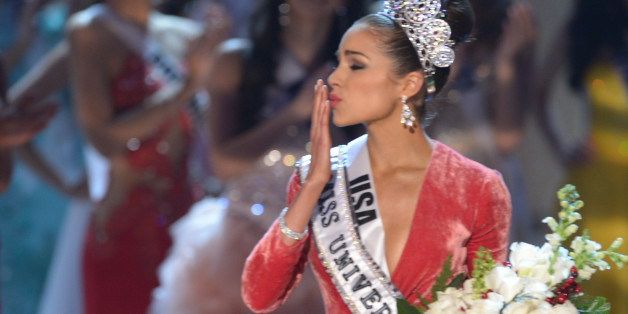 The 2013 Miss Universe pageant will stay in Russia, despite a boycott asking the Miss Universe Organization to move the event due to the country's anti-gay laws.
The Donald Trump-owned company released a statement Tuesday regarding the decision. The group said it "believes in equality for all individuals and is deeply concerned by the laws recently enacted in Russia and currently in place in several other countries." The statement goes on to say that Russia's anti-gay laws are "diametrically opposed to the core values" of the company. However, that is not enough to move the Nov. 9 contest from Moscow's Crocus City Hall.
"It is our hope this year's Miss Universe contest in Moscow will help foster a common understanding and appreciation of the rights of all individuals, regardless of their nationality, race, religion or sexual orientation," read the statement. Continuing, "The safety of our contestants, staff and crew is of the utmost importance and we are working with our Russian hosts to ensure the security and well-being of those traveling to Russia for the pageant."
President of the Miss Universe Organization Paula Shugart told the Advocate that holding the 2013 pageant in Russia is actually an opportunity because it will "put a spotlight" on the issues currently going on in the country.
GLAAD seems to agree.
"Miss Universe is an organization with incredible impact all around the globe," GLAAD representative Omar Sharif Jr. said in a statement Tuesday afternoon. "Following this important first statement, Miss Universe has a unique opportunity to continue to speak out against the anti-LGBT violence and laws in Russia and demonstrate that the international community does not support Russia's anti-LGBT brutality."
These comments come after a Change.org petition asking the Miss Universe Organization to reconsider the locale gained more than 28,000 signatures. The comments also follow news that openly gay co-host Andy Cohen has chosen to boycott this year's event because of the nation's "discriminatory" and "unsafe" policies.
The organization itself has displayed progress in terms of lesbian, gay, bisexual and transgender (LGBT) rights before. Last year, the Miss Universe Organization announced it would allow transgender women to compete for the crown after Miss Universe Canada contestant Jenna Talackova was booted from the pageant because she is transgender.
ALSO ON HUFFPOST:
PHOTO GALLERY
BEFORE YOU GO
Gay Pride Around The World
PHOTO GALLERY
Gay Pride Around The World