Hace dos años, la imagen de una madre lactando a su bebé mientras practicada yoga desnuda, se hizo viral en las redes sociales. Ahora la protagonista de de la foto, Amy, decidió contestar algunas interrogantes que ha escuchado desde que se compartió la imagen.
En una entrevista exclusiva con BabyCenter Amy aclaró de una vez y por todas que la foto NO fue posada como muchos imaginaron. "La verdad es que estábamos viviendo en una comunidad pequeña en Hawai, donde usar ropa era opcional y ¡el yoga era/es una necesidad! Añadió, vía email, que mientras hacía su rutina diaria se acercó su bebé a tomar leche.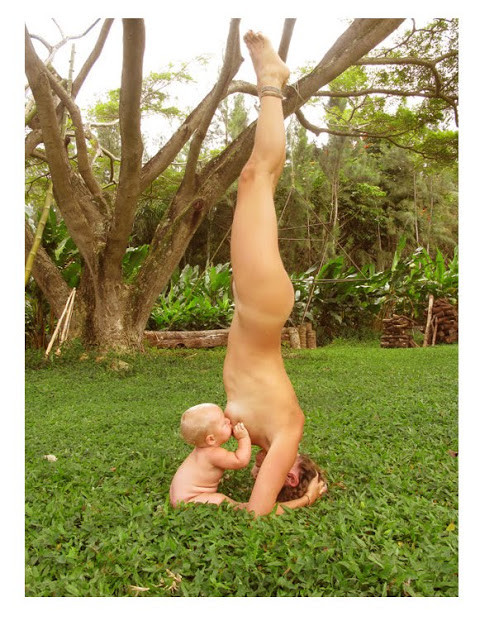 La madre le contó a BabyCenter más acerca de ella y de su familia. Dijo que escogió vivir una vida simple desde sus 20 años y que desde entonces, ha estado viajando con lo mínimo. Todavía vive en Hawaii con su hija Naia y con su pareja, pero próximamente se estarán mudando a Nueva Zelanda por seis meses. En su propio blog, Daughter of the Sun, Amy recalca lo importante que ha sido el yoga en su vida, y dice que su hija también lo practica:
También aclara que su familia no es solo un grupo de hippies, una palabra que Amy encuentra ya pasada de moda. "Entiendo que nuestra familia no es del estereotipo ideal. Nos veremos diferentes al resto del mundo, pero la cercanía y amor que compartimos va más allá de lo ideal", escribió.
Para leer la entrevista completa con Amy, visita BabyCenter. También puedes ver sus lindas fotos en su cuenta de Instagram.
- Vía HuffPost Parents
RELACIONADO EN HUFFPOST VOCES:
La postura de yoga para tu signo
SUBSCRIBE TO & FOLLOW THE MORNING EMAIL
Start your workday the right way with the news that matters most. Learn more