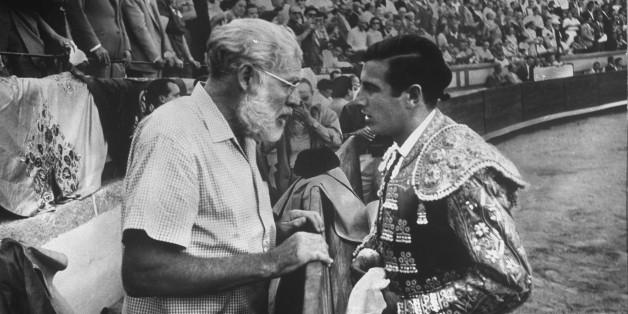 A.E. Hotchner, author of numerous plays and books, shared this Hemingway story on The Moth that is absolutely amazing.
Hotchner met Hemingway in 1948 when he edited one of Hemingway's novels, and the two were close friends until Hemingway's death in 1961. Hotchner is probably best known for "Papa Hemingway," his biography of the literary great.
In The Moth piece, Hotchner takes us to Spain 1959. Hotchner and Hemingway went to see a bullfight between two great matadors (there had apparently not been a bullfight of this kind for 30 years previous to this 1959 fight and there hasn't been one since then).
After the event, they had dinner with the matadors, and, in true Hemingway fashion, they drank a ton of red wine. They drunkenly discussed Hotchner participating in the next bullfight. Hemingway declared that he'd be Hotchner's manager.
Hotchner forgot about the drunken dinner proclamations until he went to wish luck to Antonio, one of the matadors, before the next match. He discovered that a matador costume had been laid out for him. Despite his better judgment, he went along with the idea and got dressed and ready.
Hemingway gave Hotchner some great advice before he went into the ring: "You only have to do three things. Number one: Look tragic... Number two: when you get to the ring, people are watching you. Don't lean on anything; it's ugly for the suit. And number three: if the photographers come toward you, put your right foot forward; it's sexier."
Did Hemingway's advice prove useful? To find out what happens during the bullfight itself and its aftermath, listen to the full story here!
SUBSCRIBE TO & FOLLOW CULTURE SHIFT
Level up. Read THIS and be the most interesting person at your dinner party. Learn more