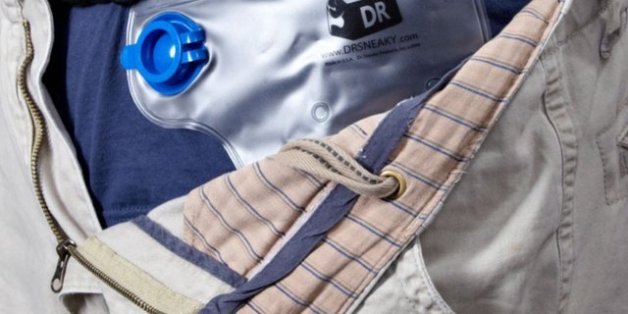 There are times when we feel like boozing and it's just not appropriate. Thanks to the complete and total randomness of social mores, we are encouraged to drink at casinos -- where our whole life savings is on the line -- but are prohibited from imbibing at most public beaches when all you're supposed to do is kick back and relax. Where's the logic there, people? We can't make any sense of it.
There's no reason to be living under the arbitrary rules of others any longer. We think you should be able to drink where drinking feels good. While a flask has traditionally been the way to live by your own imbibing standards, sometimes even that's not discreet enough. But the sneaky shorts hidden flask is as invisible as it gets when it comes to drinking. It's cheap. It's easy to use. It holds 24 ounces of booze. And it's all perfectly sneaky.
The sneaky shorts hidden flask is worn on your hip with an adjustable belt, but hides underneath your pants, shorts, dress or skirt. Just fill it with the booze of your choice, keep the dual hoses close for access, pour when no one is looking and get drinking -- sneakily. You can get the flask for $20 at The Fancy.
Want to read more from HuffPost Taste? Follow us on Twitter, Facebook, Pinterest and Tumblr.