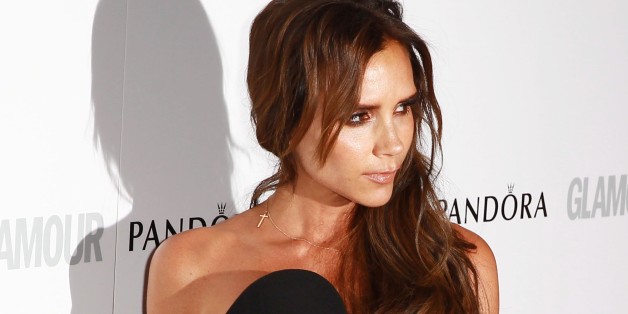 Work/life balance can be hard, but it looks like Victoria Beckham has it together. But her life isn't all nannies and ritzy entourages -- no, no, no, the woman struggles just like the rest of us.
Still skeptical? Just ask the mom herself. The star sat down with T: The New York Times Style Magazine recently to talk about how she juggles her many roles (mother, wife, fashion designer and former Spice Girl, to name a few). We'll let Beckham explain the many reasons why she's just as "normal" as any smiling commoner:
1. She's your average, hard-working American woman.
"I am very career minded, and I think my personality is more suited to America. I am a working mum."
2. She eats what everyone eats.
When Posh served her interviewer chef-prepared sushi straight from her kitchen, she explains, "You are going to think this is real -- this is what I get every day!" Not quite -- The chef "comes in a couple of days a week and might make a giant lasagna so I can put it in the freezer and then do it myself." Oh, that changes everything. (When the chef's off, apparently "David does the cooking.")
3. Her kids have normal, thrown-together birthday parties.
"We have what I consider to be normal birthday parties. I've been to parties in L.A. that are mind-blowing. I mean, quite literally mind-blowing. People get cell phones in the party bag, that sort of thing. Fabulous, fabulous parties. Ours aren't like that. They are normal kids' parties. We'll have a bouncy castle, a face painter."
4. She has separate work and "mom" clothes.
After playing with little Harper in jeans and a t-shirt, Victoria changed into "slouchy Isabel Marant trousers, a skimpy sleeveless silk top, a Balenciaga leather jacket and a pair of towering leopard-print stilettos." We assume any outfit compliments would be followed by, "Oh, this old thing?"
5. She smiles... in family pictures.
"I smile in family pictures," she said, "When you're in a position to be paparazzi-ed just walking down the street, you'd look a little daft if you were smiling all the time."
6. Like the rest of us, she's also attracted to David Beckham.
"I think he looks great whatever he does. He literally always looks really, really good."
So what say you: Is Beckham "just like us"?
Rome wasn't built in a day:
Victoria Beckham's Style Evolution
SUBSCRIBE TO & FOLLOW LIFESTYLE
HuffPost Lifestyle is a daily newsletter that will make you happier and healthier — one email at a time. Learn more