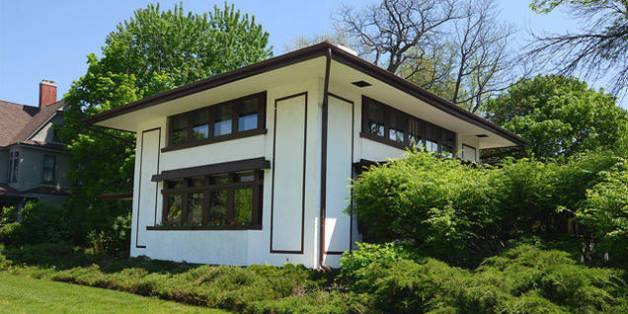 Another one of Frank Lloyd Wright's homes has hit the Chicagoland market!
The Prairie-style Stephen M.B. Hunt House just outside of Chicago in suburban La Grange is among Wright's most recognizable styles and was recently listed for $699,900 according to Estately.
The four-bedroom home is a tidy 2,000 square-feet, but features "beautifully refinished hardwood floors, a lovely screened in porch, cedar closets, an open floor plan and sits on a double lot on 7th avenue" according to the listing.
Built in 1907, the home is just one of four Wright designed in La Grange and predates the other three in the area by 15 years. As Curbed Chicago notes, the home was meant to be fireproof. Wright shared the design in a Ladies Home Journal piece he wrote that same year, in which he advocated "compact, two-story, economical" homes.
According to the Frank Lloyd Wright Tour blog, the Hunt house is a "modern exaggeration of the Peter Goan House," another of the master's La Grange creations.
PHOTO GALLERY
BEFORE YOU GO
Frank Lloyd Wright's Prairie-Style Hunt House
PHOTO GALLERY
Frank Lloyd Wright's Prairie-Style Hunt House