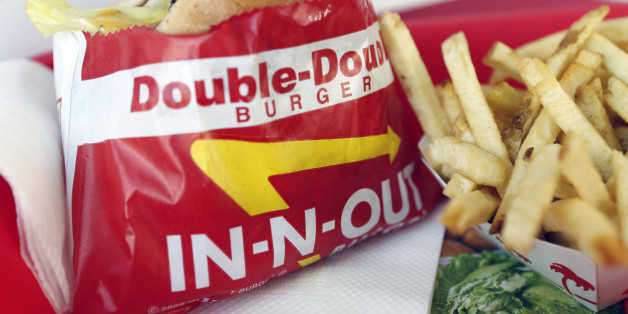 In a milestone for Southern California's beloved hamburger chain, In-N-Out will be opening its first ever location on tribal lands: the Morongo Indian Reservation.
The restaurant location, adjacent to the Morongo Casino off the 10 freeway in Cabazon, Calif., is set to open some time in 2014. The new restaurant is part of a larger development plan along the 10 freeway in the area on the way to the casino and outlets, reports Banning-Beaumont Patch.
"We are delighted that In-N-Out Burger has chosen the Morongo Indian Reservation as the home for its first restaurant ever on tribal land," said Chairman Robert Martin of the Morongo Band of Mission Indians in a press release. "Given the current economic environment, Morongo is happy to be developing a new project that will not only bring new business activity and jobs to our region but will also generate future economic development opportunities."
Fast food workers make a median wage of just $8.94 an hour nationwide, which is why it may seem strange that the tribe is hailing the addition as an economic development opportunity.
But fans of In-N-Out know that the restaurant stands out not only for its freshly-made food, but also for the way it treats its employees. An In-N-Out employee starts at $10.50 per hour, significantly higher than California's minimum wage of $8 or federal minimum wage at $7.25. According to the company's site, even part-timers are eligible for flexible schedules, paid vacations, free meals and a 401K plan.
Meanwhile, employees of other companies like McDonald's, KFC and Taco Bell are gearing up for a nationwide strike to demand $15 per hour pay.
In-N-Out, which was founded in Southern California, only opens restaurants in the Southwest (Arizona, California, Nevada, Texas and Utah) out of concern for proximity to their distribution facilities in California and Texas. Since none of the locations have freezers or microwaves, fresh food is constantly being delivered, explained In-N-Out president Lynsi Torres.
ALSO ON HUFFPOST:
Here's a list of some of the most well-know eateries with secret menu items that are sure to wow, please and sometimes puzzle you on your next trip. To read more Neon Tommy stories, click here.
PHOTO GALLERY
BEFORE YOU GO
SECRET MENUS
PHOTO GALLERY
SECRET MENUS