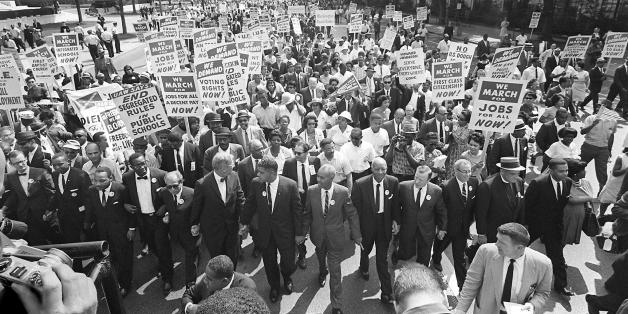 August 28, 1963 marked a pivotal moment in our nation's history as the March on Washington took place in Washington D.C. Dubbed the "the greatest demonstration of freedom in the history of the United States" by Dr. Martin Luther King Jr., the historic event attracted more than 240,000 Americans demanding equality in jobs and civil rights.
To commemorate the 50th anniversary of the March on Washington, we took a look at 10 facts that contributed to the rally's success.
Dr. Martin Luther King's historic "I Have A Dream" speech was reportedly drafted in New York and Washington DC hours before the march.
Dr. King's speech went on to become the best political speech of the 20th century, according to a 1999 panel of more than 130 scholars.
In addition to marking the largest demonstration in Washington D.C., the march was also one of the first to be televised.
Though, August 28, 1963, celebrated a day towards progression in America, NAACP co-founder, W.E.B. Du Bois died on the day before in Ghana at age 95.
Celebrity entertainers who were present included Bob Dylan, Ossie Davis, Jackie Robinson, James Baldwin, Marlon Brando, Mahalia Jackson, Josephine Baker, Sidney Poitier, Harry Belafonte, Sammy Davis Jr., Lena Horne, Diahann Carroll among others.
Black gay activist, Bayard Rustin was credited for organizing the expansive gathering in just two months. Later this year he will be honored by President Obama as one of this year's recipients of the Presidential Medal of Freedom.
Although 5,000 law enforcement officials were present, no arrests involving marchers were reported.
The official name of the march was "The March on Washington for Jobs and Freedom."
After raising a total of $146,917 the march expenses totaled $133,229.
Though Dr. King's speech is widely known as the "I Have A Dream" speech, it is said to have had other names including, "The Normalcy Speech" and "A Cancelled Check".
PHOTO GALLERY
BEFORE YOU GO
1963 March On Washington
PHOTO GALLERY
1963 March On Washington