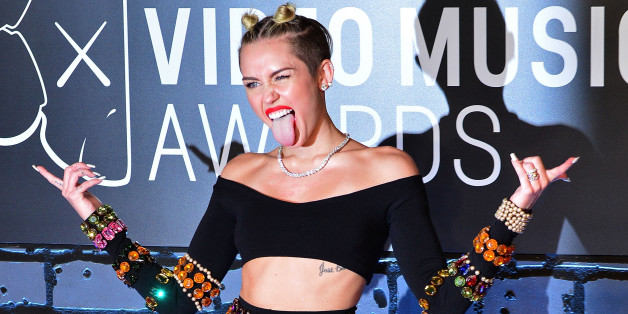 The 2013 MTV VMAs dust has settled. Everyone has taken to social networks, from Twitter to Facebook to Tumblr, discussing the triumphs and failures of entertainers. There's no doubt this year's award show had some colorful moments, but one thing it lacked was color.
Everything about this year's Video Music Awards was black, from its Brooklyn venue to Miley Cyrus' disturbing twerking. What wasn't black, however, were the award winners. Zero, count them, zero of last night's televised honorees were black. Janelle Monae walked away with an award for "Best Art Direction" for her song "Q.U.E.E.N." featuring Erykah Badu, but that was off camera.
We couldn't help but notice black culture seemed to be everywhere last night, from Justin Timberlake's crooning sounds and syncopated rhythms to Katy Perry's grill. Lest we forget the majestic Barclays Center located on Brooklyn's very own Flatbush Avenue.
Macklemore & Ryan Lewis' "Can't Hold Us" took home the moon man for best hip-hop video, beating out the likes of Drake, Kendrick Lamar and A$AP Rocky, an occurrence some viewers were not happy with:
Out of all the real hip hop dudes at the VMAs, macklemore wins best HIP-HOP video
— evan turner (@thekidet) August 26, 2013
No one moment has ever gentrified Brooklyn as hard as Macklemore winning Best Hip Hop Video at the VMAs.
— Josh Gondelman (@joshgondelman) August 26, 2013
And of course, there's Miley Cyrus.
There's really nothing left to say about the former Disney star that hasn't already been said. Huffington Post Entertainment editor Kia Makarechi points out the disturbing nature of the performance, and cites Jody Rosen's comments in Vulture and many more in-depth criticisms of the 20-year-old:
Cyrus is annexing working-class black "ratchet" culture, the potent sexual symbolism of black female bodies, to the cause of her reinvention: her transformation from squeaky-clean Disney-pop poster girl to grown-up hipster-provocateur. (Want to wipe away the sickly-sweet scent of the Magic Kingdom? Go slumming in a black strip club.) Cyrus may indeed feel a cosmic connection to Lil' Kim and the music of "the hood." But the reason that these affinities are coming out now, at the VMAs and elsewhere, is because it's good for business.
Sure Kanye was there, and Drake too. But ask yourself who everyone is talking about today, and it isn't them.
Let's face it, this isn't the first time black culture has been popularized by white entertainers--Elvis anyone? But something about it was so obvious last night. It felt like someone took a white bucket of paint and spilled it all over the BET awards. It was messy and offensive, and quite frankly, pretty sad.
Pop culture will tell us that booties are back, even though we all know they never went anywhere. Robin Thicke will continue to climb the charts, despite his legal battle with Marvin Gaye's family. And somewhere in America, Miley Cyrus will keep twerking.
But everybody knows, once mainstream culture grabs a hold of something, it's no longer cool. Last night, MTV made it painfully obvious that the rest of the world is late to the party, we've been twerking, we wore grills years ago and Brooklyn was cool way before the Barclays Center.