When models and celebrities collide, it can seem like the stars have aligned to create the perfect, genetically-gifted couple. But you can have too much of a good thing.
Thanks to "Sex and the City," we have a term for the men of Hollywood who seem to have an addiction to dating leggy beauties: modelizers. To give you a better idea, we've rounded up some classic examples of male celebs who have a thing for dating models. See our list of modelizers below and tell us if we're missing anyone!
Leonardo DiCaprio
Today's quintessential modelizer, Leo has dated everyone from Bar Refaeli to Gisele Bundchen to Erin Heatherton. He even romanced Naomi Campbell back in the '90s. Oh, and he's currently dating Victoria's Secret model Toni Garrn -- it's no wonder some people have started referring to modelizing as "Leonardo DiCaprio Syndrome."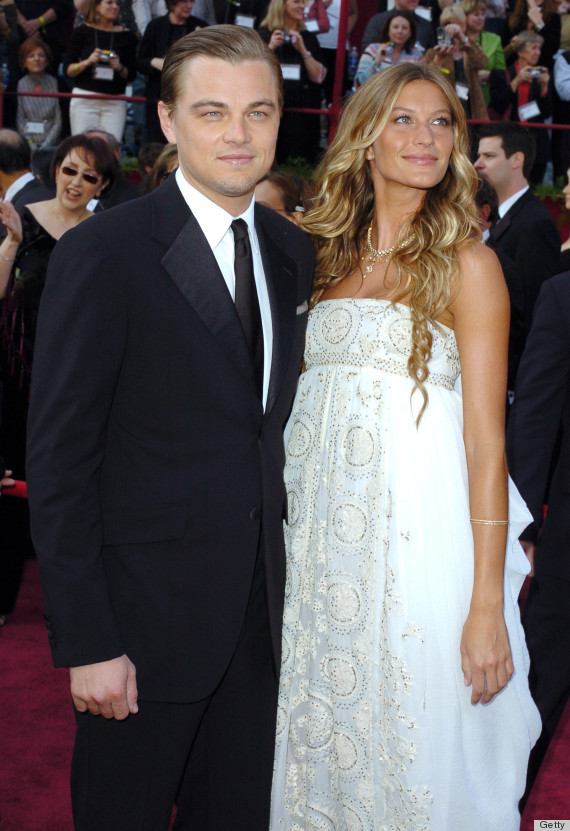 Leonardo DiCaprio & Gisele Bundchen
Mick Jagger
The Rolling Stones frontman has had a pretty impressive roster of model girlfriends and wives. He tied the knot with models Bianca Jagger and Jerry Hall, but he's also dated stunners like Luciana Gimenez, Carla Bruni and Janice Dickinson. As for his current statuesque fashion designer girlfriend L'Wren Scott? Yah, she was a model, too.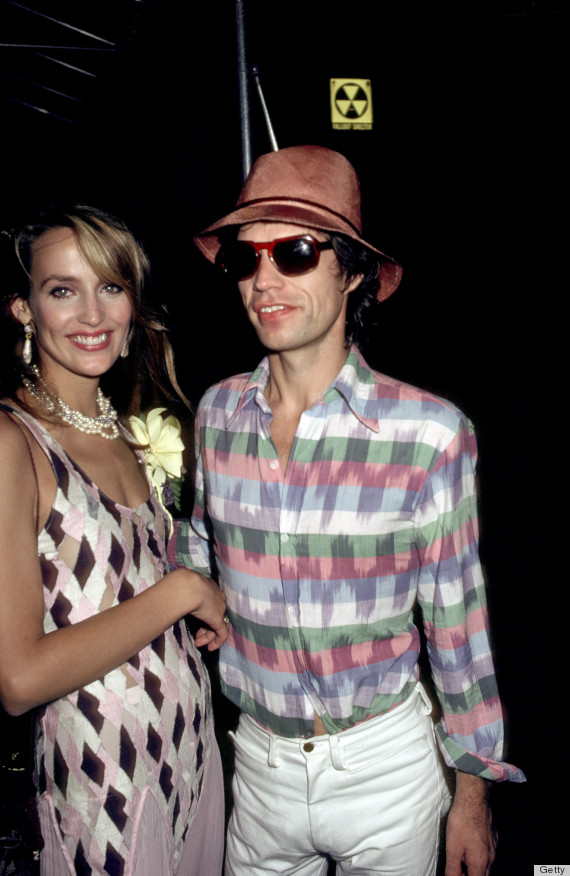 Mick Jagger & Jerry Hall
Adam Levine
Even though he's now engaged to Victoria's Secret model Behati Prinsloo, the "Moves Like Jagger" singer seems to go through model girlfriends like tissues, dating more VS faces like Anne Vyalitsyna, Nina Agdal and Angela Bellotte. Man, backstage at the annual VS fashion show must be awkward.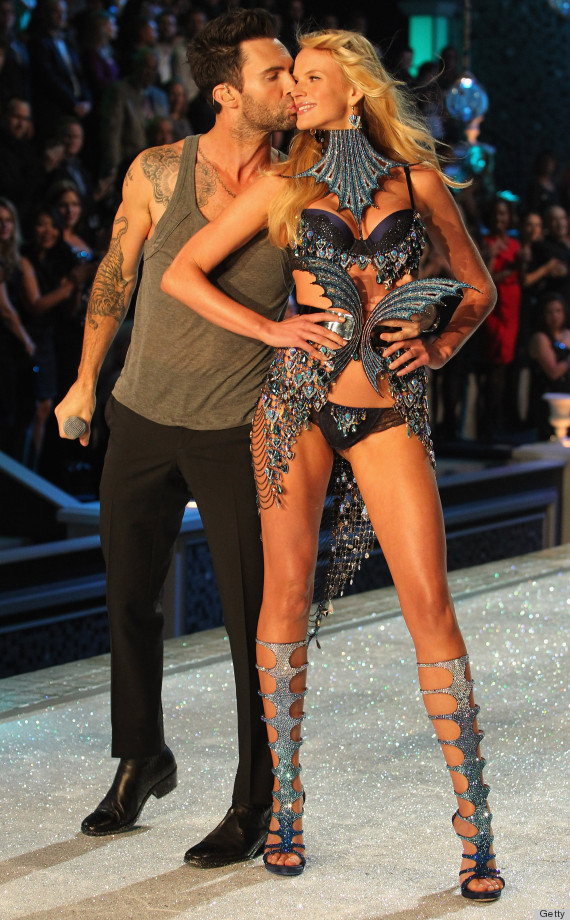 Adam Levine & Anne V
Johnny Depp
After he realized his relationship with Winona Ryder wouldn't last "forever," the actor moved on to his tabloid-worthy relationship with supermodel Kate Moss. Then, after a brief fling with Naomi Campbell, Depp entered into a 14-year relationship with French model Vanessa Paradis, which sadly ended last year.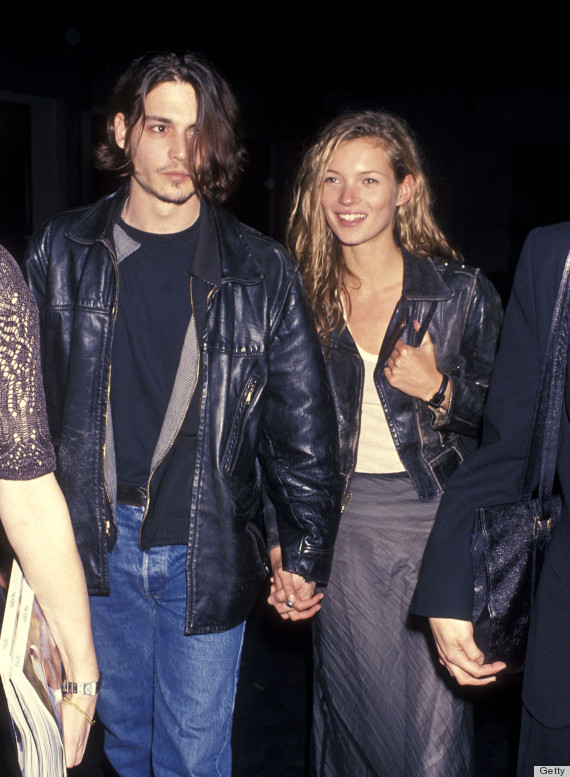 Johnny Depp & Kate Moss
Richard Gere
The man was married to Cindy Crawford, for crying out loud. These days, he's married to model Carey Lowell, but he also had a rumored affair with Kim Basinger, a former fashion model.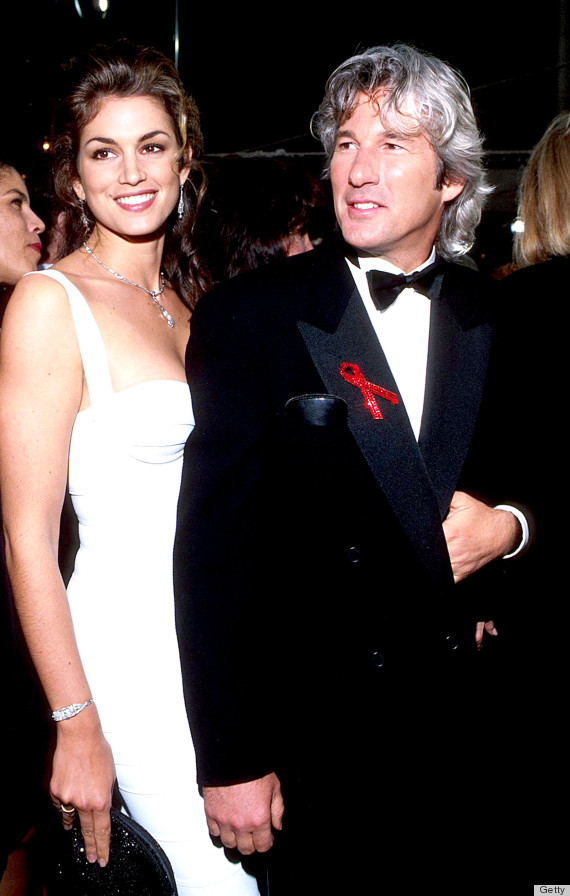 Richard Gere & Cindy Crawford
Rod Stewart
Starting off his modelizing with his first serious relationship, the musician dated Dee Harrington back in the '70s before marrying his first model wife, Alana Stewart. After the couple split, Stewart dated Sports Illustrated model Kelly Emberg. He married wife number two, Rachel Hunter, then moved on to his current wife, British model Penny Lancaster.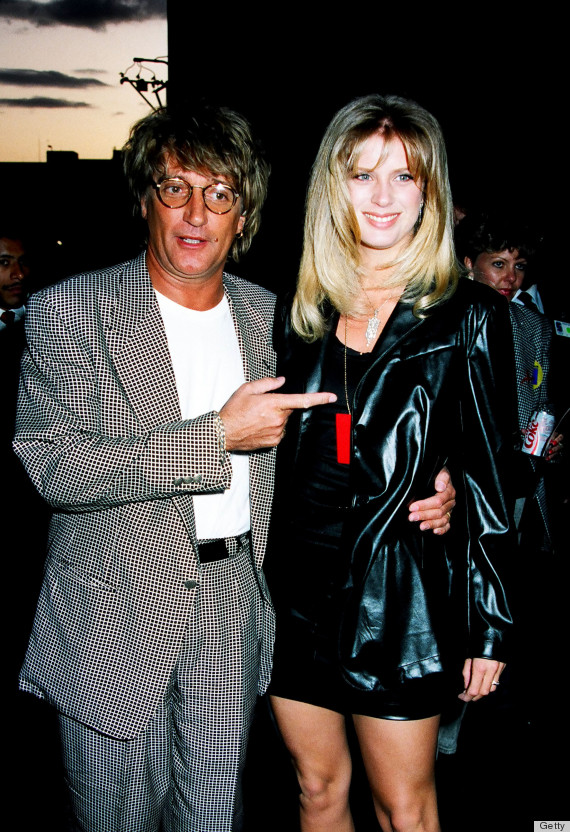 Rod Stewart & Rachel Hunter
Bruce Willis
Always the ladies man, Willis is currently married to Emma Heming. Before tying the knot, the actor reportedly dated Brooke Burns, Maria Bravo Rosado and Emily Sandberg, and he was married to Demi Moore (hey, she was signed with Elite Model Management back in the day).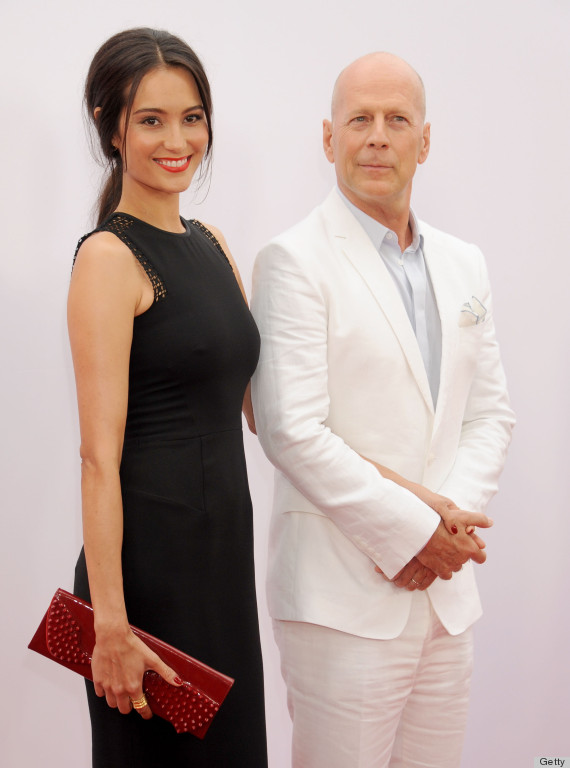 Bruce Willis & Emma Heming
George Clooney
The eternal bachelor has been fortunate enough to date a handful of models, including Karen Duffy, Celine Balitran, Lisa Snowdon and Elisabetta Canalis. He recently ended a long-term relationship with Stacy Keibler, who's done some modeling work. On to the next one, George!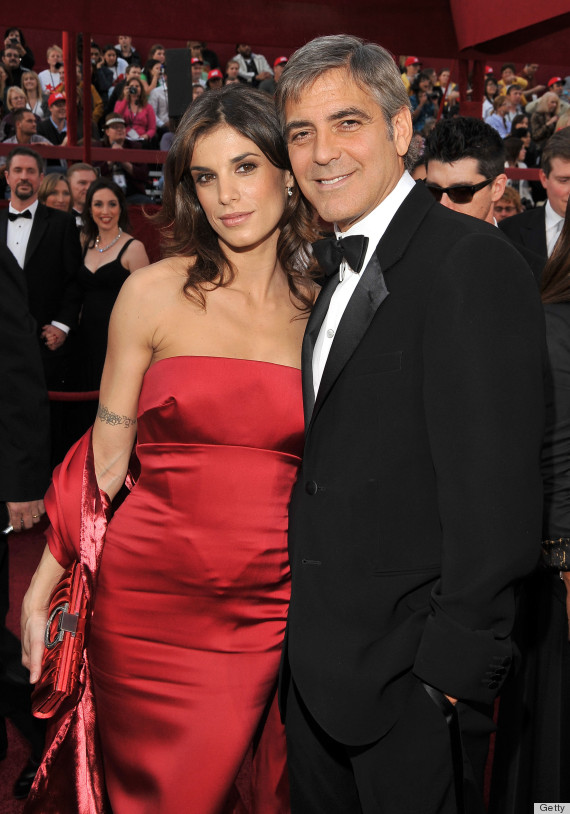 George Clooney & Elisabetta Canalis
Seal
We all know about Seal's marriage and messy divorce from supermodel Heidi Klum, but the singer has a pretty impressive roster of former girlfriends, including Tyra Banks and Tatjana Patitz. Now that he's an unmarried man, we predict another leggy model in his future.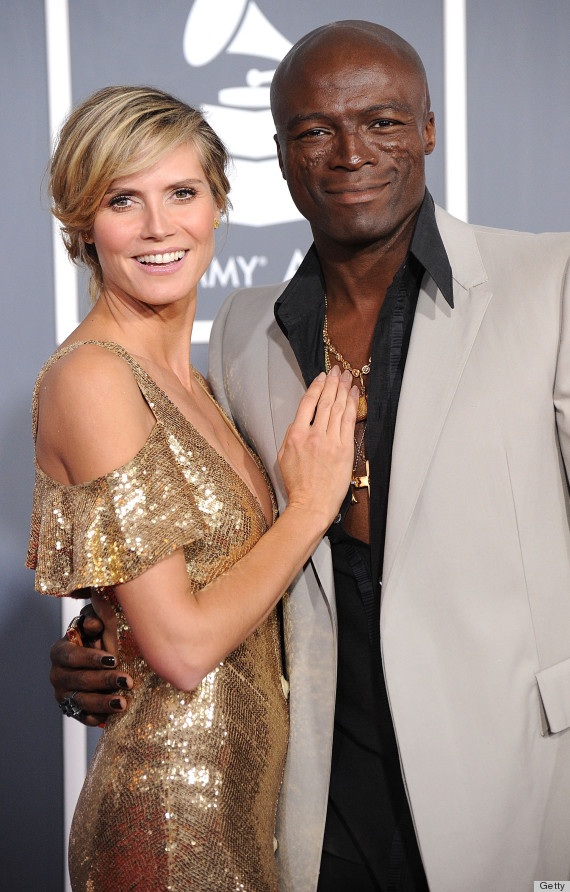 Seal & Heidi Klum
Eric Clapton
First he lured model Pattie Boyd away from George Harrison (and married her), then he had an affair with Italian model Lory Del Santo in 1988. Flash-forward to the '90s when Clapton dated supermodel and future French first lady Carla Bruni.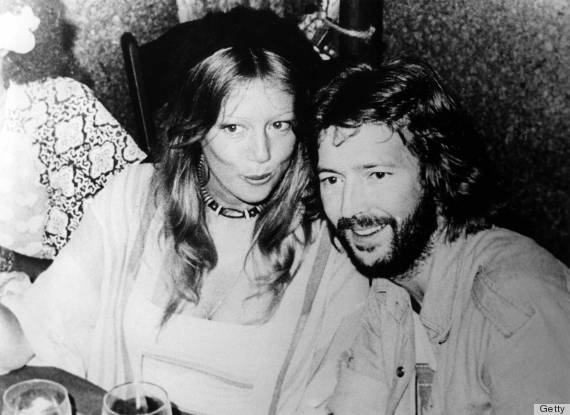 Eric Clapton & Pattie Boyd
It's a natural pairing:
Loading Slideshow
Christie Brinkley and Billy Joel (married 1985, divorced 1994)

(Getty photo)

Carla Bruni and Eric Clapton (dated 1989-1990)

(Getty photos)

Iman and David Bowie (married 1992)

(Getty, Patrick McMullan photos)

Jerry Hall and Mick Jagger (married 1990, annulled 1999)

(AP, Getty photos)

Karen Elson and Jack White (married 2005, divorce 2011)

(Getty photos)

Kate Moss and Pete Doherty of The Libertines (dated 2005-2007, engaged 2007)

(Getty photos)

Kate Moss and Jamie Hince of The Kills (married 2011)

(Getty photos)

Patti Hansen and Keith Richards (married 1983)

(Getty, Patrick McMullan photos)

Vanessa Paradis and Lenny Kravitz (dated 1991-1992)

(Getty photos)

Yasmin and Simon Le Bon (married 1985)

(Getty photos)

Paulina Porizkova and Ric Ocasek (married 1989)

(Getty photos)

Karlie Kloss and Joe Jonas (dating?)

Check out the <a href="http://www.huffingtonpost.com/2011/07/11/joe-jonas-karlie-kloss_n_894729.html?ir=Style#comments" target="_hplink">rumor mill here</a>. (Getty photos)

Rachel Hunter and Rod Stewart (married 1990, divorced 2006)

(Getty)

Stephanie Seymour and Axl Rose (dated 1991-1993)

(Getty photos)

Heidi Klum and Seal (married 2005)

(Getty photos)

Newlyweds Kate Moss and Jamie Hince Leave For Honeymoon

Newlyweds Kate Moss and Jamie Hince were airlifted out of the Cotswolds as they headed for their honeymoon.

Gisele & Tom Brady

One of the world's most famous couples, Tom Brady & Gisele Bündchen. The couple married February 26, 2009.

Yvette & Michael

After divorcing his first wife in 2006, <a href="http://www.huffingtonpost.com/2013/04/28/michael-jordan-marries-yvette-prieto_n_3174480.html" target="_blank">Michael Jordan tied the knot with Yvette Prieto</a>, a Cuban-American model, in 2013.

Karlie Kloss & Sam Bradford

<a href="http://www.huffingtonpost.com/2012/04/16/karlie-kloss-sam-bradford_n_1428614.html" target="_blank">The pair were linked after being photographed at Coachella in 2012</a>, with Karlie Kloss sweetly posing with gleeful-looking Sam Bradford, a quarterback for the St. Louis Rams.

Minka Kelly & Derek Jeter

Model Minka Kelly and Yankee shortstop Derek Jeter dated for three years before calling it quits in 2011.

Kate Upton & Mark Sanchez

The Sports Illustrated Swimsuit Issue cover girl was <a href="http://www.dailymail.co.uk/tvshowbiz/article-2102389/Kate-Upton-says-boyfriend-Mark-Sanchez-cute-Ellen-Show.html" target="_blank">linked to the New York Jets quarterback in 2012</a>, but played coy about the relationship.

Niki Taylor & Burney Lamar

Niki Taylor became engaged to NASCAR driver Burney Lamar after three dates. The couple married in 2006 and currently have two children together.

A.J. McCarron & Katherine Webb

College sweethearts, A.J. McCarron and Katherine Webb made a splash when <a href="http://bleacherreport.com/articles/1477203-was-brent-musburger-really-creeping-on-aj-mccarrons-girlfriend" target="_blank">Webb, Miss Alabama USA 2012, caught an sportscaster's eye</a> at McCarron's 2013 Discover BCS Championship game. But hey, at least she landed a spot in the 2013 edition of the Sports Illustrated Swimsuit Issue.

Adriana Lima & Marko Jarić

Victoria's Secret model Adriana Lima married basketball player Marko Jarić on Valentine's Day 2009.

Tiger Woods & Elin Nordegren

Golf player Tiger Woods married model Elin Nordegren in October 2004. The couple divorced in 2010 after Woods' very public infidelity.

Tyra Banks & Chris Webber

Supermodel Tyra Banks dated NBA-star Chris Webber from 2002 until 2004.

Andy Roddick & Brooklyn Decker

<em>Sports Illustrated</em> swimsuit model Brooklyn Decker married American tennis player Andy Roddick in 2009.

Selita Ebanks & Ryan Howard

It was rumored that <a href="http://www.nypost.com/p/pagesix/phillies_rooter_rnpfaTtOYaiAUDune3tVTP" target="_blank">the hot model dated Phillies slugger Howard back in 2010</a>.

Bar Rafaeli & Kelly Slater

Though she is most known for dating a certain someone (hello, Leo!), it is reported that <a href="http://www.entertainmentwise.com/news/37986/bar-rafaeli-swaps-leo-dicaprio-for-surfer-kelly-slater" target="_blank">Bar rebounded the famous pro surfer</a> in 2007.

Ronaldo Luís Nazário de Lima & Daniella Cicaelli

The Brazilian bombshell Daniella Cicaelli was engaged to soccer player Ronaldo Luís Nazário de Lima for three months in 2005. The couple split less than a year later.

Jessica Stam & Aaron Voros

<a href="http://long-island.newsday.com/getaways/hamptons/hangin-in-the-hamptons-1.812015/celeb-spotting-in-the-hamptons-aaron-voros-and-jessica-stam-1.2045148" target="_blank">The Canadian supermodel dated the hockey player</a> briefly in 2010.

Raica Oliveira & Rinaldo Luís Nazário de Lima

After his split with Daniella, Ronaldo Luís Nazário de Lima dated another Brazilian beauty, Raica Oliveira in 2006.

Abigail Clancy & Peter Crouch

The soccer player knows how lucky he is to be <a href="http://www.dailymail.co.uk/sport/football/article-2313569/Peter-Crouch-seen-black-eye-Abbey-Clancy.html" target="_blank">married to the gorgeous model</a>. When asked what he would be if he wasn't a soccer player he said, "A virgin!"

Bastian Schweinsteiger & Sarah Brandner

She posed in the 2010 Sports Illustrated Swimsuit Issue and in GQ Germany, while he is a football (that's soccer to us Americans) who plays for Bayern Munich and the German national team.

Carles Puyol & Malena Costa

He's a professional footballer (soccer player, for you Yanks) and she's a model. The pair were hot and heavy in 2009 and 2010 but called it quits in 2011.

Veronica Varekova and Petr Nedved

The Czech model was married to the retired hockey player (and <a href="http://sportsillustrated.cnn.com/swimsuit/collection/issues/2004/04_nedved_varekova_01.html" target="_blank">even posed with him in Sports Illustrated</a>). The pair later divorced.

Noemie Lenoir & Claude Makélélé

French model Noemie Lenoir has a son with soccer player Claude Makélélé. The pair were together for four years before separating in 2009.

Ingrid Vanderbosch & Jeff Gordon

This model has been in "ELLE," "Vogue," and "Marie Claire," among other magazines. She is also married to this NASCAR driver.

Linda Evangelista & Fabien Barthez

This legendary Canadian model briefly dated the French soccer player 1999.

Irina Shayk & Cristiano Ronaldo

Model Irina Shayk has been dating soccer player Cristiano Ronaldo since May 2010.

Elsa Benitez & Rony Seikaly

<em>Sports Illustrated</em> swimsuit model Elsa Benitez was married to NBA player Rony Seikaly. The couple divorced in 2005 and have one child together.

Christian Karembeu & Adriana Sklenaříková

French football player Christian Karembeu was married to Adriana Sklenaříková for 12 years before splitting in 2011.

Orlando Bloom & Miranda Kerr

Mark Wahlberg & Rhea Durham

Andy Roddick & Brooklyn Decker

Bruce Willis & Emma Lemming

Halle Berry & Gabriel Aubry

Leonardo DiCaprio & Bar Refaeli

Mickey Rourke & Anastasia Makarenko

John Legend & Christine Teigen

George Clooney & Elisabetta Canalis
Want more? Be sure to check out HuffPost Style on Twitter, Facebook, Tumblr, Pinterest and Instagram at @HuffPostStyle.