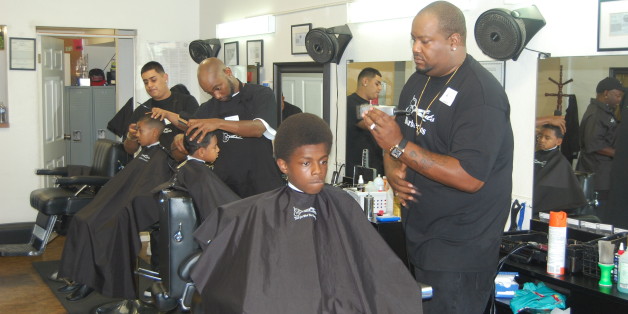 The annual back-to-school rush is a surefire way for businesses to capitalize on customers, but for Oakland business owner Eboni Hoofe, it's a chance to help her community's low-income students.
On Sunday, August 25, the day before Oakland Unified School District schools went back into session, Hoofe welcomed all children and students into her Telegraph Avenue barbershop, E Cuts, for a day of free haircuts. She and her employees serviced more than 50 students with haircuts that would normally cost parents $13 to $21.
On top of free cuts, Hoofe also personally funded and collected donations for more than 70 backpacks and nearly 100 tote bags filled with school supplies. She still has some bags remaining for any students to pick up.
"I have worked in Oakland and lived in Oakland for many years, and I see the things that are afforded to them and the things that are not," she told the Huffington Post. "I don't see kids in the Oakland area, for instance, going to the store on their bike to buy something. What I see in Oakland is kids running around and trying to steal something."
Providing free haircuts is Hoofe's way of creating solidarity in spite of that strife. "I realized, the community is your core, so why not come together and make it work?" she said. "It's not about getting more customers. It's about letting the community know that we're here."
She says she hopes other local businesses will also come forward to help support Oakland's kids in whatever way they can.
"There are some dark sides," Hoofe says of Oakland, "but I love the diversity, I love the people and it's so colorful. It's not bad all over."
And it's not just the parents' load she's lightening; Hoofe knows she's in a position to boost a kid's morale. "If you look good you feel good." she said.
SUBSCRIBE AND FOLLOW
Get top stories and blog posts emailed to me each day. Newsletters may offer personalized content or advertisements.
Learn more