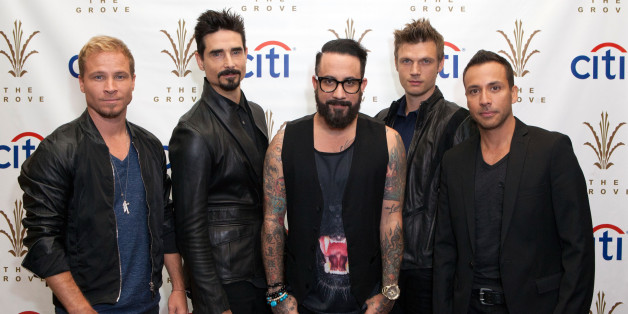 The Backstreet Boys were at a drag show when they first realized they had a gay following.
"We did three or four songs, the crowd went nuts and I was standing next to this 6-foot-6 drag queen who gave me a hug and a kiss. I was beside myself, and that was when we first knew that we had a big gay following," A.J. McLean told Pride Source in a recent interview. "I was just like, 'Wow, this is kind of friggin' crazy.' Thinking back on it, I've been in this business since I was 3 and I grew up in musical theater, so I was raised and surrounded by gay men and gay women. I was hardly around anyone straight."
In the interview, McLean talks about shaving his legs and dressing up in drag. As for any sort of gay rumors surrounding him or the pop group, he doesn't care.
"Everyone always says, 'When you look at a boy band, one of them has to be gay.' No, they don't. Instead of me being gay, I'm the fag hag," he said.
"I think it's awesome. It's great," McLean told Pride Source. "I've worn a dress at my wedding. I've worn 6-inch Louboutins. I've got no fear and no shame. There's one guy named Matt and he's a big, big Nick Carter fan. He's this older gentleman from Tampa and he's gay, and he's been following us during this whole tour from China to Japan and now through the U.S. I think he really hopes that Nick might have a little bit of gay."
Undoubtedly one of the most popular boy bands of all time, the Backstreet Boys formed in 1993 and went on to have seven albums reach the top 10 on Billboard 200. These days, the group has been using that success for good. Their new video, "In A World Like This," features a nod to same-sex marriage.
McLean explained the concept of the video, released last month, as a message of love, saying, "[W]ith all the craziness and negative energy that can go around, with real love you can overcome anything."
That same month, BSB performed with The Wanted at London's Gay Pride.
The 35-year-old McLean, who married in 2011 and is the father of a little girl, long supported equal rights and the band's gay fan base.
"We have a huge gay following -- it's awesome," he told Out magazine back in 2010. "I, personally, am trying to get more and more involved with the gay and lesbian movement, very much so. I've got quite a lot of gay friends back in L.A. No on Prop 8. It is a really huge market, and people are people, it doesn't matter what you believe. And we make our music for everyone, and whether you're gay, straight, black, white, it doesn't matter. Young or old."
RELATED ON HUFFPOST:
PHOTO GALLERY
BEFORE YOU GO
Straight Allies Who Support The LGBT Community
PHOTO GALLERY
Straight Allies Who Support The LGBT Community