The Tommy Hilfiger brand is larger than life (and certainly larger than the man himself). The red, white and blue striped flag has been an Americana icon since the 1980s, but in the past decade, the designer has been churning out a collection that plays to the sporty American woman. Girls all over the country love Hilfiger's developed simple and approachable look.
His new Spring 2014 collection, shown on Monday at New York Fashion Week, stays true to this concept, save for some tweaks in a more futuristic and sleeker direction. If you compare Hilfiger's new line to his Spring 2008 collection, both boast that wearability factor Hilfiger is noted for, but the 2008 ensemble has that signature classic and feminine look with girly accents like laced-up sandals.
His new '14 outfit keeps the pants and tank top, but gets updated with closer cuts that create a tighter shape and attention-grabbing red and orange hues for a futuristic, sexy feel.
Which look do you like more?
Spring 2008 and Spring 2014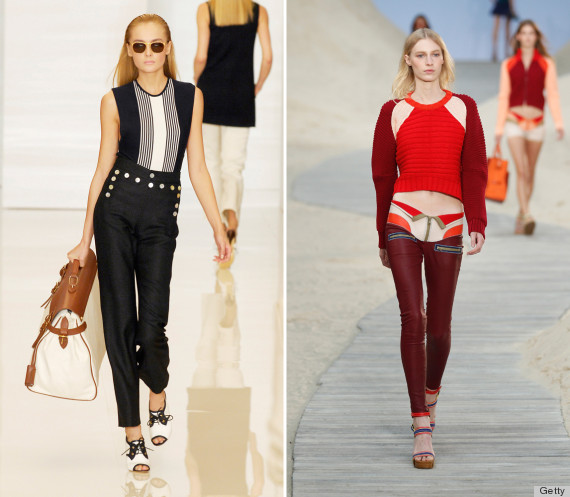 Check out more of the Hilfiger S/S '14 collection...
Born in the small town of Elmira New York, Tommy Hilfiger went on to revolutionize the classics with his famous "Tommy Twist." America's favorite flag bearer launched his label in 1985. Hilfiger's irreverent take on Americana merged with a hip-hop attitude earned him, not only instant street cred but also global recognition. Today, the Tommy Hilfiger Empire includes womenswear, fragrances, jeans and home. The self-taught fashion designer offers everyone a piece of the American dream.
Want more? Be sure to check out HuffPost Style on Twitter, Facebook, Tumblr, Pinterest and Instagram at @HuffPostStyle.