While Hawaii as a state prohibits nude sunbathing, that doesn't stop residents and tourists alike from stripping down to get that very even tan. Check out five beaches below that, if you're lucky, promise quite the eyeful.
Little Beach, Maui
What has been lovingly nicknamed "unofficial clothing-optional beach," Maui's Little Beach requires much comfort to the clothing averse.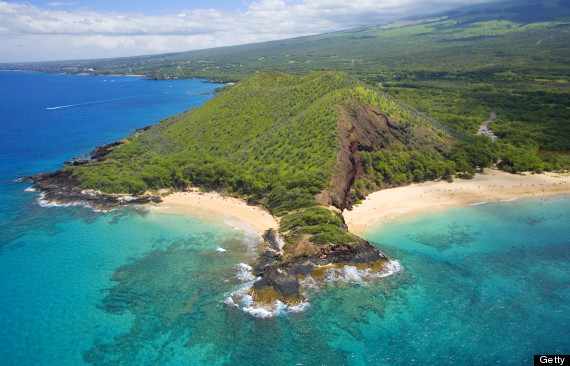 Honokohau Harbor Beach, Hawaii
Located within the Kaloko-Honokohau National Historical Park, this beach is popular among gay beach-goers. Though park rangers may put a kibash on the fun, the beach is still a destination for those looking to strip down.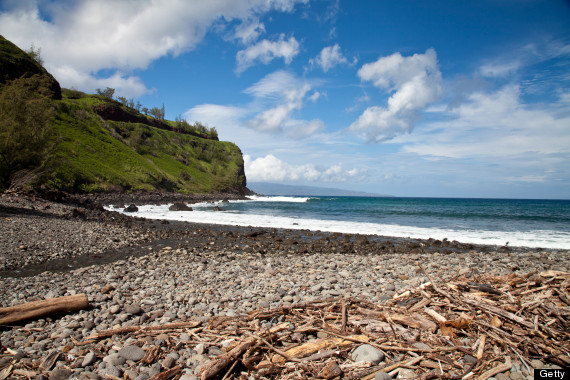 Baldwin Beach Cove, Maui
Baldwin Beach patrons will often spot a topless sunbather if they're looking for one.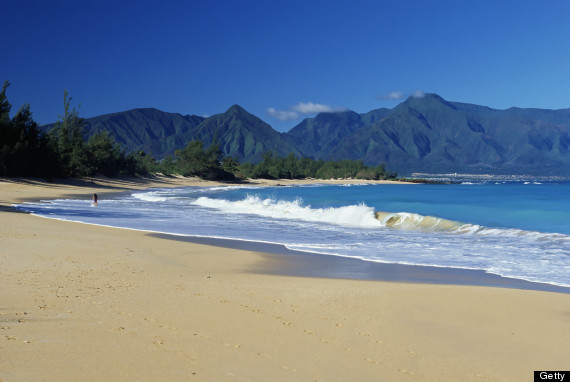 Secret Beach "Paia," Maui
Hidden at the end of a dirt road, Secret Beach lives up to its name.

Donkey Beach, Kauai
Access this remote and scantily clad spot through an old sugar cane field. The trek is certainly worth the view.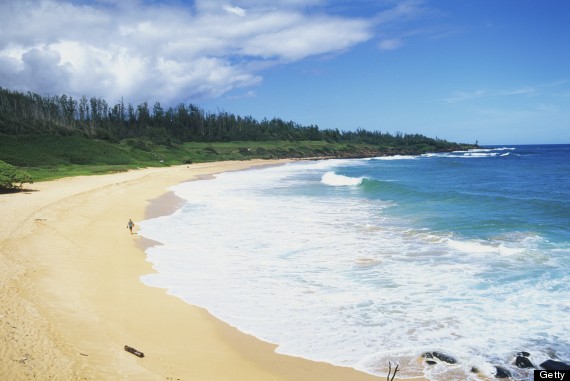 The Best Nude Beaches For Baring Your Bod
Tucked away underneath St. Barth's rocky hillside, feel free to forget everything at St. Barth's most secluded beach. Including your clothes. One sbhonline.com member recalled his favorite all-time memory of St. Barth as "enjoying a Cuban cigar and a glass of french rose wine on Saline beach in the late afternoon - wearing nothing but a hat."

In America, we have the right to remain silent. The saucy Spanish, however, have the right to remain nude. According to this PDF, penalization for nudity violates constitutional rights. We're happy about that because this rear view above makes us giggle. Es Cavallet (pictured) is one of Ibiza's gay-friendly nude beaches.

Enter the beach near Haulover Park for big, bouncy, nude beach volleyball bliss. Who knew volleyball could ever be such a spectator sport.

UC San Diego's mascot may be King Triton, but over by Black's Beach, its the bear. Join the Black Beach Bares, a group of local nudie sport enthusiasts, for a friendly round of stripped snorkeling, birthday suit boogie boarding or jiggly jogging.

No cameras allowed around this jet set crowd. Skip the ragmag subscription and catch a peak of your favorite celebrities' itties and bitties for free at this nude beach for the rich and the famous.

The "itsy-bitsy-teeny-weenie-yellow-polka-dot-bikini" is nowhere to be found here. In 1987, Pinho became the first nationally sanctioned au natural beach in Brazil. Its motto? "Clothing is not an option." Amen.

Paradise Beach is just that. Marvel at the tannest and fittest bosoms Greece has to offer while partying all day and night at the bars and clubs surrounding the sand line.

Feast your big eyes on Maui's Little Beach. Little Beach is Maui's official "unofficial clothing optional beach". If you're lucky, you might run into Dr. Leisure, an artist whose been painting scenes of nude beaches for the past ten years. If you're luckier, Dr. Leisure might paint you.

Here's an interesting fact. Margarita Island in Venezuela claims that in countries where nude sunbathing is the norm, there is less incidence of sexual assault. Here's to unclothing with a cause. Correction: A previous version of this slide incorrectly showed a photo of Pedro Gonzalez, also on Margarita Island. We apologize for the error.

Baker Beach is part of San Francisco's famed Presidio and was once host to Burning Man. The half-mile long beach, which lies on the peninsula of San Francisco, has stunning views of the Golden Gate Bridge and the city. Be forewarned: nude bathing (or rather "clothing optional") is only allowed on the northern section.

TV people:This beautiful, family friendly, regionally run park beach north of Sunny Isles is a great example of a US clothing optional beach that is open to the public.

stopgeorge:With or without their bathing suits, hundreds of thousands of people visit Canada's first and largest clothing-optional beach each year. This all-natural beach is 7.8 kilometers long and follows the coastline below a forested, 200-foot high, cliff system on the western tip of Vancouver. Eagles, kingfishers, and escaped domestic birds like parrots, lovebirds, and magpies hover about – as do vendors selling everything a sunbather's heart desires, from sunscreen for your sensitive bits, to empanadas, organic fruit juices, and buffalo burgers to stave off those west coast munchies! Ah, Wreck Beach…so near to the city, and yet so far!

Patricia Beach:Courtesy of Hangin'Loose Hawaii
CORRECTION: In a previous version of this article, we incorrectly stated that secret beach is on Oahi. Secret Beach, in fact, is on Maui.