Rep. Michael Grimm (R-N.Y.), who switched his stance on the authorization to use military force in Syria from "yes" to "no," is trying to raise money off of his switch, according to an email blast he sent out Thursday.
"Today, I decided to withdraw my support from President Obama's proposal for a military strike against Syria. I have heard from many of you in Staten Island and Brooklyn, and it is clear to me that their [sic] is strong opposition to the strike. As your voice in Washington, I will continue to listen and take a stand for you," he wrote.
The letter then followed with: "Will you stand with me in opposing President Obama's plan with a donation of $25 or more right now?"
In a statement, Grimm spokeswoman Carol Danko said the funding request was a mistake.
"The email was intended to be a message to supporters informing them of the congressman's withdrawal of support for a strike on Syria. The dollar ask was included automatically by the vendor, and was never approved by the congressman. He is furious over this inappropriate inclusion and has taken appropriate actions to ensure that this careless error never happens again," Danko said.
Grimm wrote in the letter that he made his decision after the Obama administration's delay. "When President Obama first announced his plan for strikes against the Syrian government for its alleged use of chemical weapons, my first reaction as a Marine combat veteran was to support immediate, targeted strikes. I now believe that the opportunity for such action has passed," he wrote. "President Obama has failed to show strength at this critical moment in time. While the debate in Congress continues, our nation's credibility grows weaker and weaker. After much deliberation and prayer, I have decided to withdraw my support. I do not feel that our country has enough to gain by moving forward with this attack."
Grimm is not the only Republican to fundraise off of his opposition to the Syria attack. Former Michigan Secretary of State Terri Lynn Land, running for U.S. Senate, also sent out a fundraising email touting her decision to oppose the strike.
UPDATE: 1:20 p.m. -- Grimm's challenger, New York City Councilman Domenic Recchia, responded to the email in a statement saying, "The use of military force is the most serious of issues, and it should be treated that way."
Here is the full letter from Grimm: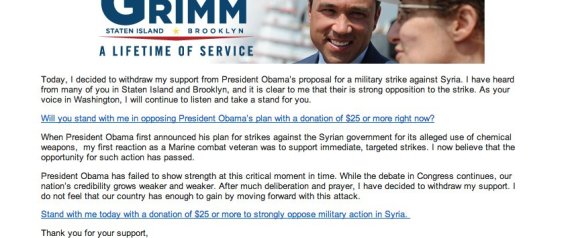 Also on HuffPost:
Loading Slideshow
Susan Rice

"All of this is horrific. All of us as human beings feel terrible when we see the extraordinary loss of life that [has] occurred in Syria," Rice said. "With chemical weapons, they can kill with indiscriminate abandon. People who are innocent are employed in conflict. It is of a greater magnitude because if terrorists get ahold of those weapons, if other dictators get ahold of those weapons, they can be used on a massive scale."

John Boehner

"We have enemies around the world that need to understand that we're not going to tolerate this type of behavior."

John McCain

"I am against delaying reaction to what is a massacre of a thousand people," McCain said. "You saw these pictures of these dead children. Come on. This is horrific. We can't stand by and watch this happen."

John Kerry

"This is what Assad did to his own people," Kerry said. If the U.S. allowed "a thug and a murderer like Bashar al-Assad" to get away with gassing his own people, he added, "there will be no end to the test of our resolve and the dangers that will flow from those others who believe that they can do as they will."

Rand Paul

"I think the Islamic rebels winning is a bad idea for the Christians, and all of a sudden we'll have another Islamic state where Christians are persecuted," Paul said.

Sarah Palin

"As I said before, if we are dangerously uncertain of the outcome and are led into war by a Commander-in-chief who can't recognize that this conflict is pitting Islamic extremists against an authoritarian regime with both sides shouting 'Allah Akbar' at each other, then let Allah sort it out," Palin continued.

Ted Cruz

"We should be focused on defending the United States of America. That's why young men and women sign up to join the military, not to, as you know, serve as Al Qaeda's air force."

Barack Obama

"This attack is an assault on human dignity. It also presents a serious danger to our national security. It risks making a mockery of the global prohibition on the use of chemical weapons. It endangers our friends and our partners along Syria's borders, including Israel, Jordan, Turkey, Lebanon and Iraq. It could lead to escalating use of chemical weapons, or their proliferation to terrorist groups who would do our people harm. "In a world with many dangers, this menace must be confronted."

Bob Menendez

"Assad has made a calculation now ... that he can use chemical weapons, or he believes he can use chemical weapons without consequence," Menendez said. "And in doing so there is a global message that in fact other state actors and other non-state actors may believe they can do so as well."