We love the Duchess of Cambridge and would kill to borrow from her elegant dress collection. But when it comes to going out on the town and tossing back a few Pimm's Cups? Yeah, we want Pippa Middleton by our side.
Herewith, in honor of Pipp's 30th birthday today, 30 reasons we want to drink a Pimm's Cup with the coolest Middleton sister.
1. She loves good parties. In fact, planning them is what she does for a living.
2. She's got a great selection of coats we want to borrow.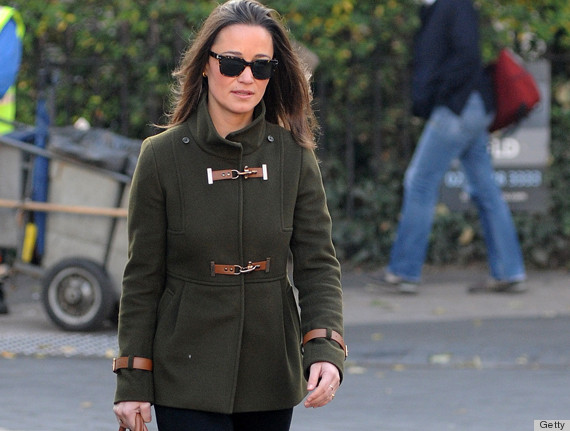 3. She can rock Converse sneakers with the best of them.
4. Seriously, check out that fur hat.
5. Girl is super sporty. Tennis, cricket, skiing... you name it, she's played it (and perhaps written about it, too).
6. She can wear the hell out of a fascinator.
7. She's a foodie. Slow-braised pig's cheeks and pigeon breast salad are her specialties, so she knows her way around a pub menu.
8. She doesn't mind poking fun at her own celebrity...
9. ... or her own butt, for that matter.
10. She would totally get us into the hottest clubs.
11. She's got super stylish friends.
12. She actually admitted that she gets wasted at Wimbledon.
13. And that she wears sunglasses to cover up her Wimbledon drunk face.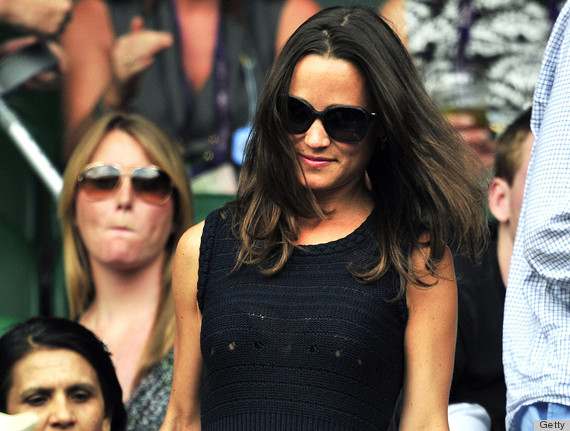 14. She'd make the best "drunchies" food. Perhaps "plump peaches, figs and strawberries, oozing ripe cheeses and crunchy baguettes..." Yum.
15. She'll get dressed up in a sparkly costume if the occasion calls for it.
17. She's got a sense of humor. Remember that time she said her next book will be called "Bottoms Up"? Very clever, P. Middy.
18. She knows all the hottest guys in England. See: her boyfriend Nico Jackson.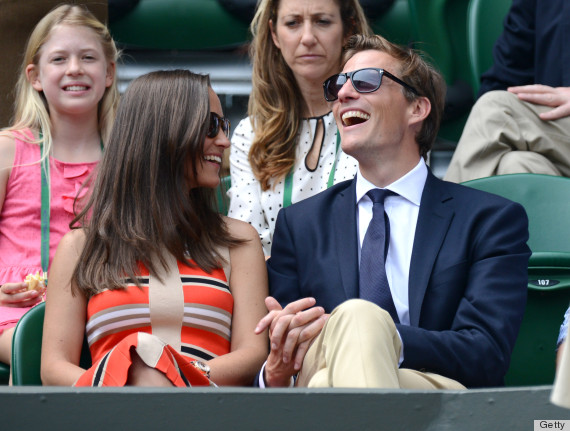 19. She cruises around Paris in a convertible like a real-life Regina George. We can just picture her pulling up to an intersection on the Champs-Élysées and shouting, "Get in, loser -- we're going shopping."
20. She has endless pairs of awesome sunglasses.
21. She's great with kids. Even ones who sass her and insult her sister.
22. She'd totally get hangover coffees with us the next day.
23. She's got an "in" at Vanity Fair.
24. She knows when it's time to get dressed up.
25. Gabbing about boys is one of her favorite pastimes.
26. She's partied with Americans before. Don't think we've forgotten last Labor Day, Pipps.
27. Hey, she's even partied in roller skates.
28. She's not above silly bar games.
29. Seriously, don't take her challenges lightly.
30. Maybe, just maybe, she'll bring her older sis along.
Isn't she awesome?
The 27 Best Pictures Of Pippa Middleton
Pips shows off those enviable stems in an LBD.

Pippa and Nico show off their crisp summer wardrobes while taking in some tennis.

Pippa walks out in an outfit that totally channels Kate: a Katherine Hooker coat and a fur hat.

Usually heavily made-up, Pippa steps out for lunch with her mother with hardly any makeup on.

She wears a Beulah London electric purple peplumed sheath with matching pumps and nude tights to promote her book, "Celebrate: A Year of Festivities for Family and Friends."

Pippa dresses herself down and looks super-edgy in Amandine sneakers from Sandro. We love it!

Pippa pays a visit to Santi, a spa that focuses on "aesthetic therapies to rejuvenate the skin."

Pippa proves she is a style risk-taker (by royal standards) by stepping out in awesome casual outfits that prove she knows how to perfect the art of street-style.

She looks for apartment in New York City sporting cropped red pants, a blue blouse and white sunglasses.

She goes for a morning Starbucks run in a perfect summer dress.

Pippa wears an Alice Temperley dress with a dramatic black fascinator for the wedding of Alice St. John Webster and Gerald Avenel. She was dateless.

She keeps it perfectly prim and proper in a navy Orla Kiely dress and buttoned-up print jacket. She attended the match with then-boyfriend Alex Loudon.

Here she is with her brother, James, at the Diamond Jubilee Pageant on the River Thames in London.

Here she is dressed in a costume for her friend Arthur De Soultrait's birthday party. She keeps it fashionable with an edgy black leather jacket over the ridiculous get-up.

She looks exuberant and beautiful as she crosses the finish line at the 88th Vasaloppet cross country ski marathon in Mora.

She knows how to rock a summer dress. Here she is attending the semifinals at Wimbledon.

She looks stunning in a silk floor-length gown at All Saints Party in aid for Too Many Women, supporting breast cancer research in Richmond, UK.

Pippa shows her competitive side as she crosses the finish line at the GE Blemheim Triathlon at Blenheim Palace.

Pippa shows how to wear double denim as she leaves an office in Kensington.

She displays the best balance of sophistication and coolness in her street style.

The Alexander McQueen dress that shook the world: Pippa shows off her svelte body and steps into the limelight at Kate and William's wedding at Westminster Abbey.

After she solidified her place as a sex-symbol by wearing her form-fitting dress at Kate's wedding, Pippa shows she can rock a professional blazer but makes it look casual-cool with jeans.

She keeps English wedding fashion edgy and unpredictable with bright colors at the wedding service of Lady Katie Percy.

Pippa ice skates at the VIP opening of the Somerset House Ice Rink in London.

Pippa knows how to party. Here she is attending the Day-Glo Midnight Roller Disco at The Renaissance Rooms.

Pippa attends the Sotheby's Summer Party in a cute coral frock.

Here she is attending the book launch party of "Time to Reflect" by Alistair Morrison in an extremely fashion-forward black lace dress.

Pippa Middleton apparently kissed her new boyfriend on the slopes of St Moritz after enduring a gruelling cross-country ski marathon.
Want more? Be sure to check out HuffPost Style on Twitter, Facebook, Tumblr, Pinterest and Instagram at @HuffPostStyle.