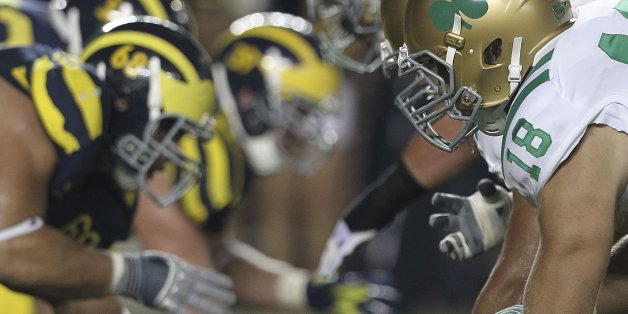 When Notre Dame and Michigan meet on Saturday night in Ann Arbor, it could be the last time the two programs meet at Michigan Stadium for a very long time.
With the two historical universities unable to agree upon a schedule beyond 2014, the Fighting Irish will make their last visit to the Big House for quite a while. And the Wolverines won't be seeing Touchdown Jesus for a long time after next year's clash.
Notre Dame's move to the ACC (the football program agreed to play at least five annual games with ACC opponents) forced the Irish to cancel three previously scheduled games with the Wolverines, so the 2015-17 games will not be played. It appears that the earliest the schools could resume the series is in 2020 because of a previously scheduled break negotiated for 2018 and 2019.
The series between ND and Michigan spans 40 games, with the Wolverines holding a 23-16-1 advantage. When the teams met in 1978 for the first time in 35 years, the rivalry started to take off. The game has been played annually 27 times since.
Both teams enter Saturday night's contest coming off of strong Week 1 wins and with high expectations for 2013. But the winner of the weekend's contest will have more than just bragging rights -- it will have history in its grasp, at least for one week.
So after well over 100 years of football, Notre Dame and Michigan are separated by a miniscule .00013 in winning percentage.
Notre Dame won 13-6 last season in South Bend, forcing six turnovers. But the Wolverines have won three straight at home in the series, and Devin Gardner wasn't running the offense in last year's loss. Could Brady Hoke's squad continue the home magic and claim the top all-time winning percentage?
Here are some other memorable moments from this rivalry:
- In 1989, No. 1 Notre Dame beat No. 2 Michigan 24-19 when Rocket Ismail returned two kickoffs for touchdowns in the second half. Legendary Wolverines head coach Bo Schembechler would then retire after the season.
- Two years later, Michigan exacted its revenge with a 24-14 win, highlighted by a Wolverines touchdown on a fourth-and-one play while leading 17-14. Elvis Grbac hit eventual Heisman Trophy winner Desmond Howard in the back of the end zone for the score.
- In the first night game at Michigan Stadium in 2011, the Wolverines won in dramatic fashion 35-31. The teams combined for three touchdowns in the final 1:12, with Denard Robinson hitting Roy Roundtree for a 16-yard score with two seconds left.
Dave Miller, the college football editor and writer for the National Football Post, is on Twitter @Miller_Dave

SUBSCRIBE AND FOLLOW
Get top stories and blog posts emailed to me each day. Newsletters may offer personalized content or advertisements.
Learn more