 Senate candidate Terri Lynn Land has so far declined to apologize for an email she sent asking supporters to sign a petition urging her opponent Rep. Gary Peters (D-Mich.) to vote against military action in Syria. The reason critics are demanding an apology? Land, former Michigan secretary of state, also used the email to ask for donations.
The email, which can be seen below, outlined Land's position against Syria ("I want to be very clear -- If I were in the Senate today, I would vote 'No' on a resolution authorizing military action in Syria") -- but it was the large red button at the bottom labeled "DONATE NOW!" that has incited controversy.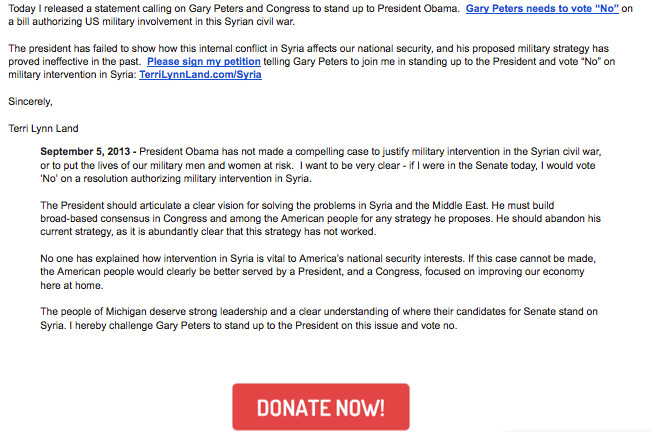 Land's campaign didn't apologize for sending the email. "It was an email asking people to sign a petition urging Gary Peters to vote no on the war in Syria and happened to have a donation link like other emails we send to our email list," Land consultant John Yob told Politico.
She wasn't the only Republican candidate to be taken to task for using the Syria crisis as an opportunity to fundraise. Rep. Michael Grimm (R-N.Y.), sent out an email blast trying to raise money after his switch in positions on military action in Syria last Thursday.
Unlike Land's campaign, a Grimm spokesman immediately characterized the donation request as a vendor mistake to The Huffington Post.
"He is furious over this inappropriate inclusion and has taken appropriate actions to ensure that this careless error never happens again," Grimm spokesewoman Carol Danko said.
Land's campaign hasn't offered any further insight into whether the Senate candidate regretted asking for the funds -- and critics have centered in on the lack of response.
The Detroit Free Press highlighted the Land donation email in an editorial published Tuesday calling for politicians to avoid limiting President Obama's options to dealing with the situation in Syria. The editorial board wrote that Land's campaign "cynically exploited their opposition to any action in Syria as a fund-raising tool" and called the fundraising method "a destructive partisan distraction to the diplomatic process."
Neither the Land campaign nor the Michigan Republican National Committee immediately returned a request for comment by The Huffington Post.
The Maddow Blog on MSNBC offered Land and Grimm's campaigns a pro tip: "Don't try to exploit a national security crisis involving a chemical-weapons attack to pad your campaign coffers. Just. Don't. Do. It."
Left-leaning Michigan politics site Eclectablog specifically condemned Land's email and called for her to apologize.
"This is nothing more than a crass attempt to raise money from a tragedy for which there truly are no good responses or solutions. Land owes Michiganders an apology for politicizing it for her own personal gain."
State Rep. David Knecek (D-Dearborn Heights), an Iraq War veteran, also called on Land to apologize Thursday.
"The situation in Syria is grave -- no matter whether you oppose or support military strikes," he said in a statement. "Instead of approaching this decision with the consideration it requires, Ms. Terri Lynn Land saw Syria as an opportunity to raise money for her political campaign."
Land is a member of the Republican National Committee and served as Michigan's Secretary of State from 2003 to 2010. A poll conducted in August has Land and Rep. Peters in a dead heat for the Senate seat that will be vacated by longtime Congressman Carl Levin (D-Mich).