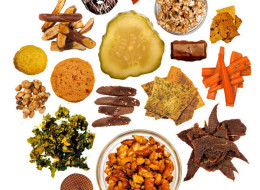 By now, those of you with college-aged kids have probably shipped them off to school, either again or for the first time. When we went away to school, we were excited to meet new people, a little afraid to be away from home but mostly we were worried about the snacks. Does this sound familiar? If so, we dug up some college care packages your food-loving students will go absolutely bananas for.
Maybe the average college student doesn't care that much about food. Maybe the dining hall is more than enough. For us, and the people we knew, it never was. We hacked our microwaves to make green chile enchiladas while we studied. We constantly tweaked microwaved mac and cheese. If someday a package arrived to the mailroom filled with some of the treats we've gathered below, we would have broken out into song.
Want to read more from HuffPost Taste? Follow us on Twitter, Facebook, Pinterest and Tumblr.
Back-To-School Care Packages For Food Lovers
Bacon Schnecken, $14.99 from Queen City Cookies These come in other flavors, too, but bacon seems most appropriate for a welcome-back-to-college breakfast.

Breakfast Gift Basket, $34.00 on Etsy

Jam Gift Basket, $30.00 on Etsy

The Freshman 15, $85.00 from MOUTH All of these treats are reasonably okay for you, but taste like sinful, terrible junk food. Forget your college student, send us one!

Handmade Palmiers, $6.99 on Etsy

WTF x4 Pack, $6.00 from Rogue Bakery This Willy Wonka of cookies combined potato chips, butterscotch chips, salted pretzel sticks and chocolate marshmallows into ONE COOKIE. Send your college food nerd four of them!

You can send everything from a bucket of pickles, to a bowl of matzoh ball soup, to a pastrami sandwich via mail, thanks to Katz's Delicatessen and Goldbely.

Pop Pop Popcorn Taster, $40 - $110 from MOUTH What to expect: "Bags and bags of delicious caramel corn in distinctive flavors like pistachio, spicy almond, savory masala, or chai. Cocktail-inspired Dark and Stormy or Margarita caramel corn. Life-changing organic microwavable popcorn with rosemary/paremesan, maple/sea salt, or lemon. Savory-sweet bacon caramel corn. Fluffy, exotic white truffle popcorn."

The Cram Session, $45.00 from MOUTH Can you imagine the joy you'll generate by hand-delivering cold brew to someone studying for exams? You'll be a hero.

Sweet n' Salty Gift Basket, $54.00 on Etsy Popcorn, olives, Goo-Goo Clusters, hummus -- this is basically everything we want to eat contained in one place.

Snacks Every Month, $170.00 for 3 months from MOUTH What to expect: "One month, for example, it could be a jar of spicy pickles, beer and pretzel nuggets, beef jerky, pistachio caramel corn and a bacon toffee bar. Another month, a chocolate-dipped pretzel, kale chips, wine biscuits, triple ginger cookies and salmon jerky. The next month, perhaps peanut butter cookies, pretzel chips, bacon popcorn, chocolate hazelnut biscotti and lavash. Hungry yet?"

Snackers Paradise Gift Basket, $65.00 on Etsy Look, sometimes college kids want junk food.

Three Months of American Cheese, $159.95 from Williams-Sonoma Is this a ridiculous extravagance? Totally. Would I have wept into the box if someone sent it to me in college? YES. This is what dorm fridges were invented for, people.