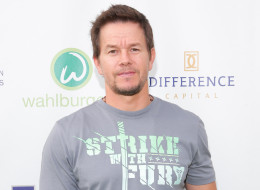 For Mark Wahlberg, the upcoming "Transformers" movie is a family affair.
The 42-year-old actor, who stars as Cade in "Transformers: Age of Extinction," recently revealed that his children make a cameo in the film. Led by director Michael Bay, in addition to the Wahlbergs the latest "Transformers" movie also features Stanley Tucci, Nicola Peltz, and Kelsey Grammer, among others.
"My kids just did a cameo [as] just scared people in the street looking up, but they did a great job," Wahlberg said in an interview with MTV News. "I was so nervous because Michael doesn't have time for bad performances."
"You have to understand; you're shooting a $300 million movie," Wahlberg continued. "You've got a lot going on. He's got five, six takes. If you ain't got it, you're done. I didn't want to see my kids get clipped. They were excited about, but they started to get mad at me because I'm trying to over-direct them. It went great."
This is Wahlberg's first "Transformers" film, but the fourth in Bay's series. The Oscar-nominated actor has who has four children with his wife Rhea Durham.
"Age of Extinction" is out on June 27, 2014.
Naomi Watts and Robin Wright star as two mothers who fall into sexual relationships with each other's sons. (Yep, it's real.)

When Vin Diesel isn't starring in "Fast and Furious" movies, he's playing Riddick.

A documentary about The Beatles' famed secretary.

Shane Salerno ("Savages") directs this documentary about the reclusive "Catcher in the Rye" author.

Jennifer Hudson stars as Nelson Mandela's wife Winnie in this new film, the first of two Mandela features set for release this year.

Director Luc Besson's mob comedy stars Robert De Niro and Michelle Pfeiffer, because sometimes we're allowed to have nice things.

Too scary.

Billy Bob Thornton's first feature directorial effort since 2001's "Daddy and Them" stars Thornton himself, Kevin Bacon and Robert Duvall.

Chris Brown made a movie with Sawyer from "Lost." (Real.)

Hugh Jackman leads an all-star cast (Jake Gyllenhaal, Terrence Howard, Paul Dano, Melissa Leo) in this revenge drama from director Denis Villeneuve.

Sam Rockwell stars in this thriller, which debuted at the Tribeca Film Festival.

Nicole Holofcener's romantic comedy features James Gandolfini's final role as a leading man. (Gandolfini has a supporting role in the upcoming film "Animal Rescue.") Julia-Louis Dreyfus, Toni Collette and Catherine Keener co-star.

Mark Ruffalo and Gwyneth Paltrow star in this dramedy about sex addiction. From Stuart Blumberg, an Oscar nominee for "The Kids Are All Right."

A controversial documentary about U.S. doctors who still perform third-trimester abortions.

Billy Bob Thornton, Paul Giamatti and Zac Efron star in this drama about the immediate aftermath of the assassination of John F. Kennedy.

Jonathan Groff stars in this new movie, which is based on a story by David Sedaris.

Ron Howard's Formula 1 drama casts Chris Hemsworth and Daniel Bruhl as, respectively, James Hunt and Niki Lauda, two of the sport's greatest competitors. The film, which is also due to bow at the Toronto International Film Festival, opens wide on Sept. 27.

Paula Patton stars in this rom-com about a flight attendant looking for love. Bonus: Seth Cohen Adam Brody as her outlandish confidant.

Tying up all the loose ends from part one.

Joseph Gordon-Levitt's directorial debut is a funny and poignant look at relationships in the age of instantaneous gratification. (Also, porn.) Tony Danza, Julianne Moore and a scene-stealing Scarlett Johansson all co-star.

Enter sandman: Metallica made a concert movie that's not a just a concert movie. Dane DeHaan stars.

Alfonso Cuaron's first film since 2006's "Children of Men" stars Sandra Bullock and George Clooney as astronauts lost in space. One of the year's must-see events.

Justin Timberlake takes on an evil Ben Affleck in this new thriller about online gambling. Brad Furman ("The Lincoln Lawyer") directs.

Tom Hanks stars as the title captain in this thriller from Paul Greengrass, which focuses on the 2009 hijacking of the Maersk Alabama. The film will debut at the New York Film Festival.

The best cast of the year? "Machete Kills" stars Danny Trejo, Sofia Vergara, Michelle Rodriguez, Cuba Gooding Jr., Demian Bichir, Amber Heard, Lady Gaga, Mel Gibson and Charlie Sheen (as the President of the United States), because of course it does.

"Downton Abbey" creator Julian Fellowes adapted this version of Shakespeare's tragic romance.

"Harry Potter" pals Alan Rickman and Rupert Grint reunite for this rock drama.

Daniel Radcliffe grows up. The erstwhile Harry Potter plays Allen Ginsberg in this Sundance Film Festival fave.

Benedict Cumberbatch plays Julian Assange in this new film from Bill Condon ("The Twilight Saga: Breaking Dawn Part 1 & 2," "Dreamgirls").

Diablo Cody's directorial debut look good, honest to blog.

No one is going to laugh at Chloe Moretz after this remake of Brian DePalma's horror classic debuts.

Stallone. Schwarzenegger. Prison break. See you at the theater.

Robert Redford stars as a man struggling to survive after a hole is torn into the hull of his ship. J.C. Chandor ("Margin Call") directs the film, which is expected to give the 76-year-old actor a good chance at an Oscar nomination in 2014.

Chiwetel Ejiofor stars as Solomon Northup, a New York man who was kidnapped and sold into slavery in 1841. Michael Fassbender, Brad Pitt, Benedict Cumberbatch, Paul Dano, Paul Giamatti, Sarah Paulson and Alfre Woodard star in this new drama from "Shame" director Steve McQueen. The film is based on Northup's acclaimed memoir.

Michael Fassbender, Brad Pitt, Cameron Diaz, Javier Bardem and Penelope Cruz go bad in Ridley Scott's "The Counselor," based on an original script by Cormac McCarthy. Yes, please.

OK.

An adaptation of the beloved young adult novel (from non-beloved author Orson Scott Card) stars Hailee Steinfeld, Asa Butterfield, Ben Kingsley and Harrison Ford.

An animated movie about turkeys, "from the Academy Award-winning producer of 'Shrek.'"

Michael Douglas, Robert De Niro, Morgan Freeman and Kevin Kline star in this comedy, which looks like a mix of "The Hangover" and "Grumpy Old Men." Turtle from "Entourage" co-stars, at least for one scene.

Rachel McAdams and Domhnall Gleeson star in this romantic comedy-cum-time travel drama from "Love Actually" director Richard Curtis. The trailer will make you cry. (The film opens nationwide on Nov. 8.)

Naomi Watts stars as Princess Diana in this new biopic.

Think "Children of Men" mixed with "The Host." Kevin Macdonald, of "The Last King of Scotland" fame, directs.

The sequel to "Thor" looks better than its predecessor in lots of ways, not the least of which being that Tom Hiddleston's Loki is fully unhinged. Petition for Loki spinoff starts here.

A sequel to the 1999 film "The Best Man," which serves as further proof that the statute of limitations on part twos is infinite.

Geoffrey Rush and Emily Watson star in this adaptation of Markus Zusak's acclaimed best-selling novel.

Leonardo DiCaprio, Jonah Hill and Matthew McConaughey star in Martin Scorsese's new film, which looks to do for bankers what "Goodfellas" did for mobsters. Expect Oscars and endlessly quotable dialogue.

Vince Vaughn, Chris Pratt and Cobie Smulders star in this comedy about a man who fathered 533 children after making donations to a sperm bank.

She's back.

Alexander Payne's latest film casts Bruce Dern and Will Forte as a father and son on a road trip. Expect to read a lot about this between now and the Academy Awards on March 2.

Forest Whitaker, Angela Bassett, Jennifer Hudson and Mary J. Blige star in this new drama, directed by Kasi Lemmons.

Spike Lee's reinterpretation of Chan-wook Park's classic film stars Josh Brolin, Samuel L. Jackson, Sharlto Copley and Elizabeth Olsen.

Jason Statham stars as a DEA agent who crosses paths with a violent meth dealer named Gator (James Franco, of course) in this new film, which was written by Sylvester Stallone.

Disney's latest animated movie focuses on a snowman and his sister (Josh Gad and Kristen Bell) going on a great adventure.

Oscar alert: Nicole Kidman stars as Grace Kelly in "Grace of Monaco."

Oscar alert, part two: Idris Elba stars as Nelson Mandela in "Mandela: Long Walk to Freedom."

Christian Bale stars with Casey Affleck, Forest Whitaker, Woody Harrelson and Zoe Saldana in "Out of the Furnace," a new drama from "Crazy Heart" director Scott Cooper. Of note: Pearl Jam's "Release" being used in the trailer, which is perfect.

Matthew McConaughey stars in "Dallas Buyers Club," the story of an HIV-infected Texas electrician who battled "the medical establishment and pharmaceutical companies" after his diagnosis.

The Coen brothers latest film is about a 1960s folk singer (Oscar Isaac) trying to make it as a musician. "Davis," which debuted at the 2013 Cannes Film Festival, is expected to be one of the year's major Oscar contenders.

Get ready to spend another three hours in Middle-earth.

Sure.

David O. Russell put Christian Bale, Bradley Cooper, Amy Adams, Jennifer Lawrence, Jeremy Renner, Robert De Niro and Louis C.K. together in one movie, and then scored the trailer with Led Zeppelin. So, yeah: Put this on every Oscar list you make. "American Hustle" opens wide on Dec. 25.

Spike Jonze's new film stars Joaquin Phoenix as a man who falls in love with the voice of his operating system (Scarlett Johansson). It looks like a heartbreaking work of staggering genius (helped by the fact that Arcade Fire did the film's score).

Steve Carell, Channing Tatum and Mark Ruffalo star in this new drama about du Pont chemical heir John du Pont (Carell). Bennett Miller directs.

Tom Hanks stars as Walt Disney in this sausage-making look at how Disney produced an adaptation of P.L. Travers' "Mary Poppins." Emma Thompson, Bradley Whitford, Paul Giamatti, Colin Farrell, Ruth Wilson, B.J. Novak, Jason Schwartzman and Rachel Griffiths co-star. Kelly Marcel co-wrote the script. Oscars, ahoy!

They still love lamp.

George Clooney, Matt Damon, Bill Murray, Cate Blanchett, John Goodman and Jean Dujardin star in your new favorite caper film.

Keanu Reeves' long-delayed samurai action thriller finally debuts.

It's Rocky vs. Raging Bull, as Sylvester Stallone and Robert De Niro star in this boxing movie.

Because playing Captain Kirk isn't enough, Chris Pine stars as Tom Clancy's Jack Ryan in "Jack Ryan," a new film from director Kenneth Branagh. Keira Knightley and Kevin Costner co-star.

Meryl Streep and Julia Roberts star in this adaptation of Tracy Letts' Pulitzer Prize winning drama. John Wells directs. Again, Oscars.

Ben Stiller's latest directorial effort is an Oscar play of the highest order, as evidenced by not only this trailer, but its upcoming bow at the New York Film Festival. Fingers crossed this one is as good as it looks.

Jason Reitman's latest film stars Kate Winslet and Josh Brolin as, respectively, a single mother and the escaped convict who takes her and her child hostage.

Mark Wahlberg, Ben Foster, Taylor Kitsch, Emile Hirsch and Eric Bana star in Peter Berg's new drama, which is based on the infamous Operation Red Wings. Bring tissues. Clarification: This slide has been updated to amend the spelling of Operation Red Wings, which appears as "Operation Redwing" on the cover of the Marcus Luttrell's book, on which the film is based.

Judi Dench looks for her second Oscar in this drama-comedy from acclaimed director Stephen Frears.