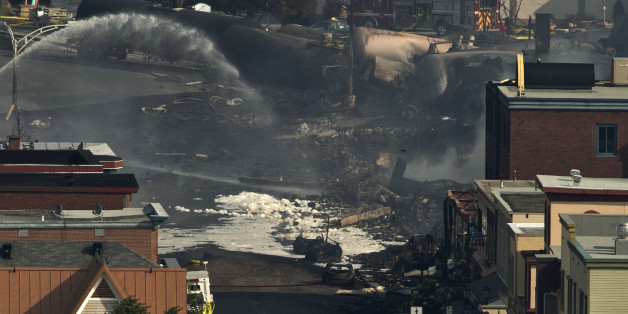 In a press release Wednesday morning, Canada's Transportation Safety Board said it had analyzed oil from a part of the 72-car train that didn't explode and found it had the characteristics of a Packing Group II product. However, the oil -- which came from North Dakota -- had been labeled as a Packing Group III product when it was loaded onto the train.
While both groups are considered "dangerous goods," Packing Group II includes liquids like gasoline that explode at a lower temperature than Packing Group III.
The Lac Megantic tragedy occurred around 1 a.m. on Saturday, July 6, 2013, when firefighters in Nantes, Quebec, were called to extinguish a small fire on the 72-car train. As standard operating procedure, the firefighters turned the train off while putting out the fire, disabling the train's air-braking system. The unmanned train then rolled about 7 miles downhill and reached speeds over 60 mph before it jumped the tracks in the middle of the small, tourist town of Lac-Megantic about 18 minutes later. Part of the train exploded, incinerating about 30 buildings and killing 47 people, some of whom were burned beyond recognition.
The Transportation Safety Board says its investigation is ongoing. An Irving Oil spokeswoman told The Huffington Post that the company is cooperating with the investigation but did not offer further comment.
SUBSCRIBE AND FOLLOW
Get top stories and blog posts emailed to me each day. Newsletters may offer personalized content or advertisements.
Learn more