Marc Jacobs' Neo-Nazi Shirt Pulled After Brand Discovers Connection
Oops?
That was the cry heard all around Marc Jacobs' office this week (or so we imagine) upon discovering that one of the brand's shirts stocked around the country was emblazoned with a symbol used in connection with a skinhead band with a self-proclaimed neo-Nazi lead singer. The white t-shirt featured art from the 1987 LP "Boots & Braces" by Skrewdriver, a white power rock band popular in the '80s. Like we said: oops.
The Cut obtained an apologetic statement from Marc Jacobs:
It has been brought to our attention that the imagery on a T-shirt of ours is similar to that used by a band. We were not trying to make a connection to that band or make a statement of any kind. We have removed the stock of the shirt from our own stores and offer our retail partners the same opportunity.
Feeling a sense of déjà vu? That's because we've been here before. Urban Outfitters recently had to pull a graphic t-shirt featuring a design resembling the symbol of a powerful Chicago street gang. Like Marc Jacobs, the retailer also claimed to have "no prior knowledge" of the symbol's affiliation.
Coincidentally, the neo-Nazi controversy comes on the heels of Russell Brand's recent callout of Hugo Boss, the company that infamously designed the uniforms for the Nazis, during an event sponsored by the design house. Brand was subsequently kicked out of the after-party for offending the company.
With Marc Jacobs' latest claim of ignorance about its design's neo-Nazi connection, we have to wonder: Do fashion companies have a responsibility to perform their due diligence before releasing products into the mass market? Or is a simple post-controversy apology enough?
See the Marc Jacobs shirt -- which is still available for purchase on SaksFifthAvenue.com -- below.
Marc Jacobs' t-shirt: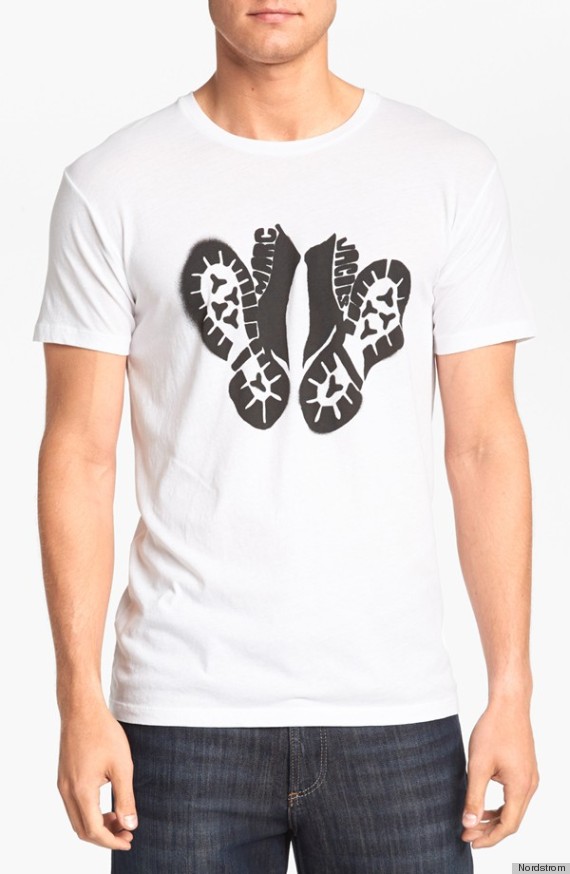 The Skrewdriver logo: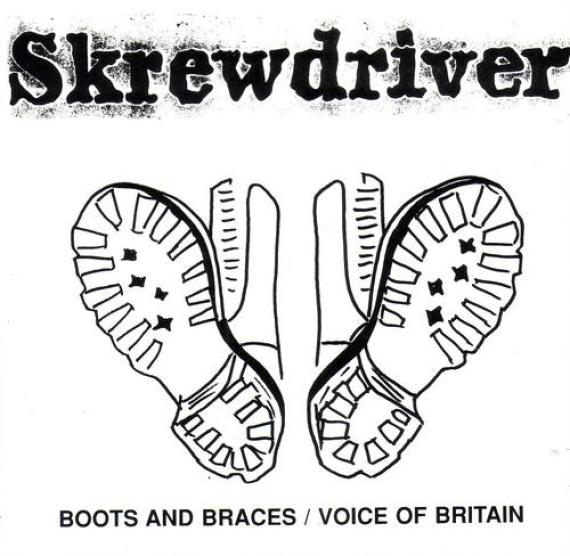 Will they ever learn?
St. Patrick's Day-themed SB Dunk Low "Black and Tan" sneakers by Nike incite outrage from Irish community.

As part of the brand's "Far East" collection, the "Sexy Little Geisha" outfit came complete with a removable obi belt.

"Eat Less" t-shirts aren't well received by, well, most people.

"Truly Madly Deeply Kiss Me" t-shirt offends Irish groups.

Asian caricature t-shirts caused outrage in California.

Some Irish groups aren't pleased with this "Irish Yoga" trucker hat.

Retailer gets in trouble for its "Jewish Star" t-shirt.

"Wink Wink" and "Eye Candy" thongs for 10-year olds isn't a hit with all parents.

"New Mexico, Cleaner than Regular Mexico" t-shirts didn't go over well. (AP photo)

Ditto this "Truly Madly Deeply Irish Drunk" scoop tank.

"Color for the hair down there" is not received well.

"How to catch an illegal immigrant" shirt

"Cuntier" hats spoof Cartier logo.

Jeremy Scott designed these "handcuffs" sneakers for Adidas. However, after many complained that the cuffs looked more like shackles, Adidas canceled its plans to sell the shoes.

Urban Outfitters thought it was a good idea to sell this shirt to its young demographic (with a lot of them being younger than 21).

Skin-lightening wash targets consumers with dark colored privates.
Want more? Be sure to check out HuffPost Style on Twitter, Facebook, Tumblr, Pinterest and Instagram at @HuffPostStyle.