Apple Recipes: Sweet And Savory Dishes For Fall (PHOTOS)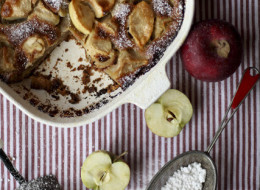 One of our favorite things about fall is definitely the hearty dishes we can start cooking again. Between the mac and cheese, bowls and bowls of soup, and apples -- tons of apples -- we don't really have any reason to miss summer. We love apples this time of year, and it's not just for the pies and cakes (though those don't hurt). Apples are great in savory dishes too, like paired next to a roasted pork tenderloin.
We've found 50 apple recipes to make sure you take advantage of fall's greatest gift -- and to be sure you're spending enough time in the kitchen; because there's no better place to be during this season than cozied up next to a warm oven with the smell of apple and cinnamon taking over your house.
Want to read more from HuffPost Taste? Follow us on Twitter, Facebook, Pinterest and Tumblr.
Get the Apple Cinnamon Crumb Muffins recipe by Two Peas & Their Pod

Get the Shaved Apple Salad with Manchego Cheese and Almonds recipe

Get the Chilled Cucumber & Apple Soup recipe by A Spicy Perspective

Get the Apple Brown Butter Jalousie recipe by Always With Butter

Get the Apple Risotto with Toasted Pecans recipe by How Sweet It Is

Get the Apple French Toast recipe by Foodiecrush

Get the Carrot, Apple & Coconut Pancakes with Fried Egg and Blackberry Chutney recipe by Verses from my Kitchen

Get the Free-Form Apple Tart recipe

Get the Seared Pork Tenderloin with Apples and Broccoli recipe by Bev Cooks

Get the Caramel Apple Soft Pretzels recipe by A Spicy Perspective

Get the Pork Loin Chops with Apple, Sage and Onion Tarts recipe

Get the Apple Bread Pudding recipe

Get the Roast Chicken with Apple, Fennel, Shallots and Crispy Sweet Potatoes recipe

Get the Apple Cinnamon Bread recipe by Two Peas & Their Pod

Get the Apple Strudel recipe

Get the Chicken and Apples in Honey Mustard Sauce recipe by Simply Recipes

Get the Salted Caramel Apple Pie recipe

Get the Waldorf Chicken Salad recipe

Get the Apple Butter Ice Cream with Ginger-Chocolate Ganache recipe

Get the Salted Caramel Apple Crumb Bars recipe by Two Peas & Their Pod

Get the Warm Cabbage and Apple Salad with Shredded Pork recipe

Apples, cooked down in maple syrup, create the pretty topping that you'll see once the cake is turned upside-down. This autumnal dessert is destined to become a classic. Get the Recipe for Maple-Apple Upside-Down Cake

Get the Apple Bacon Pie recipe by A Spicy Perspective

Get the Crockpot Caramel Apple Crumble recipe by How Sweet It Is

Get the Roasted Duck Breasts with Apple, Maple Syrup and Apple Vinaigrette recipe

Get the Apple Pie Sundaes with Cheddar Crust Shards recipe

Get the Apple Tart Tatins with Cheese-Baked Pastry and Sticky Caramel recipe

Get the Kale and Apple Salad with Pancetta and Candied Pecans recipe

Get the Baked Apple Cuplettes recipe by Foodiecrush

Get the Crab, Apple and Watercress Salad with Walnut Vinaigrette recipe

Get the Apple and Concord Grape Tart recipe

Get the Caramelized Apple, Yogurt & Granola Parfait recipe by Cookin' Canuck

Get the Apple-Pork Ragu with Papardelle recipe

Get the Beet-and-Apple Salad recipe

Get the Apple Brown Butter Bars recipe by Always With Butter

Get the Apple Upside-Down Biscuits recipe by Cookin' Canuck

Get the Toasts with Ricotta and Warm Balsamic-Caramel Apples recipe

Get the Apple Squash Mash recipe

Get the Apple Cinnamon Baked Oatmeal recipe by Annie's Eats

Get the Spiced Upside-Down Apple Bundt Cake recipe

Get the Apple Sorbet with Baked Apple Slices recipe

Get the Apple Cider Muffins with Browned Butter Glaze recipe by Annie's Eats

Get the Pear and Apple Crisp with Oat Streusel recipe

Get the Crab Cakes and Curry Mayonnaise with Apple Salad recipe

Get the Warm Fig, Apple and Gorgonzola recipe by Steamy Kitchen

Get the Apple and Sage Pork Chops recipe by Steamy Kitchen

Get the Frangipane Apple Tart with Apricot Glaze recipe

Get the Pearled Barley Salad with Apples, Pomegranate Seeds and Pine Nuts recipe

Get the Chicken Breasts Stuffed with Apples, Almonds and Brie recipe

Get the Pan-Roasted Apples with Maple and Pecans recipe