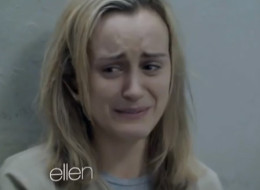 Remember when Piper Chapman (Taylor Schilling) landed in solitary on "Orange Is The New Black" and talked to a mystery person? Well, she was talking to Ellen DeGeneres through the wall, apparently.
DeGeneres made the big "reveal" on her show. "Well, that explains everything," she said.
"Orange Is The New Black" Season 1 is currently streaming on Netflix. Production on Season 2 is underway in New York.