Lakshmi's new home, the Elephant Rescue and Intensive Care Centre at the Wildlife SOS sanctuary in northern India, tweeted some photos of her getting used to her new digs:
Lakshmi was rescued in mid-July in a grueling 11-hour operation executed by Forest Department of Maharashtra staff, in cooperation with police and Wildlife SOS. The recovering elephant, who had been used by her owners for begging and was obese as a result of her poor diet, had to be lifted by a crane onto the rescue truck:
Our rescue operation to save 'Laxmi' elephant from Mumbai involved cranes, trucks, cops + 20 strong rescue team! .. pic.twitter.com/3hqdsUxBLo
During the trip from the Mumbai suburbs to her sanctuary in northern India, Lakshmi reportedly amused herself by playing with her driver (who reportedly wasn't as amused as she was):
Laxmi liked to snake her trunk into the driver's window & tickle his chin! Driver was most relieved when she got off pic.twitter.com/0qSwiXwHTw
Sounds like someone needs to learn how to share.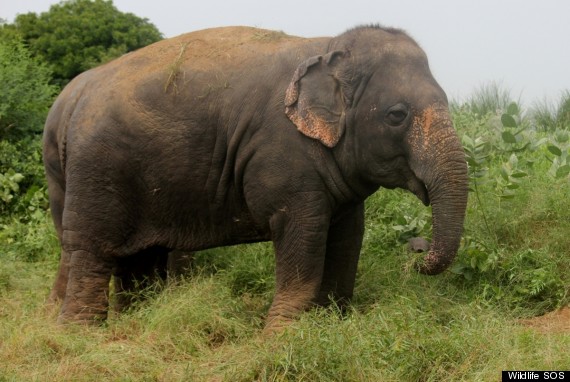 This photo shows Lakshmi two months after her rescue. Her caretakers say she is "playful." (photo: Wildlife SOS)
Lakshmi emerges from a swim at her new home at the Wildlife SOS sanctuary in northern India.
SUBSCRIBE AND FOLLOW
Get top stories and blog posts emailed to me each day. Newsletters may offer personalized content or advertisements.
Learn more