Wary Workers Return To Quiet Navy Yard Neighborhood The Day After
09/17/2013 07:54 pm ET
|
Updated Sep 17, 2013
The Washington Navy Yard building where 12 people were killed by alleged gunman Aaron Alexis on Monday was still cordoned off with crime scene tape a day later.
But the trapeze school just a little down the block was back open for business, said William Reiff, who, after a moment of thinking, described himself as the assistant office coordinator at the Trapeze School of New York.
The big facility, with indoor and outdoor mats, bars and other gymnastic apparatus, was one of many public and private organizations in the neighborhood that closed on Monday.
On Tuesday, "everything's back to normal," said Reiff. "I wouldn't say it's too weird. I know there's a lot more press around. Other than that, I'd say it's pretty normal."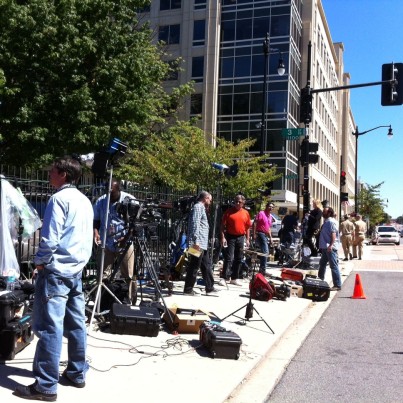 Camera crews by the Navy Yard on Tuesday.
"Not really normal," said Carlos Maraquin, who was installing electrical pipe nearby.
Maraquin was at work on Monday morning when the shooting began. He saw people running, he said, and when he found out what was going on, "I run with them."
"I found out what happened when I got home," said Kendrick Seabrook, who serves as a security officer not far from where the shootings took place. Seabrook left work Monday about 45 minutes before the killings began.
"To be honest, I don't feel real comfortable being out here," he said on Tuesday. "But I've got to pay my bills."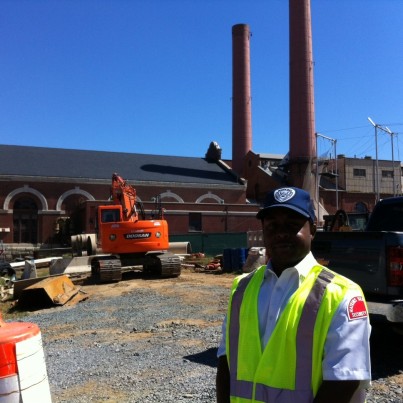 Kendrick Seabrook at work on Tuesday.
Chamar Barnes, manager of the GNC store in the Boilermaker Shops, a retail complex a few blocks from that Navy Yard building, told HuffPost that he was "fine" but that "it wasn't normal coming in this morning."
On Monday, Barnes said, he'd arrived at the vitamins and supplements store, which has been open for about three weeks, but "chose to go back home" when he was told he could either leave or stay on lockdown. "I've come to accept this type of thing is part of life," he said.
But life still seemed different on Tuesday. Not many people were in Starbucks that morning. And Barnes' own sales were light.
"I had more traffic on my first day of opening than today," he said. "That's to be expected."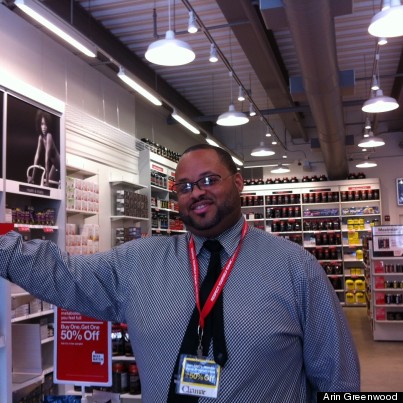 Chamar Barnes at the GNC on Tuesday.
Across the street at the Potbelly sandwich shop, three Department of Transportation employees, who asked to remain anonymous -- and preferred their photos not be taken due to "bad hair" -- said that a lot of their colleagues were either working from home or taking Tuesday off altogether. In part, they suggested, that was because of lingering nervousness about Monday's shootings and in part because a Washington Nationals game against the Atlanta Braves had been rescheduled for Tuesday, which would make traffic and parking more trying.
"It's a double-header," said one of the women.

Tuesday afternoon, at nearby Nats Park -- where Navy Yard employees had been evacuated when it was unclear how many shooters were attacking people -- the first of the day's two games was underway. But even there, things were quieter than usual.
"Not good today," said a scalper who declined, vehemently, to provide his name. "Normally, Atlanta games are real good."